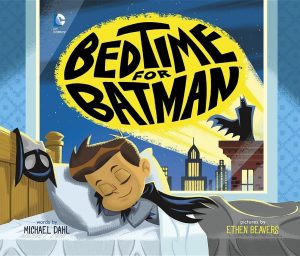 Ready for a bedtime tale that will have parents and kids riveted every evening? Bedtime for Batman is here!
his picture book from award-winning author Michael Dahl, illustrated by renowned comic book artist Ethen Beavers is the perfect way for parents to prepare their child for the dark night. Setting bedtime up as a grand adventure, the story walks kids through their nightly bedtime routine, making comparisons to BATMAN along the way.
This imaginative, heroic tale will have BATMAN fans young and old delighted about bedtime!  "When I was a kid I ate, breathed, and slept comic books. I wanted to be a superhero, so this book is for all those kid heroes out there. Be brave, be strong, and get some sleep!" says author, Dahl.
Just released on August 1st,  some of the advance praise for the book is below:
"Bedtime for Batman is the bedtime story every little superhero needs! Brushing your teeth and conquering bad guys all in one fell swoop. Michael Dahl has written the perfect bedtime story for all of those little superheroes out there. The rich textured illustrations by Ethen Beavers bring the thrilling adventures of Batman home and make a hero out of getting ready for bed! It's great fun!" – Franco (Dino-Mike. Tiny Titans. Superman Family Adventures)
"Even the bravest and boldest super heroes need a good night's sleep. This charming book will inspire Batman's youngest fans to follow in the Dark Knight's footsteps as they drift off to sleep at bedtime." – Steve Korte, Editor of the Eisner Award-winning "75 Years of DC Comics"
"Even caped crusaders need to sleep! Bedtime for Batman is the perfect book to tuck your little superhero into bed for the (dark) night." – Rob Kelly, Editor In Chief, Aquaman Shrine