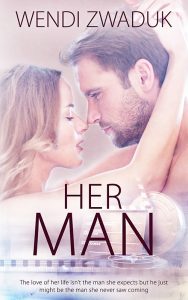 Her Man by Wendi Zwaduk
The love of her life isn't the man she expects but he just might be the man she never saw coming.
Cass Jensen writes hot books and likes her life as an author. She's got the material things she desires, good friends and a side career singing with the band. What more could she ask for? A sexy man to warm her bed during the chilly Ohio nights—that's what she wants. Someone to make her blood sizzle and her heart race. She heads to California to help cast the movie being made from one of her books. She's not interested in dating another actor, but what if the man she needs is on the other side of the audition table?
Logan Malone is known as one of the biggest playboys in all of Hollywood. He's rumoured to be dating half the single ladies in town and romancing the other half. There's only one problem—Logan doesn't want to be the player any longer. He wants a strong career and an even stronger woman in his life. When he meets Cass, he knows she's the one he's been looking for. But Cass comes with her own complications. Can he handle being her man or will the glare of the media be too much for them to handle as a couple?
He's about to find out just how hard he'll have to work in order to be her man, but he's up for the job…
EXCERPT:
"How about I just pass the audition, huh?"
He spotted the women at the table and pasted on his most wicked smile. His voice caught in his throat and a ripple of excitement ran the length of his spine at the sight of his audience. The writer? Was she really there? Or did she moonlight as a screenwriter? Maybe a friend of the producers? Oh, my, my, my.
Nikita gestured to the table. "I'd like to introduce the heads of this production. This is Maggie Bowles, our associate producer." She shrugged a shoulder to the woman on the right. "And this is the writer, Cass Jensen."
Logan forced a nod. Maggie had worked on Break and co-directed Maia, both mega box office hits. She had a reputation for fairness and impartiality with her actors and crew. But the other woman—oh man. He blinked. Cass Jensen penned Wrong Turn, Slingshot and toyed with his fantasies from the safety of a black and white photo. Crossbeam Studios had translated three of her earlier novels into box office hits. Now she sat across the room, in living color and completely unaware of his innermost desires.
Had the heat just kicked on? He licked his lips. Something had happened and not just between his legs.
It seemed as if everyone else in the cavernous conference room had evaporated except him and Cass. She wasn't his normal blonde model-type, quite the opposite. She had curves and porcelain skin. Her dark chocolate-colored hair glittered slightly under the harsh glare of the fluorescent lighting, and she brushed the silky strands off her face, revealing her lack of a wedding ring.
Score!
Her mouth curled into a faint smile, accompanying the sparkle in her startling blue-gray eyes. Color rushed into her pale cheeks.
Oh man.
Logan's eyes slipped greedily over her body. Would she flush during sex? The light scent of her perfume muddled his brain. Lilac? Rose? Whatever it was, it was enticing. Logan swallowed hard. Tightness invaded his chest. Such a rapid reaction to a woman knocked him for a complete loop. Cass was the kind of woman who ended up being a cherished lover, not a plaything. He glanced at her once more. His throat went dry. Damn, if she blushed too much longer, he'd be in trouble. If he got time alone with her, he'd be a goner. How would her hands feel gliding along his body? Heaven, probably.
You can purchase Her Man at:

Totallybound
  – ebook
Totallybound
 – Print
About the Author: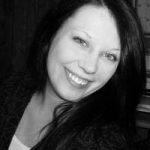 I've always dreamt of writing the stories in my head. Tall, dark, and handsome heroes are my favorites, as long as he has an independent woman keeping him in line. I love playing with words and letting the characters run wild.NASCAR, Ohio farmland, dirt racing, animals and second chance romance all feature prominently in my books. I also write under the pen name of Megan Slayer. I'm published with Total-E-Bound, Changeling Press, Liquid Silver Books, Turquoise Morning Press, Decadent Publishing and The Wild Rose Press. Come join me for this fantastic journey!