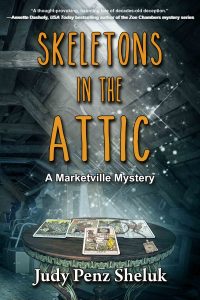 Skeletons in the Attic: A Marketville Mystery by Judy Penz Sheluk
What goes on behind closed doors doesn't always stay there…
Calamity (Callie) Barnstable isn't surprised to learn she's the sole beneficiary of her late father's estate, though she is shocked to discover she has inherited a house in the town of Marketville—a house she didn't know existed. However, there are conditions attached to Callie's inheritance: she must move to Marketville, live in the house, and solve her mother's murder.
Callie's not keen on dredging up a thirty-year-old mystery, but if she doesn't do it, there's a scheming psychic named Misty Rivers who is more than happy to expose the Barnstable family secrets. Determined to thwart Misty and fulfill her father's wishes, Callie accepts the challenge. But is she ready to face the skeletons hidden in the attic?
Judy on Mystery Writing
A couple of years ago, I read a novel by a prolific and well-known author best known for his humorous mysteries. I'm a huge fan of his, and have read most, if not all, of his books. But this book disappointed, and in a big way. Not because it wasn't a fun, fast-paced read—it was—but because the clues to guessing the killer weren't fair. You see, all through the book, one character was dismissed as a suspect because her arthritic hands could never have held the gun that fired the fatal shot. Until the end, when the killer said something along the lines of: "I don't have arthritis, I've been faking it," and proceeded to wave her perfectly healthy hands in the air.
Now, if you know anyone who has arthritis, there are usually telltale signs—knobby joints or misshapen fingers, for example. But even if that wasn't the case, to my mind, fair play in the mystery genre means that the reader should be able to figure out whodunit, providing they are paying attention. Of course, the author's job is to make that as challenging as possible, adding red herrings and all sorts of other diversions to keep the reader guessing, but it still has to be fair. In the case of the aforementioned culprit, this could have been as easy as having the killer pour tea easily and without discomfort on page 135. At least then, I could have said to myself…ah, there was that tea-pouring incident. I should have caught that.
Now, at this point you might be saying to yourself, "Okay, it was one book where you didn't like the ending. Big deal." And you'd be right. But a large part of accepting fictional murder mysteries, especially those on the cozier side (think Murder She Wrote), is our willingness to suspend disbelief. If we, as authors, take that acceptance for granted, then we also run the risk of earning the all-too-prevalent "genre disdain."
What is genre disdain? Here's a real life example: In 2014, I attended a Publishing 101 one-day seminar in Toronto, put on by the Writers Union of Canada. At the time I was still looking for a "home" for my first novel, The Hanged Man's Noose. Many of the attendees—all published or aspiring authors—lamented that US publishers weren't interested in Canadian writers. "Well, unless you write genre fiction like mystery," one author said, speaking the words "genre fiction" as if it were on par with an infectious disease.
That's the sort of bad rap that unfair play gives the mystery genre. It's why I always try to play fair in my short stories and books, without making it too easy. Why I expect the same from the authors I read, well known or obscure. As for the implication that "genre fiction" is somehow inferior to literary fiction, I think of the very talented 1950s ballroom dance team of Ginger Rogers and Fred Astaire (I'm also a big fan of old dance movies). Fred was often lauded for his talent as a dancer. But Ginger…now she did everything Fred did, only backwards and in high heels. Writing mysteries is a bit like that, isn't it?
Readers can purchase Skeletons in the Attic at:
SKELETONS IN THE ATTIC is now available for pre-order on Amazon Kindle for the special introductory price of .99 (reg. $4.99). Find it here: http://getbook.at/SkeletonsintheAttic
and 15at:
About the Author:
Judy Penz Sheluk's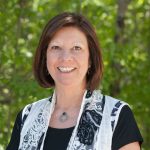 debut mystery novel, The Hanged Man's Noose, was published in July 2015. Skeletons in the Attic, the first book in her Marketville Mystery Series, was published in August 2016.
Judy's short crime fiction appears in World Enough and Crime, The Whole She-Bang 2, Flash and Bang and Live Free or Tri.
Judy is a member of Sisters in Crime, Crime Writers of Canada, International Thriller Writers and the Short Mystery Fiction Society.
Find Judy on her website/blog at www.judypenzsheluk.com, where she interviews other authors and blogs about the writing life.