What a pleasure it was getting thirty minutes with multimedia storyteller, Tom Libertiny! One of the things I love most about what I do is being placed in the path of such creative, fun and talented people. If you haven't had the pleasure, definitely listen in to the podcast of Tom's show! We chatted about the Null Paradox trilogy, the new interactive Steampunk Rock Opera and discussed the music, the books, and of course the incredible team behind it all! Tom even dropped some exciting news about book two in the series so check out the podcast to get the scoop!
Gertrude and Grace
A trilogy of steampunk books, the first one being Gertrude & Grace:
Blood Sisters; one with a damaged soul and the other who contains the light of life, face the ultimate question. Gertrude and Grace must make a choice: will they choose Love or their Destiny? Their lives depend on their decision and so does their world's.
Click on the book cover above for the link to Tom Libertiny's show!
Connect with Tom Libertiny on Social Media:
www.tomlibertiny.com
www.nullparadox.com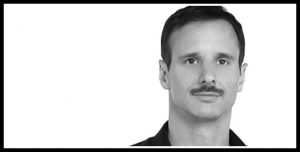 Tom Libertiny
Great YA Fiction!