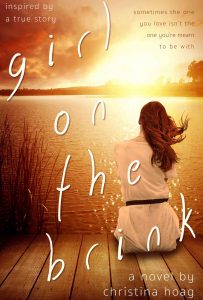 GIRL ON THE BRINK by Christina Hoag
The summer before senior year, Chloe starts an internship as a reporter at a local newspaper. While on assignment, she meets Kieran, a quirky aspiring actor. Chloe becomes smitten with Kieran's charisma and his ability to soothe her soul, torn over her parents' impending divorce. But as their bond deepens, Kieran becomes smothering and flies into terrifying rages. He confides in Chloe that he suffered a traumatic childhood, and Chloe is moved to help him. If only he could be healed, she thinks, their relationship would be perfect. But her efforts backfire, and Kieran turns violent. Chloe breaks up with him, but Kieran pursues her relentlessly to make up. Chloe must make the heartrending choice between saving herself or saving Kieran, until Kieran's mission of remorse turns into a quest for revenge.
EXERPT
Chapter One
I'm caught like a fish in a net. I'm staring into my camcorder's view finder at my interview subject who's jabbering away, but I have this creepy sensation that somehow I'm the subject. Standing on the side is this guy who's drilling me with his gaze, like he's taping me. A hot flush spreads under my skin. I can't screw this up—it's the first assignment of my summer internship as a reporter for the Indian Valley Weekly News.
I glance sideways, sucking in my bottom lip. Noticing me look at him, the guy grins. He is watching me. I try not to feel unsettled, and turn back to Mr. Yamamoto, Ed as he told me to call him.
"I have a Zen garden out back that might make a good shot," Ed offers. "Do you want to see that?"
"Sure." Now I can get rid of the looky-loo.
We plunge into the steamy air of Ed's greenhouse and wind down a path, brushing through leaves as big as platters and fern fronds dripping from hanging baskets, and exit through a door next to a fake rock wall with a waterfall tinkling into a pond at its base. A crooked sign next to it reads: "Summer special! Garden water feature $599, installation included!"
A square patch of pebbles raked into concentric circles lies outside. The sun bounces so fiercely off the bleach-white stones, I have to shield my eyes with my hand.
"Ed, why don't you sit on this rock in the shade here, then I can get the garden in the background," I suggest.
Ed perches on a boulder under the scant shadow cast by a red-leafed maple sapling.
"Hey Ed, if I'd have known you were going to be on camera, I would've done your makeup this morning," a voice behind me calls. I know who it has to be. I roll my eyes.
"Kieran, you can put those orchids out on the table." Ed pats his glistening bald pate with a handkerchief.
So the guy works here. That at least explains why he's hanging around. I thought he was a customer.
"Seriously, your face and head are going to come out all shiny," Kieran insists, stepping forward. "You should've told me. I know about this stuff."
"I'm sure we'll figure it out," Ed says.
Kieran gives me a conspiratorial "what-can-you-do?" shrug. "Make sure you get his good side," he says as he moves off.
I squeeze out a thin smile as a safe response and turn to Ed. Raising the camcorder, I press "record." The red dot lights up. "So, Ed, why are you organizing Indian Valley's first multicultural fair?"
"I decided to do this after that incident when anti-Semitic graffiti appeared on the synagogue. It brought back memories of when I came to this country from Japan. I was a teenager, and I had many difficulties fitting in at high school with the language, my clothes, my look. Kids weren't used to anyone different than themselves.
"I thought things had changed, but the graffiti incident made me realize they hadn't. I decided to do something about it, and I thought the best thing was a celebration of Indian Valley's multicultural population."
Someone shuffles behind me, Kieran no doubt. It throws me off, and the next question disappears from my tongue. "Uh…" My mind is as blank as the front page will be if I don't get this story. Marion's words crash into my brain "just stick to who, what, when, where, how and why, and you'll be fine."
"Who's participating?" I ask in a rush of relief.
"Soi Siam, the Thai restaurant…"
Kieran's padding back and forth in the background distracts me. I force myself to concentrate, and get through the rest of the W's and the H.
"That'll do it. I just need a photo." I take out a small point-and-shoot.
"Sure. Where do you want me?"
"How about by the bonsais?" Kieran again. What is his deal?
It's actually not a bad suggestion. I snap a couple stills of Ed as he explains the tradition of dwarfing trees by cutting their roots.
"We're done," I say.
"That's a wrap, as they say in show biz," Kieran calls out. I ignore him.
As I pack up my gear in my bag, I take out one of the write-in business cards that Marion gave me. I'd penned in my name and cell phone.
"I almost forgot. Here's my card, if you think of anything else."
Ed takes it. "Thanks for doing this. I really appreciate it."
"Sure."
I walk to my car in the dusty gravel parking lot. My first interview, and it went well, at least I think it did. Now I have to edit the footage for the video story and write the print article. Deadline is five o'clock tomorrow. Eek!
"Hey! Hey, Ms. Reporter!"
It can't be. I pivot. It is. Kieran has his hands thrust in the back pockets of his dirt spattered jeans, shoulders hunched, a slightly sheepish expression on his face. "Sorry, I don't know your name. I'm Kieran, Kieran Dubrowski."
He wipes his right hand on a faded green T-shirt and extends it with a smile that widens a single freckle dotting his lower lip. His dark chocolate hair is pulled back into a messy nub of a ponytail. His weirdly formal introduction takes me aback. I shake his hand. My palm seems lost in his.
"Chloe Quinn."
"I just wanted to tell you, you did a great job."
"Thanks." I remember I'm peeved at him. "But no thanks to you."
His smile crumples. "What do you mean?"
"You distracted me. And Ed."
"I did? I didn't mean to. I was just trying to help." He tucks a loose tassel of hair behind an ear.
"Hanging around staring doesn't help. It threw me off."
"You didn't seem thrown off. At all. You acted like a real pro. I figured you were used to people watching you. I mean, that must happen all the time, right?"
I hesitate. "Not exactly, no." I don't want to confess that I haven't actually done this before. I feel the intensity of his gaze again, soaking me up in his coffee eyes. I shift my feet.
"I'm really an actor. I just work here to eat, you know?"
Intrigue tugs me. "Are you in movies or anything?"
"I've been in a couple plays. I have an audition for a TV commercial coming up."
"That's great."
"Kieran!" Ed booms. "Customer carryout!"
Kieran arches his eyebrows. "Gotta go. Nice meeting you."
He scurries off, and I stroll to my car. What Kieran said to Ed about makeup makes sense now. An actor would know about that, and he'd be naturally interested in the videotaping. He did suggest the bonsai shot. Maybe I misjudged him.
Despite the shade from the "Yamamoto's Garden Center" sign, the car is an oven. Cranking the AC full blast, I wait for a gap in the traffic to pull into the street. I glance in the rearview mirror. Kieran's carrying a tray of pansies across the lot, but he's looking right at me. I glance away. The road clears. I press the gas and head home.
You can purchase Girl on the Brink at:
Amazon
Smashwords
About the Author: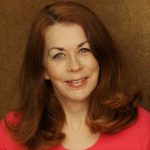 Christina Hoag is the author of Skin of Tattoos, a literary thriller set in L.A.'s gang underworld (Martin Brown Publishers, August 2016) and Girl on the Brink, a romantic thriller for young adults (Fire and Ice YA/Melange Books, August 2016). She is a former reporter for the Associated Press and Miami Herald and worked as a correspondent in Latin America writing for major media outlets including Time, Business Week, Financial Times, the Houston Chronicle and The New York Times. She is the co-author of Peace in the Hood: Working with Gang Members to End the Violence, a groundbreaking book on gang intervention (Turner Publishing, 2014). She resides in Los Angeles. For more information, see www.christinahoag.com.
AUTHOR SOCIAL MEDIA:
https://facebook.com/ChristinaHoagAuthor
https://twitter.com/ChristinaHoag
https://www.goodreads.com/author/show/7341116.Christina_Hoag