Reader's Entertainment radio caught up with Sheila English this week as she promotes her latest release, Adam Frankenstein: A Collection of Short Stories.  
Currently there is an Amazon book giveaway going on for this release! You can participate HERE!!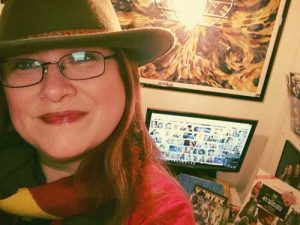 Interviewed by new host Jocie McKade, they discuss Mary Shelley and Sheila's take on the Frankenstein mythology.
Nearly one-third through the interview a caller shared his idea of what he'd like to see done with Frankenstein, which soon unraveled into his pornographic ideas being yelled over the airwaves in shocking clarity!  Laughing it off, Sheila and Jocie threaten to give out his phone number and move on to discuss the short stories in detail.
You can listen to the podcast by clicking on the book cover below.
Some of the Q&A is listed below minus the call in since that had language we won't post, but it is in the podcast should you be interested and have a tolerance for such talk.
Transcript-
LINDA: Welcome to Reader's Entertainment, I'm your host Linda McMaken/Jocie McKade.  I'll be filling in from time to time and am excited to part of the Reader's Entertainment radio team!
Tonight we have someone that you likely know from also being a radio host here on Reader's Entertainment- Author, producer, director and journalist Sheila English is with us.
Welcome Sheila!
Sheila: Thank you! I'm excited to be here!
Linda:
For those of you who like to check out our guests website you can find Sheila at SheilaEnglish.com where she has a short story available for free, a new book trailer and information about her books.
We have the live chat session open and you're welcome to send questions and comments there. You can also call into the show at 646-200-4071.
So, Sheila, we're here tonight to talk about your newest release- Adam Frankenstein: A Collection of Short Stories.
What made you decide to write about the infamous reanimated man?
Sheila: I have always been drawn to the Frankenstein creature, who is named Adam by author Mary Shelley.  No man has ever been born (so to speak) less loved.  Or more alone.  Even in the famous novel that Shelley wrote, Adam's great motivation throughout the book was to have a companion. He was willing to do anything to have that. He wanted friends. Acceptance. Love.  All the things we all want.  But, all of that was denied him. He didn't even have parents to love him. And due to his large size and frightening appearance, the chance of finding a wife was nearly impossible.
So, I became interested in how a man like that might develop through the  years.  If you are unloved do you become bitter and angry? Or, do you look upon love as the most desirable of things, something to be treasured and honored?
I think Adam would struggle with all of that.  Luckily, in my novel and my mythology, he is introduced to Mary Shelley.  He'd been abused and experimented on for months before she arrived.  So when he finally meets with someone who has the courage to be his friend, something inside him changes.
Linda:
There are 4 stories in this collection. Can you tell us a bit about each story?
Sheila:
The first story is Adam's origin story. Mary Shelley's League of Supernatural Hunters: Origins of Adam is primarily about Mary, but we are introduced to Adam, right at the moment he becomes self aware.
The next story takes place in England in 1888 where Adam discovers a mage who has an immortal dog named Bella. The mage wants Adam to rescue someone and Adam wants to bargain for the dog.
I wanted Adam to have a companion and the name of that short story is Frankenstein's Companion. I had a hard time believing Adam could be so alone and still develop feelings of empathy, caring and kindness.  Being totally without love would harden him and to me, THAT is what would make him a monster. So, I gave him a companion far more loyal and loving than any human would be to him. A dog.
The next story is set in Brooklyn, NY in 1982 and we find Adam going to see a therapist at the urging of a ghost.  I really hope people will enjoy this one, as I did my best to keep some things secret until the end.  So that was fun. The overall need for this particular story was to teach Adam a valuable lesson that he would need later on, and that was not to judge others.  He's judged so much that being judged feels natural, so naturally he'd do that to others.  We are a product of our environment. The lesson from this story allows him to rise above the way others treat him.
The final story is my favorite, primarily because it gives me a chance to talk about the relationship between a person and their dog.  Anyone who knows me already knows I'm an animal rights activist and a dog lover. I have 7 of my own, one of which is named Bella, and is the inspiration for Adam's companion.  And, I hope to do more modern day US Marshal stories with Adam in future books.
Linda:
Those sound interesting and fun.
So, it sounds like each story is some kind of lesson, or character development. Is that right?
Sheila:
Right.  I hope to do more like this where you get a glimpse of his past and see how he became the man he is today.
Linda:
So what does Adam look like? Is he more like the Boris Karloff  Frankenstein or more like Aaron Eckhart in I, Frankenstein?
Sheila:
More like Aaron Eckhart.  A little scary. A little sexy. In my mythology Adam is quite large, which fits with the Shelley character, but it's because he was once a strongman in a circus.  So large, so tall and muscular that he was a sideshow freak.  But, he was also handsome.  In my story, the strongman was in charge of keeping the lion tamer safe during a performance, so when the lions attached the tamer, he went in to save the man and was, instead, killed himself, with some body parts devoured by the lions. But, he was primarily intact.  At some point that will be one of the short stories in a future book.
So, he's tall, strong, his face is pretty bad on one side, including a scar that bisected his eye, so one eye has two colors in it.
When we get to more modern times people think less of his size and disfigurement, though it still stands out. No one thinks he's a monster and tries to kill him with a pitchfork once we hit the 20th century. But, no one wants to befriend him for a lot of that century either.  But, in the 21st century a lot of people assume he was a wrestler or a soldier hurt in a war.
Linda:
So, he's been friendless for the most part, except for his dog. No romance then?
Sheila:
Adam would love to find wife.  It's what he wanted in the classic novel by Mary Shelley, and it's what he wants still in my own mythology.
But, Adam has a few problems. One is his appearance. He looks scary. He's still somewhat handsome, but the scars and size go against him.
He is also large in every aspect of his body.  Every.  Aspect. So, that makes sex a little more difficult for him and he worries about hurting a woman.
He has had sex though.  He found an older, blind prostitute that he hired to teach him about sex.  She was pretty happy with his size, but let's face it, she's an old prostitute, not every woman would appreciate Adam's issue.
Though we don't go into it in this book, he does find a woman he has feelings for, but he just doesn't know what to do about it, which ends up costing him dearly.
But, I am flirting with the idea of finding him someone in Texas with the modern day stories.  But, in these stories, there's not a romance.
Linda:
What is next for you and where can people find you online?
Sheila:
I'm working on my Blood Quill series which is sort of Penny Dreadful meets Supernatural and a touch of time travel.  Adam does make an appearance in a couple of those books. But, they're not out yet.
I have my Faith Healer's Daughters trilogy. Keeper of the Light is out and Keeper of the Dead will be out in a couple of weeks. The final in that trilogy will be out later this year.  Those are all based in faith healer mythology, NOT religion.  And I'd say they're a PG13.
As far as where people can find me, I have my website, which you mentioned. SheilaEnglish.com. I've just started a newsletter.
I'm on Twitter as SheilaEnglih67 and do a lot there. I'm working on an author page on Facebook now, but I do a lot on Facebook under Facebook.com/booktrailers
Linda:
Well thank you so much for joining us tonight!
Sheila: My pleasure!
Linda:
And thank you to our listeners. You'll be able to listen to this podcast again on Reader's Entertainment.com tomorrow and we'll have some additional information there for you.
So glad you joined us and happy reading everyone!