Retro Cozy Fashion by Karen Rose Smith
Do you remember fringed vests and pea coats? How about John Lennon style caps (Greek fisherman cap) and geometric pop art prints on blouses and dresses?  Felt cloches and kitten heels?
Retro fashion is back in style, maybe with a few modifications.  And my sleuth in my Caprice De Luca Home Staging mystery series wears them all.  Her closet is filled with vintage fashion for professional appointments, a date with her fiancé, or a walk around the neighborhood with her cocker spaniel, Lady.  At age thirty two, Caprice has watched fashion develop through the years with her Nana and her mother.  Each decade's trends have made an impact on her idea of style.  Her favorite fashion decades are the 40's, 60's and 70's.  But she'll dip into any decade for a look that suits her.  Her favorite dress shop to find either vintage treasures or modern-day designers who have a retro sense is Secrets of the Past in the fictional town of Kismet, Pennsylvania.
When I created Caprice, I wanted an every-day woman as a sleuth so my readers could relate to her.  She's about ten pounds overweight so she searches for fashion that emphasizes her best points—her curvy figure.  Most of all, she wears clothes that make her feel confident and comfortable.  In my December cozy release SHADES OF WRATH, she wears fashion styles from Katharine Hepburn, Jackie Kennedy, and Stevie Nicks, though she has also borrowed glamorous styles from Carole Lombard and Audrey Hepburn in other mysteries in the series. These women are fashion icons and she emulates their looks often.
Since music from the 1960's and 70's is some of her favorite, she's most comfortable in bohemian chic styles.  It's no secret her favorite icon is Stevie Nicks.  That style fits many of her moods.  She's basically a flower child who does believe in peace and love, affirmations and optimism. However, where Stevie wore mostly black, Caprice's flamboyant side manifests in her love of color.  The style of the blouse or tunic might be Nicks' but the colors are probably turquoise, fuchsia and lime green!  Maxi dresses and skirts are her dress-up staples.  Tunics, tapestry vests, tie-dyed shirts and bell bottoms are her choices for everyday wear.
Even when Caprice is at her most professional, she likes to be comfortable for the long hours at an open house or while perusing a proposal for redecorating with a client.  At these times, she might take a page from fashion icon Katharine Hepburn's book.  Katharine Hepburn avoided glamour whenever she could.  She was well known for wearing khaki pants with an open collar shirt.  She also put high-waisted, flare-leg trousers and matching jackets in many women's wardrobes.  Caprice searches out those outfits as must-haves in her closet.  In Katharine Hepburn's style jodhpurs, she feels neat and stylish for work, for taking her cocker spaniel Lady for a run in the dog park, or for finding a home for a stray cat or dog who she has sheltered.
In that same vein, looking again toward classic fashion for everyday wear, Caprice turns to the fitted and tailored coats and fashions exemplified by fashion icon Audrey Hepburn.  She's not so much into the black turtlenecks that Audrey Hepburn preferred, but that fitted red coat in Breakfast at Tiffany's, the white shirt and gathered skirt from Roman Holiday, the classic pearls, the kitten heels and ballerina flats that Audrey Hepburn often wore, all fit beautifully into Caprice's wardrobe.
Jackie Kennedy is still setting styles from her pillbox hats to her tailored coat and dress combinations.  While Caprice was involved in a house decorating competition and taping for a TV audience, she chose an outfit reminiscent of Jackie Kennedy's wardrobe.  It was a dark turquoise sheath with a matching coat trimmed in black with black frog fasteners.  Keeping style with the coat she wore a turquoise pillbox hat with black trim.  Black kitten heels (ala Audrey Hepburn) finished the outfit.
When Caprice needed a wow-everybody-dress for a Valentine's Day Dance, she found the perfect gown reminiscent of 1940's style-icon, Carole Lombard.  Carole Lombard, once labeled the most beautiful woman in the world, knew Hollywood glamour.  Big furs, big hats, and elegant satin gowns were her trade-mark looks.  The dress Caprice chose was straight out of Carole Lombard's world, with its 1940's fitted fuchsia satin beauty.  Her strappy matching haute heels were the perfect complement with her hair rolled and curled in a retro hairdo.  She wowed the guys who mattered and one of them eventually became her fiancé.
I have such fun researching and remembering retro style for Caprice from vintage Seventeen magazines that I kept from my youth to old photos in archives.  The fashion trends now are pretty much "anything goes." So pulling from decades past is easy. We're in a time when fashion says—Be who you are meant to be.  I hope your style and fashion choices make you as happy and comfortable as Caprice's do.
You can purchase any of Karen's books at:
Amazon
Kensington Books

About The Author: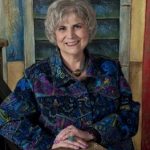 USA Today Bestselling Author Karen Rose Smith's 97th novel will be released in 2017! Her passion is caring for her four rescued cats…and siblings who are strays. Her hobbies are gardening, cooking, watercolor painting and photography. An only child, Karen delved into books at an early age. Even though she escaped into story worlds, she had many cousins around her on weekends. Families are a strong theme in her novels in both her mysteries and romances. Find out more about Karen at karenrosesmithmysteries.com. She's recently working on her Caprice De Luca Home Staging mystery series, her Daisy Tea Garden mystery series as well as her Search for Love series. If you'd like to chat with her, you can find her on Facebook at KarenRoseSmithBooks and on Twitter @karenrosesmith.