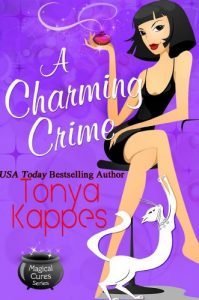 October is here and what better way to launch into the Halloween season with its witches and ghosts, magic and mystery than with an interview with best selling southern mystery author Tonya Kappes!
Tune in Tuesday October 4th when host Debra Parmley chats with Tonya Kappes about her Magical Cures mystery series, her witches and ghosts and other things Halloweenish!
Listen here Tue. night 8:30 eastern!
About A Charming Crime: Book One in the Magical Cures Mystery Series:
Bubble… Bubble…
June Heal has nothing to lose when she relocates her homeopathic cure shop, A Dose of Darla, from the flea market booth in her home town, to a quaint shop in the cozy but unusual little town of Whispering Falls, Kentucky. Or so it seems.
Cures and trouble…
Whispering Falls has a lot of secrets. From talking snow globes to whispering animals not to mention a few sprinkles of fairy dust, June realizes Whispering Falls is more magical than she thought. . .literally.
Magic stirs…
June discovers she was born into a family of psychics, and her homeopathic cures truly are magical. Unfortunately, they are not magical enough to save her from being the number one murder suspect when a member of the community that she had just had a disagreement with shows up face down in the lake with June's lucky charm in the victim's grasp.
And troubles double…
Add to that an attraction to her high school best friend, Sheriff Oscar Park and Mr. Prince Charming, her cat, is stealing charms from Belle's Baubles, June is forced to clear her name in more ways than murder. After all, they don't have cauldrons in jail.
A Charming Crime is book one of the bestselling Magical Cures Mystery series. Come walk around Whispering Falls for a fun, fantasy mystery with magic and romance. You won't want to leave.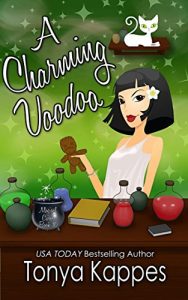 About A Charming Voodoo: Book Ten in the Magical Cures Mystery Series:
Bubble. . . bubble. . .
Whispering Falls is abuzz with the new
housing development and new shops
popping up all over the magical
village right before the annual All
Hallow's Eve celebration.
Cures and trouble. . .
June Heal's intuition
is on high alert and she just can't shake
that something bad is about to happen.
Magic stirs . . .
June finds Violet Draper standing over a dead body
In the new pumpkin patch hours before it's supposed
to open for hayrides.
And trouble doubles . . .
Once again, June has to put her sleuthing skills to work
and figure out who the real killer is before the new
citizens pack up and move right back out of town.
About Tonya:
For years, USA Today bestselling author Tonya Kappes has been publishing numerous mystery and romance titles with unprecedented success. She is famous not only for her hilarious plot lines and quirky characters, but her tremendous marketing efforts that have earned her thousands of followers and a devoted street team of fans.
To learn more about Tonya visit tonyakappes.com
And for more about host Debra Parmley visit: debraparmley.com
Book Lights – shining a light on good books!