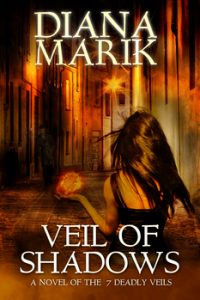 BEHIND THE WORDS presents author DIANA MARIK
Welcome Diana! It's so nice to host you today. Let's begin with telling readers a bit about yourself. Where you're from, where you live? Do you have one of those day-jobs?
–I'm a lover of Paranormal Romances and Urban Fantasy and the author of the Seven Deadly Veils vampire series.  Also, I love kickass heroines, lots of action, intrigue, mystery and of course, spicy romance.  I was born and bred in New York City, and now live just outside the city. Yes, I have a day job. I have a Master's degree in English and I've been teaching literature for nearly 25 years.
How long have you been writing?
–Including poetry? About 10 years.
Briefly describe your writing day.
–Because of my day job, I only write minimally during the week, but the majority of my work is done on the weekends and during the summers. I don't have a set schedule like many other writers.  Sometimes, I start at sun up and go until sundown, sometimes I write only at night. It varies.
Tell us about your latest release?
–In Book 1 of my 7 Deadly Veils vampire series, Veil of Shadows, my heroine, Professor Miranda Crescent is an art authenticator, and an Elemental, who gets pulled into the mysterious world of the vampires in NYC when she saves the life of the vampire king, Valadon. I have an intriguing cast of characters that includes an androgynous courtesan, a werewolf queen and a vampire ancient who resembles a college grad student. At wits with his sexy second in command, Remare, Miranda and he will search out clues as to who is trying to murder Valadon and find they are attracted to each other despite their mutual distrust. The sparks really fly when the chemistry becomes combustible between them. Expect some interesting twists and turns! More can be found on my website:  www.dianamarik.com.
Are your characters entirely fictitious or have you borrowed from real world people you know?
–I think like most authors, my characters are a cornucopia of several different people. The fun part is crafting characters with conflicting qualities that resonate with readers.
Would you share one detail from your current release with readers that they might not find in the book?
–Just one! Keeping in mind my Veilverse is an ongoing series where more background history on the characters is revealed in each book, I can say not all the characters are as they appear.  As the books go on, we will learn more about each of the main characters. Miranda is an interesting heroine. She has a link to one of the other characters in the story, even she's not aware of.
Who has been the most difficult character for you to write? (Any of your books)
–The villains, because you have to get deep inside their heads to understand their motivations.  Some of them are truly dark and reprehensible. In a word—evil. Brandon seems to fit because "he has the face of an angel and the soul of a demon."
If you could be one of your characters for a day which character would it be? Why?
–Valadon. Who wouldn't want all that wealth, all that power—to learn some of his secrets? He knows so much about the vampires of House Valadon—he has a wealth of knowledge. Through him, I could find out the answers to many mysteries.
What's next?
–I have a novella of the Veilverse coming out in late fall of this year, The Blue Veil, where Miranda and Remare go in search of a missing painting from Valadon's archives. This novella promises much hotness and romance. And something I try very hard to incorporate in my books, humor. Then I have Book 2, Veil of Mists, coming out in January of 2017, where Miranda travels to Paris to obtain a painting for Valadon.  Little does she know, she's a pawn in a very dangerous game between rival houses of vampires.  We meet the beautiful, but cunning vampire, Vivienna, in this book who enjoys a good game of cat and mouse with Miranda.
All writers are readers. Are there any particular authors that have influenced how you write and, if so, how have they influenced you?
–The first one to come to mind is J.R.R. Tolkien. He's always been a favorite and emphasized my love of fantasy, adventure, mystery.  In his works, as well as mine, friendship is a major theme. My heroes/heroines would not be able to accomplish all that they do if they didn't have the help and support of their friends.  As for romance, I'd have to say Gabaldon. I love writing about how relationships start and evolve.
If you could have dinner with any writer living or dead, who would it be and why?
–There are so many, if not Tolkien, Whitman is a strong choice, Joss Whedon, James Patterson, Laurell K. Hamilton.
If you could ask your favorite author a question what would it be?
–How did you come up with the basis for your story?
Do you have a secret talent readers would be surprised by?
–I used to be a yoga instructor.
Your favorite go to drink or food when the world goes crazy!
–Hazelnut Hot Chocolate or Jasmine Green Tea.
What is the one question you never get ask at interviews, but wish you did? Ask and answer it.
–Why do I write?
–I write because I like magical worlds–alternate universes–where my vampires, werewolves, are far more human than some of the humans in my Veilverse.  I write because I love tales of honor, heroism, loyalty and where love plays a major role. I write because it excites me to stretch my imagination and I like the idea of being able to entertain an audience. As readers we crave thrills, excitement, romance, intrigues. As a writer, I like to share my world with others.
The best compliment I've ever received, is when readers ask me 'when's the next book coming out?'"  Then I know I did my job right as an author.  Also, I want to find out what's going to happen next!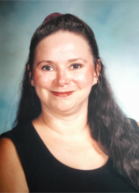 Thank you so much for joining me today! I look forward to reading your books. You can learn more about Diana and her books at her website.
You can purchase Veil of Shadows at:
Amazon
Barnes & Noble
Kobo