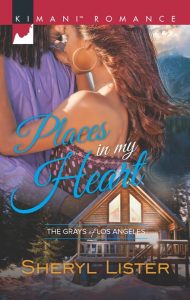 Omar Drummond is a pro football superstar with a body that's a pure work of art. But Morgan Gray is forbidden to act on their chemistry, or repeat their impulsive kiss. Proving her worth as a sports agent means securing the notorious celebrity as a client, not a lover. Yet between flowers, sweet notes and heady hotel interludes, Omar is shamelessly seducing her…
Other agents—and exes—have tried using Omar as a meal ticket, and he's closed himself off from emotional entanglements. With Morgan, it's a whole new playbook. Smart and tough, she can negotiate a contract and turn him on all in one go, and he craves more. But in matters of trust, he's just fumbled badly. To win her he has to show her the man he can be away from the field and the limelight, and hope that this time they're both playing for keeps.

Excerpt: Places In My Heart by Sheryl Lister
Omar scanned the yard and saw Morgan laughing with another player's wife. They were the only two women who had joined in the otherwise all-male football game. She had impressed him with her offensive and defensive skills. Not many women—and none he'd dated—would subject themselves to a light tackle football game and not care about being dirty or having messy hair. But Morgan was different, and that turned him on.
"Man, you don't have anything to worry about," Malcolm said. "Roland will make sure you stay with the Cobras as long as you want." When Omar didn't comment, Malcolm leaned forward. "What's up, Drummond?"
"I can't go into details, but I think it's time for a change. And this time, I want to steer clear of anybody involved in league politics. I need somebody else, Mal."
Malcolm studied him for a moment and then said, "My sister is looking to get into the business."
"Is that right? She's an attorney?"
"Yeah. And she's about as far away from league politics as you can get."
"So, she knows the game well, huh?"
"As if she's played it all her life," Malcolm said.
Omar had thought that was the case, but hearing Malcolm confirm it solidified in his mind that she might exactly the person he needed to help him.
"Food's ready," Omar heard someone say.
He came to his feet, eager to end the conversation. Omar got in line with the rest of the guests, filled his plate and crossed the yard to where Morgan sat with her food. His intention had been to talk to her about a business proposition, but as soon as he sat and opened his mouth, two other women joined them and started a conversation about some popular television show. He promptly tuned out and dug into his meal.
"What about you, Drummond?"
His head popped up, and he met Morgan's expectant gaze. "I'm sorry. What did you ask?"
"I asked which show was your favorite—Scandal or How to Get Away with Murder?"
"I don't watch either show."
Morgan slanted him a look. "Let me guess. You only watch sports or sports news."
"No. I enjoy a good comedy or action movie, but I prefer reading to television."
Surprise lit her eyes. "Reading?"
"Yeah, you know…books."
"Wow, really, Omar? I would've never figured that out," she said teasingly and rolled her eyes. The group laughed.
Omar smiled. She'd called him by his first name, something she had never done before. Their easy rapport gave him hope that she would be receptive to his plan. They finished eating while talking, and afterward, three other guys convinced Omar to join them in a card game. He kept one eye on his cards and the other on Morgan, waiting for a chance to get her alone.
His opportunity came three hands later when he saw her go inside. It took some serious patience to finish the game, especially since his partner seemed to contemplate every round. In Omar's mind it was simple—you either had the card or you didn't.
Marcus Dupree, wide receiver, threw up his hands. "Grant, do you think we could finish this game before the season starts? We only have a month."
"My thoughts exactly," Omar mumbled.
"Patience, my brothers," Lucas Grant said. "I have to get my strategy together." The middle linebacker employed the same tactics when watching plays develop and stopping runs between the tackles. Though effective on the field, today it only irritated Omar.
Omar shook his head. Minutes later, he tossed out his last card and stood. "Somebody else can take my spot. I'm done." Without waiting for a reply, he headed for the sliding glass door that led to the kitchen and stepped inside. The sight of Morgan's long bare legs stopped him in his tracks. She had changed into another pair of shorts that stretched taut over her backside as she reached for something in a cabinet. If he could just get one touch… Omar shook himself and quickly dismissed the notion.
"I see you changed."
Morgan whirled around. "Oh. Drummond, you scared me."
Back to last names again. "Sorry."
She set the glass she had gotten on the counter and went to the refrigerator. "That's okay. I had to shower. I can only take feeling grimy for so long."
It took him a moment to realize she had commented on his previous statement. "I hear you. But you played a good game."
"Are you referring to the interception or the touchdown?" she asked as she poured what looked like iced tea into the glass.
"A little cocky, aren't you?"
She leaned against the counter, wrapped one arm around her middle and took a sip of her drink. "My game speaks for itself. Yours, on the other hand, can use some work."
Omar closed the distance between them and braced his hands on the counter on either side of her. "Is that a challenge?"
She tilted her chin and stared at him intently. "You tell me."
Their faces were inches apart. Common sense told him he should back up, but he couldn't. Not when her full, gloss-slicked lips were calling to him. Without thinking about the ramifications, he crushed his mouth against hers and slid his tongue inside when her lips parted on a startled gasp. She came up on tiptoe and met him stroke for stroke, causing him to groan.
A second later Morgan stiffened and tore her mouth away. She pushed against his chest. "Move."
Omar dropped his arms. "Morgan, I—" She brushed past him, and he reached out to stop her.
She slapped his hand away and kept walking.
"Morgan, wait. I need to talk to you."
"I think you've said enough," she called over her shoulder.

Purchase Places in My Heart (The Grays of Los Angeles)
Genre: Kimani Contemporary Romance
https://www.amazon.com/Places-Heart-Grays-Los-Angeles/dp/0373864701/
http://www.barnesandnoble.com/w/places-in-my-heart-sheryl-lister/1123346427
REPRINTED WITH PERMISSION FROM BLACK PEARLS MAGAZINE.