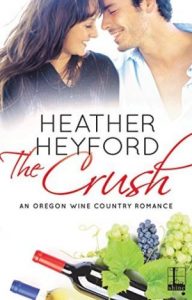 Wine Country by Author Heather Heyford
In wine country, "the crush" is that golden time of year when the grapes are at their juicy, sweet peak, ready to be harvested and magically turned into wine.
California wine country has always held a special place in my heart, which is why I set my first series, The Napa Wine Heiresses, there. But after visiting a family member who moved to Oregon, I fell in love all over again with the Willamette Valley's lush vineyards, wildflower meadows, and carefully tended farms. The Willamette is America's hip, new hotspot of pinot noir: a 150-mile stretch packed with more than 700 vineyards whose quality is creating worldwide buzz.
While writing The Crush, I booked an Airbnb at a horse rescue ranch within walking distance of seven vineyards. Actually walking through the vineyards, tasting the wines and talking to the people who live and work there lends an authenticity and character that my books wouldn't otherwise have.
When I arrived I found that the owner's soft spot for animals extended beyond horses to a whole barnyard full of ducks, donkeys, rabbits, goats, and sheep.
The farmhouse itself was an L-shaped ranch surrounded by a wood-planked deck. My hostess lived in the long leg of the L; my suite was in the short leg.
That first night, I unwound with a glass of Erath, my feet propped on the railing overlooking the horse paddock, and watched the sun set through the canopies of white oaks stippled with gossamer balls of mistletoe. When night fell, the swath of stars overhead did nothing to light up my surroundings, and I realized I was in a "dark sky" area—a place sought out for stargazing, far from the ambient light of cities.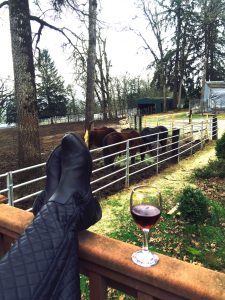 I went inside and with no TV, no Internet connection and no company, it suddenly hit me—what the hell was I doing out here in the middle of nowhere?
To calm my nerves, I poured another glass of wine, dumped my accumulation of travel brochures out of my bag and narrowed down my list of vineyards to visit in the coming week. After scribbling a few notes for my WIP, I crawled into bed with my Kindle.
Hours later I was jolted awake by a violent clatter. The whole house shook! My first thought was, earthquake! But the ruckus seemed to be part of the building, not coming from deep in the earth. It sounded like a bunch of burly men had broken in and were throwing furniture.
It was all over in a matter of seconds. Finally, I worked up the courage to tiptoe to the window, but with no outside lights, all I could see was my reflection. I cupped my hands against the glass—terrified, but unable to tear myself away—and stood still as a stone, listening. And then, to my inexpressible relief, I saw the owner step outside her door in her mucking out boots and flannel nightgown, wielding a flashlight.
Opening my door a crack, I whispered, "What was that awful noise?"
She shone her light on a steaming pile on the wood deck, right outside my bedroom.
"Horses must have got loose. Congregated on the deck until something spooked them. Did a little dance."
A half-dozen horses weighing a thousand pounds each, dancing on the deck mere feet from where my head lay on my pillow.
I turned and collapsed against the wall, inhaling my first, full breath since all the commotion, already plotting how to work my experience into a scene.
"Juniper Hart's entire family abandons her, leaving her with a fledgling vineyard and some serious trust issues . . . until a footloose ladies' man lends her a hand—and in the process, loses his heart."  The Crush, Book 1 of An Oregon Wine Country Romance is available now.
In the first of Heather Heyford's new series, set in Oregon's Willamette Valley wine country, the grape isn't the only source of intoxication . . .
The Crush by Heather Heyford
Juniper Hart has her dream job—or rather, her dream job has her. Under Junie's management, the winery her late father started is finally getting noticed. But she's lonely, deep in debt, and overwhelmed with work. Even if she had time to date, the only men she meets are smug, stemware-breaking hotshots like Lieutenant Manolo Santos, whose good looks and smooth charm don't half make up for the sour taste he leaves on Junie's palate.
After years as an army engineer and a childhood in a restaurant kitchen, Manolo can see Junie's winery is about to go sideways—and he's bursting with ideas to help. Except Junie's far too magnetic for comfort. He left New Jersey to escape becoming one more Santos man shackled to a captivating woman and a failing family business. But in the misty hills of Oregon, with a sip of supple pinot on his tongue, pulling away is the last thing he wants to do . . .
ABOUT THE AUTHOR: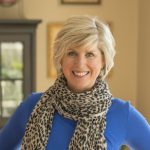 Heather Heyford learned to walk and talk in Texas, then moved to England ("Y'all want some scones?"). While in Europe, Heather was forced by her cruel parents to spend Saturdays in the leopard vinyl backseat of their Peugeot, motoring from one medieval pile to the next for the lame purpose of "learning something." What she soon learned was how to allay the boredom by stashing a Cosmo under the seat. Now a recovering teacher, Heather writes romance, feeds hardboiled eggs to suburban foxes, and makes art in the Mid-Atlantic. She is represented by the Nancy Yost Literary Agency.
Social Media:
Website: http://www.kensingtonbooks.com/author.aspx/30545
Twitter: https://twitter.com/heatherheyford
Facebook: https://www.facebook.com/catherine.campbell.948?fref=ts&ref=br_tf
Buy Links:
http://www.kensingtonbooks.com/book.aspx/33903