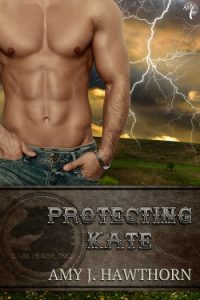 Protecting Kate
by
Amy J. Hawthorn
(
Protecting Kate is on sale until Nov 30th for just $.99)
Trent Dawson, horse trainer and former soldier, smells trouble at a simple charity auction. His good intentions get the better of him and he bids a small fortune on a damsel in distress. It turns out there's far more than meets the eye to the former Miss Kentucky and their chemistry is off the charts.
The only thing standing between Kate MacDonald and her worst nightmare is Trent Dawson and the men of Dark Horse Inc.
EXCERPT:
"Preston, I divorced you, remember? Please leave me alone." Her voice reminded Trent of honeyed bourbon. The warm, smooth tones whispered through him, making every cell take notice and reach for more.
"Kate, this will only take a minute of your time. We have a proposition for you…" The first man stepped even closer before he reached out to grasp her arm. She shrank back, pressed against the stall door. When Trent saw the golden tan of her arm turn white beneath the man's brutal grip, he saw red.
She winced and tried to yank her arm free, but the man held fast. "I just need you to listen to me. Damn you, always so stubborn," the man said through gritted teeth, as if ready to lose his temper.
Trent had heard and seen enough.
"Kate? There you are. I'm sorry I was late." He slid in beside her and asshole number one immediately released her arm and stepped back. Figured. Trent couldn't think of much worse than a coward who'd lay a hand on a woman, but didn't have the balls to stand up to another man.
"Can I help you? I promised to introduce my…Kate… to pretty little Molly, here." Trent's smile filled with pure menace and let the men wonder about his relationship with the brunette. He turned his back to the men, dismissing them.
He glanced at her face to verify that she understood and would cooperate. Light brown eyes met his full of equal parts shock, wariness and relief. He could work with that. Once the tension in her heart-shaped face eased, her beauty jabbed him in the gut. Something deep and primal took root, an unbreakable leash holding him fast to his course.
Heaven help the man who tried to sway him.
"Where'd you find the boots? I didn't even think about your shoes when I made my offer." He clicked at Molly, and she cautiously came to stand in the middle of the stall. Another strike against the two idiots. They'd made one of his horses nervous. Molly might belong to the Mitchells, but she'd always be one of his animals.
"They're Carol's barn boots. I didn't think she'd mind." Her voice knocked him in his chest and slid down low beneath his belt.
"Smart girl. A man's gotta love a lady who knows her way around a farm." He clicked again and murmured to his girl. He loosely caged his arms around the two legged female and did his best to focus on the four legged one. "Come see Kate. You'll like her. Ignore those two suits. They're leaving." Molly came forward and allowed Kate to rub a gentle caress over her nose.
He turned his head back to the men and didn't bother to hide the fury from his expression. He hoped they understood they weren't welcome and, if not for the females, he wouldn't let them off with a verbal warning. "Gentlemen, we'll see you later, correct?"
You can purchase PROTECTING KATE at:
Amazon – http://amzn.to/1dH9D1y
iBooks – http://bit.ly/iBooksPK1
Nook – http://bit.ly/1JUz6kh
Kobo – http://bit.ly/PKkobo
ABOUT THE AUTHOR: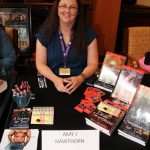 As a teen, International Amazon Best Seller, Amy J. Hawthorn, fed her reading appetite with fantasy and horror stories. Then she stumbled upon a pretty book cover—complete with a bare-chested, sword-wielding, Highlander.  That Highlander and his author showed her the magic of a Happily-Ever-After.
She has read her way through Kentucky, Arizona, Southern California, and then back home to Kentucky, where she's living out her own Happily-Ever-After. The only person surprised by her Best Seller title? Amy. Her friends and family are laughing and saying I told you so.
Social media –
Website – amyjhawthorn.com
Twitter – @ajhawthorn
Facebook – https://www.facebook.com/amyjhawthorn/
Instagram – amyjhawthorn