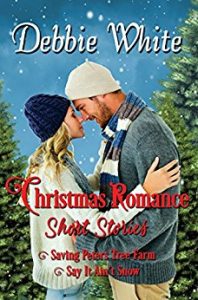 Welcome Debbie! I had the pleasure to meet today's guest at a recent conference, and I'm happy to introduce readers to her books.
Tell us a bit about yourself. Where you're from, where you live? Do you have one of those day-jobs? 
I currently live in the same small town I grew up in. It's still relatively small, but it has grown. Yes, I'm currently employed by the federal government…but retirement is in my sight!
How long have you been writing?
I've been playing around with writing from the first entry in my diary as a teen to writing college papers. I didn't get serious until 2013.
Briefly describe your writing day.
Day? I don't typically write every day. That's my dream though. I write when I can. If I'm working on a project then I try to write every day.
Tell us about your latest release?
It's a Christmas Romance with two short stories. They are sweet and clean!
Are your characters entirely fictitious or have you borrowed from real world people you know?
I plead the fifth!
Would you share one detail from your current release with readers that they might not find in the book?
Saving Peters Tree Farm (Peters as in the last name), was published once before in a multi author, multi-genre collection.
Who has been the most difficult character for you to write? (Any of your books)
All my characters have been easy. I wrote them that way!
If you could be one of your characters for a day which character would it be? Why?
That's easy, Darla. She is a free spirit, vegan. Some would label her a hippie. Back in the seventies, I was a flower child…wannabee. I was too young, but being from California, I totally felt the vibes. I'm much more conservative now. That's what happens with age.
What's next?
What isn't??!! I have so many things going. I'm involved in a multi-author boxed set that is due to release in Feb. We're gearing up now for pre-launch activities. I'm also involved in a Kindle Worlds project. I've written a romance that will be part of Ruth Cardello's Lone Star Burn series. My book is titled Healing Hearts and it is about an older woman and a younger man. It's a little spicy. I'd rate it 2.5 on a scale of 1 to 5.
All writers are readers. Are there any particular authors that have influenced how you write and, if so, how have they influenced you?
I'm an old Danielle Steel fan who migrated to Nicholas Sparks. I've since branched out and away from them, but some have said they can see a speckle of their styles in my writing. I'm trying hard to be just me, though.
Your favorite go to drink or food when the world goes crazy!
I enjoy a good glass of red wine and on occasion a spicy bloody mary.
Thank you so much for being my guest today on Behind the Words. Readers, you can find out more about Debbie and her books by following this link to her website. Don't forget to click here and read an excerpt from Debbie's Christmas Romance Short Stories.