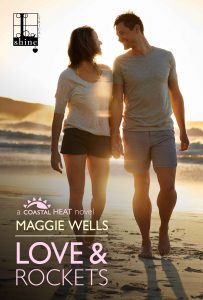 Non-traditional traditions from Maggie Wells
Holidays can be a tricky time for most families. For those of us with blended families, they are sometimes more complicated. Now that our kids are grown and have lives/families of their own, my husband and I decided it was time to simplify things by claiming the alternative holiday meals.
What do I mean? My daughter and her family have the…opportunity (I won't say obligation) to attend four holiday dinners every Thanksgiving. The same applies in December. Our solution?
Come for breakfast!
Last year, we served cocktail sausages wrapped in bacon, and caramel-pecan monkey bread. Probably not the healthiest choices, but we live in the South. If we can wrap bacon around it or add some fresh pecans, everyone is happy. But you don't have to wait for a special occasion. The next time you need an easy but delicious breakfast treat, give this a try!
Caramel-pecan Monkey Bread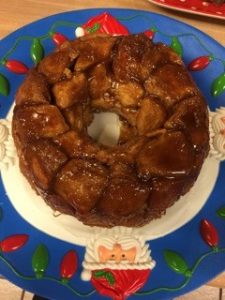 ½ c sugar
1 tsp cinnamon
2 cans large refrigerated biscuits
½ c chopped pecans
1 c packed brown sugar
¾ c butter or margarine, melted
Pre-heat oven to 350°F.
Lightly grease 12-cup bundt pan.
In a large-sized plastic food bag, mix sugar and cinnamon.
Separate dough into 16 biscuits; cut each into quarters.
Drop a few at a time in the bag and shake to coat the pieces.
Arrange in pan and sprinkle over each layer of biscuit pieces.
In small bowl, mix brown sugar and melted butter.
Pour over biscuit pieces.
Bake 30 to 35 minutes or until golden brown and no longer doughy in center.
Cool in pan 10 minutes, then turn upside down onto serving plate.
Serve warm and enjoy!
A look at LOVE AND ROCKETS:
Smart is the new sexy…
They say if you can't stand the heat, get out of the kitchen, but it's not the sauce at The Pit BBQ that has Darla Kennet breaking a sweat. The sassy single mom has waited tables in Mobile for years to support herself and her daughter, Grace, and she's never let anything get her rattled…until now. Somehow, handsome aerospace engineer Jake Dalton has gotten under her skin.
Although they went to school together, Jake doesn't remember much about Darla. Back then the brainiac future rocket scientist always had his head in a book. But now that a chance meeting has him helping Grace apply to space camp, he's been pulled into Darla's orbit. And it isn't long before Jake and Darla have a heated meeting of their own celestial bodies. The trouble is, Jake wants more. Convincing cautious, fiercely independent Darla to trust him with her heart just may be his most challenging mission yet…
 You can purchase LOVE AND ROCKETS AT:
http://www.kensingtonbooks.com/book.aspx/33999

ABOUT THE AUTHOR: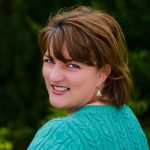 Maggie Wells is a deep-­‐down dirty girl with a weakness for hot heroes and happy endings. By day she is buried in spreadsheets, but at night she pens tales of people tangling up the sheets. The product of a charming rogue and a shameless flirt, this mild-­‐mannered married lady has a naughty streak a mile wide.
Fueled by supertankers of Diet Coke, Maggie juggles fictional romance and the real deal by keeping her slow-­‐talking Southern gentleman constantly amused and their two grown children mildly embarrassed.
Author Links:
Website: http://www.maggie-wells.com/
Twitter: https://twitter.com/MaggieWells1