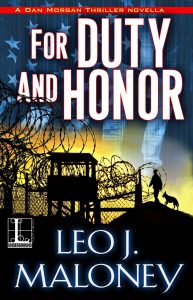 An Interview with Thriller Author Leo J. Maloney
What are you reading now? What are some of your favorite books/authors and who has had the greatest influence upon your own work?
I just finished reading a draft of a manuscript written by a friend of mine who is a former U.S. Assistant Attorney General in the Justice Department. I am also a huge fan of John Gilstrap.  Vince Flynn, Ben Coes, Marc Cameron and Ian Fleming, who probably had the most influence on my own work.
What's something that you've learned about the publishing business that you weren't expecting?
When you think you are done, you're not. Completing a manuscript is just the beginning. Beyond writing the book, the author is much more involved with promotion and publicity, because of changes in the publishing business and technology. I've needed to develop my own web site, Facebook fan page, and use twitter. This is not easy for someone in my generation … it will be second nature for younger writers. Also, my publishing company suggested I contract the help of a digital publicist, have a book trailer produced, and hire a local publicist. I've purchased promotional items (hats and pens with book logo) for events, I have a book launch party for every new book. I didn't realize the importance of attending events like ThrillerFest, Bouchercon, the New England Crime Bake, etc., to network with other writers and readers to promote myself and my books. I also attend many libraries and give talks.
Do you have any advice for aspiring (or struggling) writers out there?
Make sure your book is well written and has commercial appeal. If you are a first-time author, attending ThrillerFest is a good investment – there are excellent writing seminars as well as talks on many other related topics. When you are done, bring it to two independent editors and get their opinions. Research and find the best possible agent for your type of book and send them a well-written query letter. If you don't have an agent, research publishing companies that deal with your genre and determine which editor within the company would be best suited for your book and try to contact them. If you truly feel your book deserves to be "out there," don't give up on your dream.
TERMINATION ORDERS released in 2012 was billed as the first in the Dan Morgan thriller series? Can we get a sneak peek at what's to come for Dan Morgan?
SILENT ASSASSIN released in 2013, the second book in the series finds Dan Morgan two years later and his life has changed drastically. Pulled out of retirement, he is back working in Black Ops, only this time working for Task Force Sigma, which is part of a shadowy non-governmental organization with seemingly unlimited resources and an unknown agenda hidden even from its own members. The world, meanwhile, is being wracked by dire and apparently random terrorist attacks which have claimed the lives of hundreds already. All that the authorities are certain of is that there will be a next attack, and it's up to Morgan to find out who's behind the attacks and to stop them.
The series continues with BLACK SKIES released in 2014, TWELVE HOURS released in 2015,
ARCH ENEMY in 2016, with FOR DUTY AND HONOR coming out on November 22, 2016, and ROGUE COMMANDER due out on September of 2017.
Is it true that TERMINATION ORDERS is being made into a movie?
Yes. I have sold the film rights for TERMINATION ORDERS to Amber Entertainment who's Studios are based in London. The screenplay is being worked on and close to being completed. The filming will take place in Europe and is expected to begin filming in June of 2017.
 Who would you like to play the role of Dan Morgan?
I think that Damien Lewis (Homeland & Band of Brothers) or Max Martini (The Unit) would both be excellent in the role of Dan Morgan.
What is the difference between you and many of the other thriller writers out there?
My answer is very simple. They may be better known than I am, may be better writers, sold more books than me, but the difference between me and the best authors in the world is that they sit in their offices do research and make things up. I lived the life and was in the field for most of my adult life and know what is real and what isn't, and what can actually be happen in real life. I think that is what gives me somewhat of an edge.
Until next time "Be Safe, and Follow Your Dreams."
God Bless America and keep all our Military and First Responders safe.
FOR DUTY AND HONOR by Leo J. Maloney
In this action-packed novella, Black Ops veteran Leo J. Maloney delivers a heartpounding tale as fast, cold, and sleek as a 9mm bullet . . .

For Duty And Honor
The unthinkable has happened to operative Dan Morgan. Captured by the Russians. Imprisoned in the Gulag. Tortured by his cruelest, most sadistic enemy. But Morgan knows that every prisoner has a past—and every rival can be used. With the most unlikely of allies, Morgan hatches a plan. To save what's important, he must risk everything. And that's when the stakes go sky-high. Dan Morgan's got to keep fighting. For duty. And honor. And even certain death . . .
You can purchase Duty and Honor at:
http://www.kensingtonbooks.com/book.aspx/33995

ABOUT THE AUTHOR: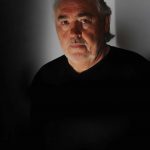 Leo J. Maloney is a proud supporter of Mission K9 Rescue, www.missionk9rescue.org, which is dedicated to the service of retiring and retired military dogs and contract dogs and other dogs who serve. Mission K9 rescues, reunites, re-homes, rehabilitates, and repairs these hero dogs. Leo donates a portion of the proceeds from his writing to this organization. To find out more about Mission K9 Rescue, or to make your own donation, please visit www.missionk9rescue.org or go to www.k9gala.org
Author Links:
Website: http://leojmaloney.com/
Twitter: https://twitter.com/leojmaloney
Facebook: https://www.facebook.com/leojmaloneyauthor