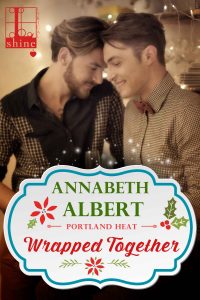 Wrapped Together by Annabeth Albert
In my December release for Kensington/Lyrical , WRAPPED TOGETHER, my main character, Hollis, has a thing for scarves. This is a seasonal book with a lot of holiday flavor, but Hollis arrived on the scene, scarf collection in tow and informed me that his need to be wrapped up would be a central theme in the book.  As a knitter, I took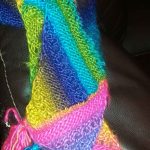 Hollis's obsession with scarves very seriously, contemplating what yarn blends he might like, what patterns might captivate him, what colors would speak to him. Then, a very curious thing started happening…
I became addicted to knitting scarves. For months this past year, long after I'd finished WRAPPED TOGETHER, I knit nothing but scarves. Green leafy scarves. Rainbow striped scarves. Cabled cowls.  Cheerful chenille wraps. Soft stoles. They all flew off my needles, each quickly replaced by the next project. When I learned to knit twelve years ago, scarves were my very first project. I still remember the crinkly novelty yarn I used on an early scarf—my, how my tastes have changed!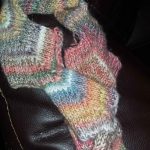 Returning to scarf knitting felt a lot like a homecoming for me—a way to rediscover my crafting roots so to speak while bringing all the skills and techniques I learned in the intervening years. In the same way in WRAPPED TOGETHER,  my two friends, Hollis and Sawyer, have had years working their way towards each other, and they rediscover their early bond while also bringing their life experiences to the table as adults.
After so many years as a knitter, knitting definitely feels like visiting with an old friend here, as much a part of me as Hollis's scarves are for him. I knit my way through two pregnancies, making little hats and huge afghans to pass the long months of hoping and waiting. I've knit my way through countless road trips and television series and can mark time in what I was knitting at a given point in time—there have been afghan phases, a knitted box phase, a pillow phase, a toy phase, a purse phase, and of course, my scarf phases.
And through it all, knitting as been an integral part of my writing, something I return to when I'm stuck or as an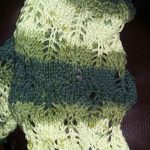 outlet after long days crafting worlds. Having something tangible to hold onto, a physical representation of my creative spirit is really important to me and very restorative.  It holds me together and lifts me up and allows me to share my gifts with those I love most—not unlike writing. And just like Hollis and his scarves, it's a part of my identity—I'm a knitter, every bit as much as a writer. It's in my blood.
Is there a craft that's a part of you? Share!
Want to be eligible to win prizes including the occasional hand-knit item? Consider joining my Facebook readers' group:  https://www.facebook.com/groups/annabethsangels/ or signing up for my newsletter:  http://eepurl.com/Nb9yv
WRAPPED TOGETHER
In the bustling restaurants, shops, and cafés of Portland, Oregon, things really heat up for the hard-working men behind the scenes when the holidays come into town . . .
For a stationery store owner, the holidays are great for business. But for Hollis Alcott, Christmas reminds him of the tragic events of three years past, and the last thing he wants to do is take part in Portland's over-abundance of festive cheer. But Sawyer Murphy, a hunky gift shop owner whose brother is married to Hollis's sister, has made it his mission to pluck Hollis out of his holiday blues. And his plan is beginning to work. Wrapped in the warm glow of newfound passion, the former business rivals hit up Portland's finest holiday traditions–and Hollis's icy attitude begins to melt like snowflakes on his tongue. But he isn't sure he can trust anyone with the only gift he has–his heart–without breaking it like an antique ornament. Unless he can find the courage to take a leap with the one lover he never expected . . .
You can purchase Wrapped Together at:
Kensington Books
ABOUT THE AUTHOR: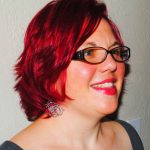 Annabeth Albert grew up sneaking romance novels under the bed covers. Now, she devours all subgenres of romance out in the open—no flashlights required! When she's not adding to her keeper shelf, she's a multi-published Pacific Northwest romance writer. Emotionally complex, sexy, and funny stories are her favorites both to read and to write. Annabeth loves finding happy endings for a variety of pairings and is a passionate gay rights supporter. In between searching out dark heroes to redeem, she works a rewarding day job and wrangles two toddlers.
Author Links:
Website: http://annabethalbert.com/
Twitter: https://twitter.com/annabethalbert
Facebook: https://www.facebook.com/annabethalbert