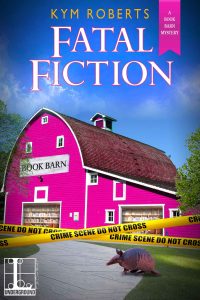 FATAL FICTION By Kym Roberts
When kindergarten teacher Charli Rae Warren hightailed it out of Hazel Rock, Texas, as a teen, she vowed to leave her hometown in the dust. A decade later, she's braving the frontier of big hair and bigger gossip once again . . . but this time, she's saddled with murder!

Charli agrees to sell off the family bookstore, housed in a barn, and settle her estranged dad's debt–if only so she can ride into the sunset and cut ties with Hazel Rock forever. But the trip is extended when Charli finds her realtor dead in the store, strangled by a bedazzled belt. And with daddy suspiciously MIA, father and daughter are topping the most wanted list . . .
Forging an unlikely alliance with the town beauty queen, the old beau who tore her family apart, and one ugly armadillo, Charli's intent on protecting what's left of her past . . . and wrangling the lone killer who's fixin' to destroy her future . . .
You can purchase Fatal Fiction at:
Kensington Books
An Old Family Favorite by Kym Roberts
During the holidays, my favorite food was my mom's pumpkin pie. It was the only time she made it, and I couldn't wait to dig in. I didn't think anyone could beat her recipe—boy, was I wrong.
While working my way through college, I waitressed for Pippins Restaurant, which changed its name to Tippin's Restaurant when it expanded beyond Independence, Missouri. Have you heard of Tippin's Pies? Yum! The training was grueling, we had to try all the pies, (oh, the torture!) and suddenly, my mom's pumpkin pie fell off its pedestal. (Sorry, mom!)
But it did help her, because she no longer had to worry about baking dessert for family gatherings—I just ordered a couple pies from Tippin's every time we got together—it was awesome! (Those are her words…and mine) Then Tippin's Restaurants started closing their doors, and none were available where we lived. So many years ago, I decided to tackle the recipe and see if I couldn't make a pie just as good as Tippin's–with my mom's recipe as the starting point. I did not try to tackle the crust, I leave that to the experts in the kitchen. I went for the meat of a pumpkin pie—the filling!
Now, I do the same thing my mom did—my kids must wait for the holidays to get my pumpkin pie, which turns out to be their favorite;) I hope you enjoy Kym's Pumpkin Pie as much as my kids do—and hopefully someday, they'll take it and make it their own for the next generation. Happy Holidays!
Kym's Pumpkin Pie
Serving: 2 pies
Time: 55-105mins depending on your oven
Pre-heat Oven: 425º
Ingredients
1 30oz can Pumpkin
1 tsp salt
2 ½ tsp ground cinnamon
1 ½ tsp ground ginger
1 ½ tsp nutmeg
3 large eggs
2 cans Eagle Brand Condensed Milk (you can use low or no-fat)
2 frozen Pet-Ritz Pie shells
Directions
Mix salt, cinnamon, ginger, & nutmeg in a small bowl.
Beat eggs in a large bowl
Stir in pumpkin and spice mixture
Slowly stir in condensed milk
Pour into frozen pie shells
Bake in preheated oven at 425º for 15 minutes with the edges of the crust only covered
Reduce heat to 350º and take off crust covering. Bake for 40-50 minutes until knife inserted in the center comes out clean.
Cool on a wire rack for 2 hours or chill for 1 hour and serve
It's not pumpkin pie without whip topping to me, so add on your favorite. I use CoolWhip.
If you'd like to try a fancier version, I've added a streusel on top, but my kids prefer it without the streusel.
Streusel Ingredients
¼ c. Flour
¼ c. Brown Sugar
2 Tblsp melted butter
¾ c. Pecans coarsely chopped
½ c. ground gingersnap cookies
Directions
Mix all ingredients and put on top of pie when it has 15 minutes left to bake.
Let cool 2 hrs on a wire rack, or chill for 1 hour in refrigerator.
Top with whip topping and serve.
Check your local grocery store in the frozen food sections. Tippin's Pies have started showing up even in Texas, and their French Silk Pie will be on my holiday table!
ABOUT THE AUTHOR: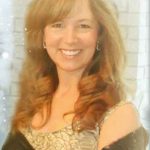 Three career paths resonated for Kym Roberts during her early childhood: detective, investigative reporter, and . . .nun. Being a nun, however, dropped by the wayside when she became aware of boys—they were the spice of life she couldn't deny. In high school her path was forged when she took her first job at a dry cleaners and met every cop in town, especially the lone female police officer in patrol. From that point on there was no stopping Kym's pursuit of a career in law enforcement. Kym followed her dream and became a detective who fulfilled her desire to be an investigative reporter, with one extra perk—a badge. Promoted to sergeant, Kym spent the majority of her career in SVU. She retired from the job reluctantly when her husband dragged her kicking and screaming to another state, but writing continued to call her name, at least in her head.
Author Links:
Website: http://www.kymroberts.com/
Twitter: https://twitter.com/kymroberts911