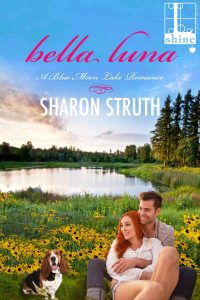 Sharon Struth Shares the Power of Pooches and a Sneak Peek of Her Novel – Bella Luna

Holiday stress? Let the Power of the Pooch Work its Magic!
Thanksgiving is over and we're blasting into the holidays. This time of year can lead to overeating, stress, and expectation for the season that might leave us feeling down in the dumps.
As a lifelong dog lover, I've found that my dogs have a way of helping me regain focus. My own dog dynamic duo–miniature schnauzer, Mollie, and Petit Basset Griffon Vendéen, Milo,–keep me sane all year round, but especially during this hectic time of year.
How? It's found in the simple things, and yet so needed in the midst of the seasonal frenzy. For example:
Long walks with them give me exercise to burn off those extra cookie calories
Their unbounded joy each time I return home gives me social and emotional support, especially after a shopping trip to the mall.
They want my attention, a perfect reminder I sometimes need to stop and relax. Research shows that just petting a dog releases oxytocin, the hormone associated with bonding and affection. Time with your dog also decreases levels of stress.
I believe in the power of the pooch, so it's no coincidence a loveable basset hound plays a starring role in the lives of my characters in my latest release, Bella Luna (release date 12/6/16).
Our dog friends deserve a special gift this time of year, too. I love to make homemade dog treats, not only for Mollie and Milo, but to give as presents to friends who own dogs. They're easy to make! Coupled with these dog-themed cookie cutters, it's a gift both the humans and their dogs enjoy. Here's my recipe: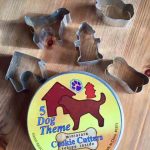 Dog Treats
½ cup cornmeal
6 tablespoons oil
2 cups whole wheat flour
2/3 cup of water or broth
Preheat oven to 350 degrees F. Mix all ingredients together well. Roll out to ¼ inch thick. Cut into desired shapes with cookie cutter. Bake 35 to 40 minutes, let cool and store in a tightly sealed container.
Happy holidays to all!!
Bella Luna by Sharon Struth
Her love life has gone to the dogs…
Rose Richardson is on the run from her dangerous ex-husband, a crime she didn't commit—and the embarrassment of being an advice columnist with a disastrous personal life. Donning a fake identity, she escapes to a lovely lake house rental in rural Connecticut…only to discover her refuge is already occupied. Leo Drake is devastatingly handsome–and clearly wants to be alone. Rose stands her ground, even while she fears being found out for the fugitive she is. Plus, her sweet dog, Bella, seems to like the brooding widower, so how bad could he be?
A prize winning novelist, Leo lost everything after he lost his wife. But his mysterious housemate just might be the muse he needs to reignite his writing career. Despite his misgivings, Rose has secrets that only draw him closer, firing his imagination, even as his heart struggles with the attraction building between them. Plus, he kind of likes the quirky pooch. And as he tries to untangle his unusual predicament, Bella's antics just might be the key to showing the loner that love is the only inspiration he needs…
You can purchase Bella Luna at:
Kensington Books
ABOUT THE AUTHOR: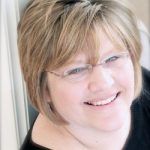 Novelist Sharon Struth believes you're never too old to pursue a dream. The Hourglass, her debut novel, is a finalist in the National Readers' Choice Awards for Best first Book. Her next release, SHARE THE MOON-Book one in the Blue Moon Lake Novel Series-is published by Kensington Books/Lyrical Press.
She writes from the friendliest place she's ever lived, Bethel, Connecticut, along with her husband, two daughters and canine companions. For more information, including where to find her published essays, please visit sharonstruth.com or visit her blog, Musings from the Middle Ages & More at www.sharonstruth.wordpress.com.
Author Links:
Website: http://www.sharonstruth.com/
Twitter: https://twitter.com/sharonstruth