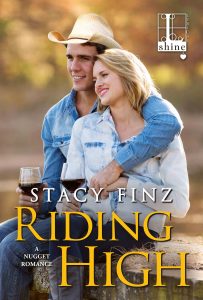 Stacy Finz With A Sneak Peek at Riding High and An Awesome Chili Recipe
Long before becoming a romance author, I was a newspaper reporter. I covered many different beats during my distinguished career as a journalist but my last assignment at the paper was to cover California's agriculture industry. California is the largest agricultural state in the country, producing more than 53-billion dollars' worth of crops, including dairy, produce, nuts, and wine grapes, a year. It's also a large producer of beef. So basically, I spent my days with cowboys, drinking wine. Not a bad gig.
I grew up on a small farm, participating in 4-H. While it was mostly a hobby and a lifestyle for my family, it gave me a good understanding of animal husbandry and what it was like to work hard and feed your family with food you raised yourself. And it was great preparation for interviewing and writing about farmers and ranchers, the very people who had been my neighbors, growing up.
That's why when I quit my job at the paper and became a full-time romance author those same farmers and ranchers wended their way into my books. Write what you know, right? To me, they epitomize America and small towns. So, when it came time to write Flynn Barlow, the hero and cattle rancher in Riding High, I had him down to a T. A good amount of swagger like any good cowboy, an excellent business acumen because beef is big industry, and a work ethic that won't quit. And of course, he's incredibly hot. Because, hello, did I say cowboy?
Flynn is a heck of lover but not much of a cook. The one thing every cowboy knows how to make, though, is chili. Double beef chili. If he had a recipe it would be my friend Amanda Gold's. She worked with me at the paper as a food writer and recipe developer. I leave you with this gift from her.
Double Beef Chili
Serves 6-8
Adjust the heat on this basic beef chili by adding more jalapenos or cayenne. I used Rancho Gordo black beans, which are wonderfully creamy and delicious. If you want to use canned beans instead, that's fine, and it will cut down significantly on the cooking time. Use about three 14.5-ounce cans, saving one can's worth of the bean liquid, and draining and rinsing the other two. When you add the beans and bean liquid, also add about 2 cups of chicken broth.
The beans
1/2 pound dried black beans, rinsed and soaked 4-6 hours or overnight
3 cloves garlic, smashed
2 bay leaves
The chili
2 tablespoons olive oil
1 onion, chopped
3 cloves garlic, minced
2 large red peppers, roasted, peeled and seeded, and cut into medium dice
2 jalapeno peppers, minced
1/2 pound ground beef
3/4 pound top sirloin, cut into 1/2-inch dice
— Kosher salt
— Freshly ground black pepper
1/4 teaspoon cayenne pepper
1 tablespoon chili powder
1 teaspoon ground cumin
1 1/2 teaspoons dried oregano
1/2 teaspoon smoked paprika
1/8 teaspoon cinnamon
1 28-ounce can whole tomatoes, chopped, with half of the can's liquid
1/2 fresh orange, juiced
— Cooked black beans (from above)
1 14.5-ounce can kidney beans
— Chopped red onions, for garnish
— Sour cream, for garnish
— Shredded cheddar cheese, for garnish
For the beans: Pour the beans plus their soaking liquid into a stockpot, and add additional water to cover by 1-2 inches. Add the smashed garlic and bay leaves, and bring to a boil. Lower heat and simmer for about 1 hour, until the beans have softened but aren't fully cooked through (they'll continue to cook in the chili).
For the chile: Heat the oil in a large Dutch oven or stockpot over medium heat. Add onions and garlic and saute for about 5 minutes, until onions have softened slightly. Add red and jalapeno peppers, and continue to cook for another 3-5 minutes. Transfer mixture to a bowl and set aside.
Season meat with salt and pepper to taste. In the pot, add the ground beef and top sirloin and saute until browned on all sides, breaking up ground beef as you go, about 4 minutes.
Add onion and pepper mixture back into the pot and stir to combine. Add the 3/4 teaspoon salt, 1/2 teaspoon pepper and the cayenne pepper through the cinnamon, and stir until the spices are evenly distributed.
Pour in the tomatoes and juice, fresh orange juice and cooked black beans plus 3 cups of bean cooking liquid (add chicken broth or water if you don't have enough). Stir well, and simmer over medium-low heat for about 1 1/2-2 hours, until meat is tender, liquid has thickened, and beans are fully cooked through. If you are using canned black beans, cooking time will be less. Add kidney beans, with the bean liquid, in the last 30 minutes of cooking. Season to taste with salt and pepper.
Serve with chopped red onions, sour cream and shredded cheese.
Per serving: 327 calories, 26 g protein, 34 g carbohydrate, 10 g fat (3 g saturated), 47 mg cholesterol, 501 mg sodium, 12 g fiber.
SNEAK PEEK – RIDING HIGH
When it's time to get back in the saddle again, there's no better place than the picturesque mountain town of Nugget, California . . .
A financial whiz with her own advice show, Gia Treadwell is passionate about helping people maximize their potential. But when her boyfriend–make that ex-boyfriend–steals millions with an epic Ponzi scheme, Gia is promptly run out of town. It's the perfect opportunity to revisit an old dream–one that apparently involves naked cowboys . . .
Flynn Barlow didn't expect anyone to walk in on him showering at the empty ranch where his family's cattle have always grazed. Even more surprising, the new ranch owner plans to turn it into a residential training program for women who need a hand up. A smart, gorgeous woman with a worthy cause? In Flynn's experience, if it seems too good to be true, it usually is.
Sharing the ranch doesn't mean Flynn and Gia have to get along, but riding together isn't the problem. It's the scorching chemistry they can't ignore. And if they figure out a way to add trust to the mix, they'll soon be sharing more than just a ranch . . .
You can purchase RIDING HIGH at:
Kensington Books 
ABOUT THE AUTHOR: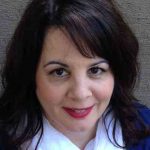 Stacy Finz is an award-winning reporter for the San Francisco Chronicle. After more than twenty years covering notorious serial killers, naked-tractor-driving farmers, fanatical foodies, aging rock stars and weird Western towns, she figured she finally had enough material to launch a career writing fiction. In 2012 she won the Daphne du Maurier Award for unpublished single-title mystery/suspense. She lives in Berkeley, California with her husband.
Author Links:
Website: http://www.stacyfinz.com/
Twitter: https://twitter.com/sfinz
Facebook: https://www.facebook.com/stacy.finz