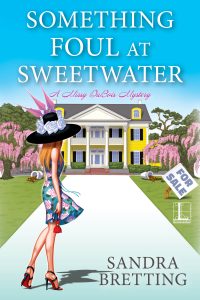 SOMETHING FOUL AT SWEETWATER by Sandra Bretting

Louisiana hat maker Miss DuBois is making a name for herself veiling Southern brides-to-be with her sophisticated designs. She's also gaining a reputation for unveiling murderers . . .
Missy is shocked when she sees the asking price for the Sweetwater mansion . . . in a good way. With business thriving at Crowning Glory, it would be nice to set up shop surrounded by alabaster columns and gleaming mahogany. The Southern connections only deepen when it turns out the real estate agent is Mellette Babineaux, a college classmate and sorority sister. But when Missy drags her best friend Bo along to the mansion for a second look, they barely make it past the live oaks before they discover Mellette's dead body in a shed. Now, for the sake of her college friend, Missy finds herself investigating everyone from a superstitious Cajun caretaker to a Rolls Royce-driving billionaire—and finding that lots of closet space can mean lots of skeletons, too . . .
Why I Love Book Signings During the Holidays  – By Sandra Bretting
At my very first book signing, some five years ago, winter winds blew through Houston and harried travelers grumpily eyed the bookshelves at Fully Booked in George Bush Intercontinental Airport.
I was nestled in a cozy corner of the bookstore, surrounded by literary classics and my own new release. When holiday travelers reluctantly approached my table, propelled by their curiosity, I asked them a simple question: "Where are you going . . . and where have you been?"
Few people probably realized I took my opening line from a famous short story written by Joyce Carol Oates. But, invariably, their weary looks gave way to joy as people began to tell me about their favorite travel haunts and the lessons they've learned along the way.
Soon, we were chatting like old friends. A retired airline pilot with thirty years under his belt regaled me with a story about driving the Natchez Trace in Mississippi on a Harley Davidson. A grandmother urged me to visit Amsterdam in wintertime, which is a lot less expensive and a lot warmer than most people would think. And a college student with a diamond nose stud surprised me by admitting she travels to different Disney Worlds whenever possible.
We had little in common but a love for travel and a need for some warm human interaction during a time of year that can be anything but warm. Since we'd never meet again, we also felt free to offer unsolicited advice. While I'd never tell the college student the nose ring wasn't flattering, I happily told her about a great shoe store in Orlando. A mother who approached me with a cranky toddler might've bristled if I suggested the child needed a nap, but she thanked me profusely for pointing out a terrific children's museum in Seattle. And, although I couldn't imagine suggesting to the pilot he might want to rethink his comb-over, I didn't hesitate to insist he use a certain cruise line when he visited Central America.
Something else happened during that magical book signing: I got to hear about great bookstores around the world. Like The Tattered Cover in Denver, which has played host to everyone from Julia Child to Ansel Adams. Or the former Dominican church two Dutch architects converted to a soaring store in Maastricht, complete with frescoed ceilings. And my personal favorite . . . a Brazilian bookstore with front doors made entirely from hardcover books.
To hear these strangers tell it, the bookstores they discovered outdid anything else their host city had to offer. Because my book took place in southeast Texas, I had more than one person tell me about Larry McMurty's former bookstore in Archer City. Today, people would no doubt suggest Parnassus Books in Nashville, owned by writer Ann Patchett, since Something Foul at Sweetwater, my newest release, revolves around the South.
When it came time for me to leave my spot in the airport bookstore, I hesitated. I'd heard so many good stories and connected with people who lived half a world away. That's why I love signing books during the holidays. It really can be the most magical time of the year.
You can purchase Something Foul at Sweetwater at:
Kensington Books
About the Author: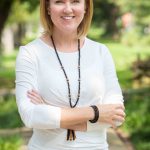 Sandra Bretting is a journalist who has written for the Los Angeles Times, Houston Chronicle, and others. A graduate of the University of Missouri School of Journalism, she turned to writing fiction after twenty years in that field. Her first mystery debuted in 2012.
Author Links:
Website: http://www.sandrabretting.com/
Facebook: https://www.facebook.com/SandraBrettingBooks/