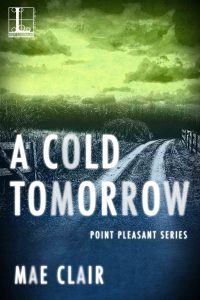 A COLD TOMORROW by Mae Clair
Where secrets make their home…
Stopping to help a motorist in trouble, Katie Lynch stumbles upon a mystery as elusive as the Mothman legend that haunts her hometown of Point Pleasant, West Virginia. Could the coded message she finds herald an extraterrestrial visitor? According to locals, it wouldn't be the first time. And what sense should she make of her young son's sudden spate of bizarre drawings—and his claim of a late-night visitation? Determined to uncover the truth, Katie only breaks the surface when a new threat erupts. Suddenly her long-gone ex-boyfriend is back and it's as if he's under someone else's control. Not only is he half-crazed, he's intent on murder….
As a sergeant in the sheriff's office of the famously uncanny Point Pleasant, Officer Ryan Flynn has learned to tolerate reports of puzzling paranormal events. But single mom Katie Lynch appears to be in very real danger—and somehow Ryan's own brother, Caden, is caught up in the madness, too. What the skeptical lawman discovers astounds him—and sends him into action. For stopping whatever evil forces are at play may just keep Katie and Caden alive….
"Masterful, bone-chilling fiction… one intense thriller. A Thousand Yesteryears will keep you guessing, gasping and turning the pages for more." – New York Times bestselling author Kevin O'Brien
You can purchase A COLD TOMORROW at:
Kensington Books
Capturing Memories with Digital Scrapbooking by Mae Clair
As a kid, I loved scrapbooking, but fell out of the habit as I got older. There was a period when I was too busy with other things to pause and tuck memories away in a book. Today, I'll dig out those old scrapbooks with their crinkly pages, magazine clippings and faded photos, and take a stroll down memory lane. I love old photographs, even when they're yellowed and faded. That's part of the charm of yesteryear.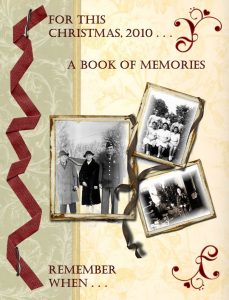 Several years ago, a friend introduced me to digital scrapbooking. At first, I had no idea what she was talking about. Scrapbooking I understood, but digital scrapbooking? If you're unfamiliar with the concept, it's the creative process of saving treasured memories in a digital format. I've since created memory books themed around birthdays, anniversaries, family reunions, even holidays. They make lovely keepsakes and gifts, and are fairly easy to do.
I use Photoshop for editing photos, but there are inexpensive software programs available for the same purpose. I create my pages and books in Microsoft Publisher, but that's simply my preference. Scrapbooking kits are available online and come with a combination of embellishments, backgrounds and word art. They can be purchased themed to specific events such as weddings, pets, school, travel, baby, etc., and are usually tagged with whimsical-sounding names like Enchanted Inn, Amethyst Dreams, Twilight Glade and Night Blossoms to name a few.
Once your photos are scanned and saved to your computer, pick any combination of backgrounds, embellishments and text to create visually striking collages of photo and art.
There's no end to the creative ways you can manipulate the components. I've found that people love receiving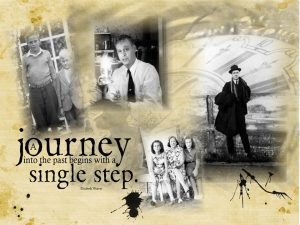 booklets as gifts when the pages are printed and bound. I've also given CDs in the past, designed with a custom cover. However you choose to save your memories, there's no question digital scrapbooking is a beautiful way to preserve images of the past for the future.
About the Author:
Mae Clair opened a Pandora's Box of characters when she was a child and never looked back. Her father, an artist who tinkered with writing, encouraged her to create make-believe worlds by spinning tales of far-off places on summer nights beneath the stars.
Mae loves creating character-driven fiction in settings that vary from contemporary to mythical. Wherever her pen takes her, she flavors her stories with conflict, romance and elements of mystery. Married to her high school sweetheart, she lives in Pennsylvania and is passionate about writing, old photographs, a good Maine lobster tail and cats.
Author Links:
Website: http://maeclair.net/
Twitter: https://twitter.com/maeclair1
Facebook: https://www.facebook.com/pages/Mae-Clair/219356774828949?ref=tn_tnmn