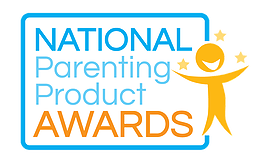 The National Parenting Product Awards (NAPPA) has announced it's latest list of award winning books for children. Using a team of independent and expert judges, as well as family testers, they review not only books, but products intended for children. Winners of their awards earn a very high 'seal of approval'. Judged on entertainment, appeal, educational value, safety, and numerous other items in a thorough process, their lists are then posted for parents and children's caregivers.
Below is a partial list of books that have been honored with the NAPPA award. You can visit their website for more books and products.
Farmers Market Create-And-Play Activity Book by Storey Publishing 
Description: It's Market Day!
Bring home all the fun of a real farmers market! In this DIY kit-in-a-book, you'll find everything you need to set up a pretend stand, from pop-out fruits and veggies to play money. Get ready to grow your own healthy fun!
Play with punch-out…
Twinkle, Twinkle, Little Star Finger Puppet by Parragon
Description: A cute owl finger puppet brings a traditional bedtime rhyme to life! Encourages interactive play, hand-eye coordination and language development.
Why we like it: The classic rhyme becomes an tiny, active board book with a finger owl puppet that wiggles its…
THUNDER BOY JR, Read by David Alexie and Sherman Alexie by Hachette Audio
Description: Thunder Boy Jr. wants a normal name…one that's all his own. He wants a name that celebrates something cool he's done like Touch the Clouds, or Not Afraid of Ten Thousand Teeth. But just when Little Thunder thinks all hope is lost, dad picks the best name…
The Wild Robot by Peter Brown, read by Kate Atwater by Hachette Audio
Description: Wall-E meets Hatchet in this new novel from New York Times bestselling author Peter Brown. Heartwarming and full of action, Peter Brown's middle grade debut will raise thought-provoking questions about the role technology plays in society, how humans affect…
THE LITTLE SHOP OF MONSTERS by Marc Brown, R.L. Stine Read by Jack Black by Hachette Audio
Description: THREE HUGE TALENTS:  By the creators of two mega-bestselling children's book series: Arthur and Goosebumps!  With a narrative voice reminiscent of The Monster at the End of this Book, but with Stine's signature spooky charm and Jack Black (who played the p…
THE LAND OF STORIES: AN AUTHOR'S ODYSSEY written and read by Chris Colfer by Hachette Audio
Description: In the highly anticipated fifth book in Chris Colfer's #1 New York Times bestselling series The Land of Stories, Conner learns that the only place to fight the Masked Man's literary army is inside his own short stories!  Can be used to demonstrate conflict…
Riding Chance by Scholastic Press
Description: Riding Chance began as a bolt of aural inspiration for debut novelist Christine Kendall — in 2011, she heard a National Public Radio feature on Philadelphia's "Work to Ride" program. Unable to get the idea of urban kids learning horsemanship in exchange fo…
PRESIDENT OF THE WHOLE 6TH GRADE by Sherri Winston Read by Sienna Jeffries by Hachette Audio
Description: In this sequel to President of the Whole Fifth Grade, Brianna navigates her toughest challenge yet: middle school. Brianna is a spunky, strong African-American pre-teen who runs her own business, explores new interests, and stands up for her friends.
Ladybug by Cricket Media
Description: LADYBUG Magazine is a charming collection of the best stories, poems, songs, action games, and adventures for young children.  Written by some of the world's best children's authors and illustrated by award-winning artists, LADYBUG Magazine offers enchanti…
JACKY HA-HA by James Patterson read by Tara Sands by HACHETTE AUDIO
Description: In his new middle grade novel that debuted at #1 on the New York Times bestseller list, James Patterson introduces his hilarious new heroine, Jacky Ha-Ha, a class clown who makes people laugh with her so they can't laugh at her.
YOU CAN FIND THE ENTIRE LIST OF NATIONAL PARENTING AWARDS BOOKS, AS WELL AS OTHER PRODUCTS BY FOLLOWING THIS LINK.