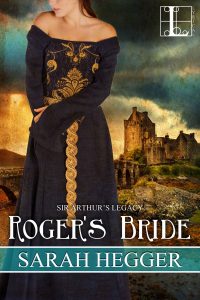 A battle of wills . . .
As the oldest son and heir to Anglesea, it is Roger's duty to stand tall and strong. But his tough exterior belies the heart of a true romantic, a devoted son who yearns for the deep love he has witnessed between his parents and his sisters and their husbands. However, with the Anglesea family jockeying for a more advantageous position, Roger must marry judiciously.
A fight for the heart . . .
Having spent her childhood watching her mother suffer, Kathryn of Mandeville is determined never to marry. To be as a Viking shield maiden of old is her heart's only desire. But when her sister Matty runs away to escape Roger's sensible proposal, Kathryn is forced to help Roger find a more suitable bride. Bound by duty, Roger and Kathryn soon discover they are facing a much tougher fight—the one that is within their hearts . . .
INSPIRING STAIRCASES
When is a staircase more than a staircase?
I spent my childhood practicing for my career as a romance writer, but probably not in the way you're thinking. Long before they taught me to read and write, my imagination was working overtime.
If you have children, or have watched children play, there's always that period of setting the parameters of the game. My girls used to collect a variety of seemingly incompatible toy pieces—Barbie's left arm, Jade the Bratz's head, the body of the Lego Millennium Falcon, Rainbow Dash and Pinkie Pie, and a handful of wooden Planks (literally a huge box of wooden planks from a German toy maker they loved.) Then would start the: "Okay, so you're coming home from a party, and I'm at home baking pies." Or, "You're the boy, and I'm the girl and you want to marry me but I think you smell funny."
Well, I was always the child making up the game script and, oh the dizzying possibilities I exercised. Stairs were my favorite. The longer and more elaborate the staircase the better. Dear Heaven, if it had an ornate balustrade or—Sweet Mercy—a patterned runner. But any stairs would do really, even the prosaic concrete ones between the ground and first floors of our school. Because in my mind we were transported to long, long, long ago to the time where happily ever after started. Candles created flickering patterns of light on the silk (or satin, or velvet, or brocade) of my pink (it had to be pink) gown. God help you if you referred to the "gown" as a dress. The best part was the train, and yes, my gowns always had a train. Because how else was I going to sweep/glide/soar/skim/float down those wonderful stairs to my prince waiting at the bottom? At this point, I have to confess that my fellow playmates would often and unreasonably object to playing the prince.
After a bitter battle over who played the prince, we would agree that the prince could be "just imagine" and that way we could all sweep/glide/soar/skim/float down the stairs. I would give each playmate their detailed backstory, their wardrobe, their intention and their conflict to be resolved. Now the sweep/glide/soar/skim/float would stop and everyone would gather round to hear the rest of their love story.
So, really I've been telling people stories for most of my life. I wished I'd written down some of those early ones, because they were doozies. They involved a lot of galloping, and a healthy dose of eyelash batting, and always stopped with the line "And then he kissed you." To this day, I picture all my heroines sweeping down a staircase at some point or other, and I can never resist a great staircase. If you ever see me descending one, just know that in my mind I am sweep/https://www.readersentertainment.com/wp-admin/post-new.phpglide/soar/skim/floating down it and most probably wearing pink. Feel free to stop me and ask me what you're wearing and how your story begins.
My latest stair sweeper aka heroine is Kathryn of Mandeville, who resisted my efforts to put her in pink, and is more likely to slide down the balustrade with a sword between her teeth.
You can buy RODGER'S BRIDE at:
Kensington Books
About The Author: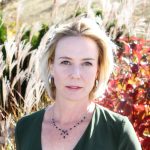 Born British and raised in South Africa, Sarah Hegger suffers from an incurable case of wanderlust. Her match? A hot Canadian engineer, whose marriage proposal she accepted six short weeks after they first met. Together they've made homes in seven different cities across three different continents (and back again once or twice). If only it made her multilingual, but the best she can manage is idiosyncratic English, fluent Afrikaans, conversant Russian, pigeon Portuguese, even worse Zulu and enough French to get herself into trouble.
Mimicking her globe trotting adventures, Sarah's career path began as a gainfully employed actress, drifted into public relations, settled a moment in advertising, and eventually took root in the fertile soil of her first love, writing. She also moonlights as a wife and mother.
She currently lives in Colorado with her teenage daughters, two Golden Retrievers and aforementioned husband. Part footloose buccaneer, part quixotic observer of life, Sarah's restless heart is most content when reading or writing books.
Sarah is the recipient of the 2015 EPIC Award for Historical Romance.
Author Links:
Website: http://sarahhegger.com/
Twitter: https://twitter.com/sarahhegger
Facebook: https://www.facebook.com/sarahheggerauthor