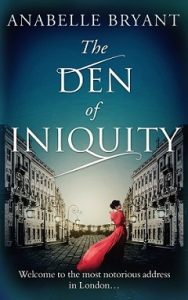 Anabelle Bryant and New Year's Resolutions
Every year I make a few resolutions with the intention to keep them going through the year. Planning and setting the goal gives me a little more to go on than wishful thinking and this year is no different. I'm not one for setting word count goals, so in my author life I'd rather commit to staying connected with my story, making sure every day I either reread, edit or write. It might only be a few paragraphs, but the constant contact with my characters will keep me connected so even when I'm not writing, I can be thinking about the next scene or imagining the dialogue.
My second resolution is more personal. As I get older, the desire to become healthier grows more important each year – not just healthy eating, but healthy habits too; relieving stress and finding enjoyment in the day. I'm often quick to put myself last and put the needs of everyone else before my own. This year I'm declaring equality. I deserve just as much time as everyone else in my house. Whether I use that time to read, run or take a long hot shower, I refuse to sacrifice at the cost of my own happiness.
Juggling two careers is difficult. As an educator and author, balance is difficult because both professions are demanding. Hopefully my resolutions, to stay connected to my work in progress and also stay connected to myself, prove for a happier, more productive 2017.
Happy New Year!
And we have a little tease of her latest novel The Den of Iniquity Bastards of London – Book 1
Welcome to the most notorious address in London…
Beneath the airs and graces of the Ton lies The Underworld – London's most scandalous gambling hall.
The only thing darker and more debauched that the hall itself? The proprietor, Max Sinclair. As mysterious as the corners of the city he stalks, Max has vowed to take revenge against the men who murdered his mother. And The Underworld attracts London's darkest characters – the perfect partners in crime.
But when Lady Vivienne Beaumont enters The Underworld, Max's life becomes more dangerous than he ever thought possible.
Enter a world of lust, lawlessness and obsession with The Den of Iniquity, the first in Anabelle Bryant's Bastards of London series.
You can purchase The Den of Iniquity at:
Amazon
B & N
Kobo
You learn more about Anabelle and her books by following these links:
Website: http://www.anabellebryant.com
Facebook: https://www.facebook.com/AnabelleBryantAuthor
Twitter: https://twitter.com/AnabelleBryant
Pinterest: http://www.pinterest.com/anabellebryant/
Youtube Channel:  http://bit.ly/1r0TjsY