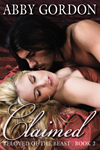 Resolutions by Abby Gordon
As a writer – finish the next 2-3 books in each series, Beloved of the Beast and Interstellar Matchmaker, plus write the next in the erotica series that started it all.
Personally – stick to a budget, do yoga and walk daily, and make at least one person smile every day. Simple things, except when books from my favorite authors are released, or I want to start a new crafty project.
I know – I'll turn the crafting time into writing time – 2 birds with one stone – less spending, more books finished. 🙂
CLAIMED…..
Thrice married, thrice deceived. Heinrich von Steinser is determined that this marriage will be different. Her beauty and sensuality is what originally captured his interest, so why does Bettina refuse him? Hot, carnal persuasion breaks down her resistance and reveals a passion he hadn't believed possible.
Bettina must choose sides—the mother who terrifies her with the depths of her deceptions and plotting or the husband who has claimed her with love and his touch.
Reclaiming her place in his bed is only the first step as Heinrich and Bettina realize something sinister is afoot.
EXCERPT
Bettina opened her eyes and tried to move. Unable to pull her arms down or move her legs, she opened her mouth and realized she'd been gagged. She struggled, but the straps around her wrists and ankles held firmly to the sturdy oak bedrails. Glancing down, she realized she was naked. A scream rose in her throat only to be muffled by the cloth.
"Awake, my dear?" came her husband's voice.
Her eyes darted to the side of the bed. Heinrich stood there, hands on his hips. As naked as she was, he looked at her calmly. Bettina's blue eyes told him of her fury as she tried to speak around the gag.
"Obviously," he smiled, answering his own question. "It is time for an adjustment in our marriage. I indulged your every whim, and what did I get in return?" His eyes narrowed. "My son is dead. My daughter is in the hands of Lord Wulfgar. My children are lost to me, Bettina. I gave you everything. I lost everything because of it. So, now, I will take, and you will give. You will be a wife to your husband."
You can purchase Claimed at:
Amazon
You can learn more about Christine and her books at:
Blog – http://abbygordonauthor.blogspot.com/
facebook – https://www.facebook.com/abby.gordon.182