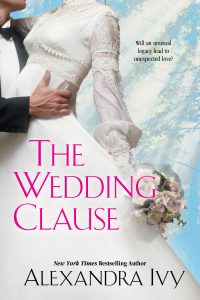 THE WEDDING CLAUSE by Alexandra Ivy
When I was writing The Wedding Clause I took great pleasure in forcing together two people who had no interest in getting married, let alone to each other.
Thankfully when my oldest son decided to get married, it was much less complicated.  Plus, my delightful daughter-in-law revealed she possessed a talent for crafts.  After enjoying a wedding on the beach, we chose a reception that was based on the same beach theme.
Below are the table decorations that we created.
Seashell Table Decorations
Supplies:
Shells
Beads
Ribbon
Water beads
Waterproof tea-lights
Hot glue gun
Vase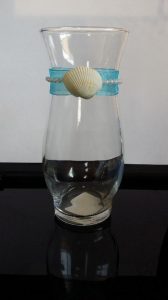 Most of the supplies you purchase can easily be found at a hobby store.  The vase size and style can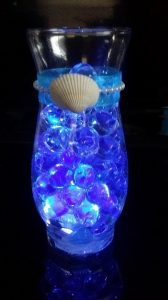 be changed to what is suitable for your occasion.  The vases displayed in the pictures were purchased at Family Dollar for $1 each.  Since I had created this for a summer event, seashells were available in the stores, but if your event is out of season, they're easily found on-line for a reasonable price.  The ribbon we used in this project is 7/8 transparent organdy ribbon.  The beads around the vase are small sized white pearl beads.  This project can be used for weddings and beach themed parties.  The water beads should soak for at least a day or two before using.
Directions:
Measure the ribbon length you need to fit around the neck of the vase and a little extra to overlap for gluing.
Measure the beads around the neck of the vase and make sure they are the right size to meet up so they can be glued.
Use a hot glue gun and glue the ribbon and beads around the neck of the vase. Only glue the ends together, otherwise your glue will be visible.
Take a large seashell and use your hot glue gun to glue the shell over the ends where the ribbon and beads meet. The glue stuck best at the base and top of the shell, but try to keep it under the shell so it is not visible.
Take a waterproof light, turn it on, and place on the bottom of the vase. Be aware of time, since these will last for hours, but not for days if they're being left on continuously.
Scoop up your water beads and place them over the light. You can fill your vase up to your preference and watch your beads light up.
Hope you enjoy this fun project! Alexandra
THE WEDDING CLAUSE ……………………

Dear Reader,
Long before I wrote my sexy paranormal romances, I wrote traditional Regency romances as Debbie Raleigh. Now I'm thrilled that one of my favorites is available once more, as fresh and delightfully surprising as ever…
Molly Conwell's life has been quite unremarkable—until she learns the startling details of her late employer Lady Woodhart's will: The sum of 30,000 pounds will be divided equally between the deceased's grandson, Viscount "Hart" Woodhart, and Molly if they wed. If one or the other fails to appear, then the present party receives the entire fortune. Molly has no intention to wed Hart, but if she inherits the money she could help her brother regain his proper place in Society. Besides, she's convinced that her prospective groom, who has always accused her of being a fortune hunter, will not present himself. As Molly embarks on a daring charade, she discovers a fierce opponent in Hart —and an even fiercer desire for this dangerously handsome man who may prove impossible to resist…
I'm newly captivated by this tale of unexpected love, and believe you will be too.
You can purchase The Wedding Clause at:
Kensington Books
About The Author:
Alexandra Ivy is the New York Times, USA Today and Wall Street Journal bestselling author of romantic suspense, paranormal and erotic romance. She has also written Regency historicals under the name Deborah Raleigh. A five-time RT Book Award Finalist, Ivy has received much acclaim for her Guardians of Eternity, ARES Security, Immortal Rogues and Sentinels series. She lives with her family in Missouri and can be found online at AlexandraIvy.com.
Author Links:
Website: http://www.alexandraivy.com/
Twitter: http://twitter.com/AlexandraIvy
Facebook: https://www.facebook.com/alexandraivyfanpage?fref=ts