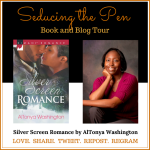 SILVER SCREEN ROMANCE BY ALTONYA WASHINGTON
(Reprinted with permission from Black Pearls Magazine)
When business becomes pleasure!
Although they've never met, Davia Sands knows all about Kale Asante's reputation for doing whatever it takes to close a deal. Now a mysterious inheritance is about to turn the longtime business rivals into reluctant partners. The only thing more combustible than their fiercely competitive spirits is the sizzling attraction that ignites the minute Davia lays eyes on the irresistible industrialist.
Snapping up unique properties has made Kale a superstar in the world of international development. But he's driven by a sense of fairness when he and Davia discover that only one of them is the rightful owner of the Iowa movie theater they both covet. As they search for answers in the small town's quaint past, severe wintry conditions trap Kale and Davia in close quarters. Will giving in to their big-screen fantasies lead to real heartbreak? Or culminate in a lifetime of pleasure?
EXCERPT: Silver Screen Romance by AlTonya Washington
Kale blinked away from where his gaze had drifted. He was pleased that he'd managed the response before Davia Sands grew suspicious of his quiet and turned to find that he was more focused on the way she moved beneath her clothes than on her offer for a drink.
Davia didn't seem any the wiser and was showing Kale into her office suite a few moments later. The room had the remarkable ability to pull his eyes away from his hostess' beckoning figure. He summoned a whistle while surveying the vast space of the corner digs.
"Tell me you don't sleep here," His rich voice held the distinct chord of wonder.
"Alright," Davia allowed her quiet to do the talking then. When Kale laughed, she joined in.
"I put in a lot of long hours," her slight shrug sent a ripple through the fabric of the olive
green shirt dress that drew the eye to the stunning length of her legs. "After a while, it got hard to focus, so it helped having my favorite things around to help me unwind."
"Favorite things, huh?" Kale smiled over the phrase while running the back of his hand along one lever of the elliptical machine he stood closest to.
Davia proffered a knowing smile. "Necessary."
Kale had to bite his tongue then before he found himself telling her that she must spend a great deal of time on that which she found 'necessary'. Her body, though willowy, appeared toned with subtle yet tempting curves. His palms heated with the desire to see if his eyes were in any way deceiving him. Upon first glance, he'd wagered she'd break if he held her firmly enough.
Aside from the exercise equipment, the office boasted a cozy entertainment area. The spot was complete with floor to ceiling bookshelves which were filled to capacity with books and an array of DVDs and CDs. The overstuffed recliner in a far corner carried a pillow and fleece blanket and looked to be the perfect nook for a
lengthy snooze.
Davia Sands' work digs were almost an exact replica of his own. Somehow, he didn't think his meeting partner would appreciate knowing they had anything more in common.
"So… Mullins, Iowa," he said.
"Mullins, Iowa," Davia repeated. "Have you ever been there?" She asked.
"Not yet, I decided to drop in and meet you first."
"Why's that?" Davia asked, while heading to her desk where she set down the headset she'd used.
"A few reasons," Kale followed her across the room.
"So…three?"
"At least."
Davia took a seat along the front edge of her white oak desk. Raising her hands, she silently encouraged him to continue.
"I've been told that Mullins isn't the sort of place that'd be suitable for one of my properties." Kale eased a hand beneath his suitcoat in order to slide it into a
trouser pocket.
Davia gave a cool smile. "Lavish, expansive, expensive," she said.
"My reputation precedes me," Kale steeled himself from grimacing then. He'd immediately regretted his choice of words. He had hoped to save the discussion of his reputation, or rather, her perception of his reputation, for later.
Davia didn't appear on edge. Moreover, she seemed amused as though she were enjoying a joke she wasn't quite ready to share the punchline for.
"Yes, Mr. Asante your reputation has definitely preceded you."
Kale acknowledged her thinly veiled insinuation with a faint nod. "I came to see you hoping we could've discussed plans for you to buy me out."
"Could have?"
Kale nodded once more. That time, he shared with Davia an approving smile. "You're a thoughtful listener," he commended.
Davia tilted her head to acknowledge his accuracy. "It pays to hear what the other person is really trying to say. If people did more of that, maybe a lot of misunderstandings could be avoided."
"I'll have to remember that," Kale watched Davia as if he'd discovered some additional facet to her appearance that had him newly intrigued.
Davia looked as though her intrigue had risen a notch as well. "So you were coming to discuss plans to sell your part of the property but you've… changed your mind?"
"I have."
"Something I said?"
That time, Davia's thinly veiled insinuation was met with a grin that consistently broadened even as he spoke.
"It is, actually," Kale could see the wave of shock freeze her exquisite features.
There was no going back now. The conversation he'd just as soon put off until… well… never, would soon be underway. Before that, he thought a little clarification to his earlier comment was in order.
"It's about what I overheard you say when you walked in earlier."
Davia drew into herself, attempting to rewind her thoughts.
"You said you'd planned to be out of town for the next few days, maybe longer," Kale supplied.
"Yeah… that- that's right," Davia silently admitted that she was stumped having no clue where the conversation was headed then.
"May I assume you meant out of town in Mullins?"
"You may," Davia folded her arms over her chest. Her intrigue was through the roof by then.
( Continued… )
© 2016 All rights reserved. Copyright 2016 Harlequin/Kimani Romance. Book excerpt reprinted by permission of the author, AlTonya Washington. Do not reproduce, copy or use without the author's written permission. This excerpt is used for promotional purposes only.
Purchase Silver Screen Romance by AlTonya Washington
https://www.amazon.com/Silver-Screen-Romance-Kimani/dp/0373864833