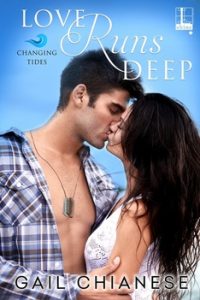 Gail Chianese shares her Amish Zucchini Bar Recipe
I love to bake. As a matter of fact, if I picked any other career besides writing, it would be that of a baker. Except one small problem…they get up super, duper early and I'm not a morning person. Never have been, never will be. Luckily for my family, I don't have to get up early to bake for them. Occasionally, I like to cook, but I tend to leave that to my husband as often as I can. Not only does he have amazing skills in the kitchen, but come one, let's be honest…a man cooking is smoking hawt. This might be the reason most of my heroes, like Kyle Hutchinson in LOVE RUNS DEEP, are excellent cooks.
One of our family favorites is Amish Zucchini Bars; so yummy, addictive, and easy to make. I could totally see Kyle baking this as part of a homecoming celebration for Nic after a deployment on the submarine.
This recipe makes a lot, two 9×13 pans, which is perfect (one for you and one for the rest the family). Or you could be nice and take a batch over to the in-laws to thank them for babysitting for that upcoming date night with your sweetie or to the next door neighbor who never complains about your barking dog. Just suggestions. In our household, the second pan never makes it out the front door.
3 ½ cups all-purpose flour
2 teaspoons baking soda
1 ½ teaspoons salt
2 teaspoons ground cinnamon
2 cups sugar
1 cup vegetable oil
4 eggs, beaten
2/3 cup water
2 cups peeled and grated zucchini
1 (12-ounce) package chocolate chips
1 (12-ounce) package butterscotch chips
1 cup chopped walnuts (optional, or kick it up a notch and use hazelnuts)
Preheat the oven to 350 F. Grease two 9×13-baking pans, or one 12×17-baking pan.
Combine the flour, baking soda, salt, cinnamon, and sugar in a large bowl and stir with a whisk to blend. Add the oil, eggs, and water and stir until smooth. Stir in all the remaining ingredients. Stir for about 5 minutes, until everything is very evenly blended. Then pour the batter into the prepared pan(s). Bake for 35 minutes, or until firm. Remove from the oven, let cool, and cut into squares.
*For those with egg allergies, you can substitute unsweetened applesauce (1/4 cup per egg) and it's still delicious, but is very moist and might need an extra minute or two to cook.
LOVE RUNS DEEP – Excerpt

Active duty is no time for romance, but when two naval officers find themselves in truly close quarters on the USS California, the temptation to fraternize is hard to resist. Can two ambitious sailors follow orders long enough to see if love is on the horizon when they're finally above water?
Lieutenant Nic Riley is the only girl in a long-time Navy family, and she's determined to prove she's just as seaworthy as her brothers. When she aces training for submarine duty, it calls for a celebration—and one incredibly hot guy is happy to party with her all night long. But when Nic boards the sub and finds herself face to face with her hunky fling, the idea of spending six months underwater takes on a whole new meaning . . .
Having a girl in every port was Lieutenant Kyle Hutchinson's style—until the explosive night he spent with Nic. Dating onboard is firmly off limits, but Kyle can't get her off his mind much less out of his vicinity—until a junior seaman's devastating stunt puts Nic's career in danger. Kyle won't let her take the heat alone, even when it means risking his own reputation, but fighting for a future together will be a whole new battle . . .
You can purchase LOVE RUNS DEEP at:
Kensington Books
Author Bio: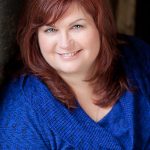 Gail Chianese's love of reading began at the tender age of three, when she'd make her grandpa read Fourteen Country Rabbits over and over and over again (and correct him when he skipped parts). While she's branched out over the years by reading mystery, women's fiction, and urban fantasy, she always circles back to romance in the end. That's probably because she's married to her real life hero. Her wonderful hubby has served in the US Navy for the past twenty two years and he's done things he can't tell her about. But it doesn't stop her from being extremely proud of him and the sacrifices he makes for her, his family, and his country. He's also uber-supportive of her dreams and of their three children. Living in Mystic, CT and a member of Connecticut Romance Writers of America, Gail loves to hear from readers.
Author Links:
Website: http://www.gailchianese.com/
Twitter:  https://twitter.com/Gail_Chianese
Facebook: https://www.facebook.com/GailChianese