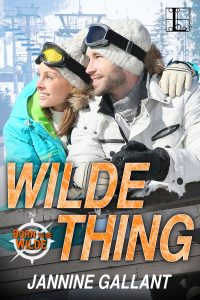 Born To Ski ~ Wilde Thing
By Jannine Gallant
Thanks for having me as your guest! My newest release, Wilde Thing, is the third book in my Born To Be Wilde series, and I'm thrilled to share a little about it with you. When I created the concept for this series based on three brothers and their younger sister, each of whom has an exciting and adventurous career, I knew I had to include skiing in the mix. I live at Lake Tahoe, and the entire winter economy in our area revolves around skiing. For eleven years, I worked for the Squaw Valley Ski Corporation, booking vacations for people excited to come visit our gorgeous corner of the world and experience the thrill of skiing. Not to mention I married a man who spends every minute of his free time in the winter out on the mountain, and my daughters use their winter school break to teach little kids how to ski. So, making my hero for Wilde Thing an extreme skier wasn't much of a stretch. Tripp Wilde is a superstar in the world of extreme skiing. It takes an injury and a down to earth physical therapist to make him realize he may have all the excitement he can handle, but he's missing out on love.
For her part, Hannah isn't about to put up with Tripp's playboy lifestyle on or off the slopes. Her focus is on healing his injury and not getting her heart broke in the process. Still, the man is hard to resist. Here's a short excerpt that shows you exactly what I'm talking about…
She opened her mouth then shut it and let out a long breath. "Who am I to approve or disapprove? It's your health and your life. I guess you can do what you want."
He slipped an arm around her and squeezed. "Hey, I value your opinion. Honestly. But the doc said I've made great progress. Anyway, I'll have you there to keep my therapy on schedule. If possible, I want to continue improving at an accelerated pace."
She stepped back. "What?"
"I need you, Hannah."
"Don't bat those damn lashes at me and think I'll cave in to your whims." Her eyes narrowed. "I'm not as susceptible to your charm as your usual groupies."
"No?"
His smile set off a swarm of butterflies in her chest. "No."
"Not even a little bit?"
She couldn't repress a responding grin at his teasing. "Okay, maybe a tiny bit susceptible."
"Thank God." He swiped a hand across his brow in an elaborate gesture. "I thought I'd lost my touch."
She laughed outright. "You're an idiot."
"Maybe. Probably. Still, I really do need you. I don't want to cut my rehab short. Will you think about it? Please."
"My brain is already on overload with everything you want me to think about. You'd better watch out, or my head just might explode."
"Then relieve the pressure by saying yes…to both dating and traveling with me." He leaned in close and produced another high-wattage smile. "Problem solved, and everyone is happy."
"You certainly would be." She stepped back, determined to put some distance between them before she agreed to something really stupid…
I hope you enjoyed this glimpse into Tripp and Hannah's world. Happy reading!
WILDE THING by Jannine Gallant
The Wilde brothers are addicted to the rush of adventure. But one of them is about to learn no matter how often you look for danger, you don't want danger finding you.
 
For extreme skier Tripp Wilde, pushing the limits is what he lives for. Unfortunately, the inherent risk takes a toll on his body. After an injury sidelines him, he ends up in the care of his little sister's best friend, physical therapist Hannah Ryder—who has grown up in all the right ways since they last met.
Hannah doesn't mix business with pleasure, even though she harbored a maddening crush on the irresistible Tripp years before. So, while Tripp tries every slick maneuver he knows to bed her, Hannah uses her own moves to keep the hotshot skier cooled off while trying to control her own growing desire for him.
After the pair witness what they think may be a murder on the slopes, along with the men responsible, no one believes their story. But when a series of unlikely accidents suggests they are being targeted, the two will have to trust in each other like never before if they are going to survive.
You can purchase WILDE THING at:
Amazon
Barnes & Noble
Apple
KOBO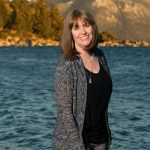 About The Author:
Write what you know… I've taken this advice to heart, creating characters from small towns and plots that unfold in the great outdoors. I grew up in a tiny Northern California town and currently live in beautiful Lake Tahoe with my husband and two daughters. When I'm not busy writing, I hike or snowshoe in the woods around my home. Whether I'm writing contemporary, historical or romantic suspense, I bring the beauty of nature to my stories.

Author Links:
Website