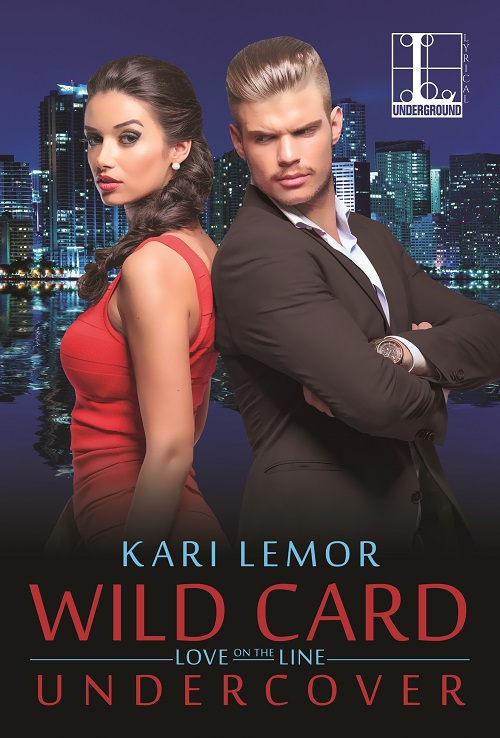 WILD CARD UNDERCOVER by Kari Lemor and Where Her Ideas Come From
One question I always get asked is how do you get ideas for all your books. (Okay I've only got one out now but there are another thirty sitting in my head … and Pinterest board).  The answer isn't so simple.
I can tell you how I got the idea for this first book.  A dream.  No, I didn't dream the whole book.  That would be great to have it all wrapped up in a nice little package presented to me while I sleep. But unrealistic. Plus, I'd never remember the whole thing. Certainly not when I first woke up.  NOT a morning person doesn't even begin to describe me.
But the beginning scene floated through my mind just as I was starting to rouse. It was intriguing and I actually stayed in bed for a while longer trying to figure out why these characters were doing what they were doing. The rest…as they say…is history. Or the story of Meg and Chris in WILD CARD UNDERCOVER.
The next book that follows this one, RUNNING TARGET, has a much stranger story behind why I wrote it. But I must go back aways to explain. I never liked writing much until some online friends convinced me I should put some of the stories I had in my head down on paper (screen). You have to understand these stories were fan fiction. Yes, that's where I first learned to hone my craft. But it was safe and fun and very rewarding when thousands of people read and commented on my work. So when I decided to start some original fiction, I looked back at the scenes that had been most well received. There was one where every commenter said I made them cry.  THAT!  I wanted that in a book. So I took the main emotional theme of the scene and wrangled a situation where I could get that kind of emotional angst again. Totally different story but similar scene.
I've used other situations and tweaked them. My third book in the Love on the Line series is loosely based on part of a very old TV show episode. Very loosely based. But it was enough of an idea that spurred me on to something bigger. And hopefully better. I also have stories based on pictures I've seen, songs I've heard, thoughts that scroll past as I'm on a ten-hour drive. That's always the fun one. When you are in a car and can't actually write anything down yet the plot and characters come flying toward you at the speed of light. And I'm not one of those people who actually knows how to use a phone to tape a conversation so it's basically whatever I can remember until I pull over and scribble the ideas down.
But the ideas always come. In so many ways, it would take me all day to name them all. Let's just say my muse is on steroids and can't be stopped. I'm not complaining mind you. I just wish I had time to actually write all these amazing story ideas down into full novels.  Maybe someday I will.
WILD CARD UNDERCOVER – Love on the Line series #1
All that glitters in Miami is not gold . . .
Lured in by a bad ex-boyfriend and the moonlight of Miami, Meg O'Hara is trapped in a nightmare situation, waiting tables for a crime boss and fearing for her life. When undercover FBI agent Christopher Shaunessy offers her a way out, she seizes it. Getting the goods on Salazar Moreno might not be easy, but she'll do anything to be freed from her servitude and Moreno's sexual advances, even if it means moving in with the charismatic agent.
Chris Shaunessy pretends to be Meg's lover in order to keep her safe, but he steels his heart against further involvement. Passion has no place in the sordid world of organized crime. And yet, the closer they get to cracking the case, the stronger his feelings for the spirited waitress shine. It's a dangerous game he's playing, and taking Meg in his arms for real could prove a fatal misstep . . .
You can purchase WILD CARD UNDERCOVER at: 
Kensington Books
About The Author:
Kari Lemor was one of those children who read with a flashlight under the covers. Once she discovered her mom's stash of romance novels, there was no other genre to even consider. For years, she had stories stewing in her mind, stories of love and happily ever after. But writing wasn't something she ever liked in school. Of course, no one ever asked her to write a story about a couple falling in love. Now that her children are grown, she can concentrate on penning tales of dashing heroes who ride to the rescue and feisty heroines who have already saved themselves.
Author Links:

Website: http://www.karilemor.com/
Twitter:  https://twitter.com/karilemor
Facebook: https://www.facebook.com/Karilemorauthor/                                                                                        Pinterest:  https://www.pinterest.com/karilemor/