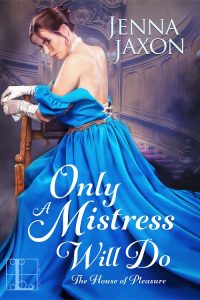 A House of Pleasure Reading List by Jenna Jaxon
I recently wrote a blog post talking about the books I read and authors I enjoy, and as I was finishing it up, I had the sudden thought that readers might also like to know the books my characters like to read in my novels. The House of Pleasure series is set in Georgian England, in the mid-eighteenth century, when novels were still quite a new on the literary scene, but by 1760 there was a body of literature that my characters could have enjoyed. When I was in graduate school I happened to take a course in 18th Century English literature, so I have had a field day with these books.
In Only Scandal Will Do, there isn't mention of the characters' reading anything. That just never happened in the course of the book. However, Duncan, the hero, does mention a notorious volume (which we can assume he did read at some point) called Harris' List of Covent Garden Ladies, a small volume published each year beginning in 1758 that listed around 120 prostitutes in London. The book gave names, addresses, and descriptions—both of the ladies themselves and what actions they performed. This book will also appear as very important reading material in the fourth book of the series, Only Seduction Will Do.
Only Marriage Will Do mentions several books that the heroine, Lady Juliet Ferrers, has read. Late in the book, however, Juliet turns to racier fare and reads Fanny Hill—Memoirs of a Woman of Pleasure. This erotic novel was penned by John Cleland in 1748, still available today,  is considered the first English prose pornography. To say that Juliet learns a thing or two would be an understatement.
And in Only A Mistress Will Do, heroine Violet Carlton reads another very popular novel of the time, Pamela, or Virtue Rewarded, by Samuel Richardson, about a plucky housemaid who fends off the advances of her employer until she can convince him to marry her. This novel was wildly popular in its time, and I remember quite enjoying it myself.  It's mentioned in Only Marriage Will Do that Juliet has read this novel and picks it up again in to distract her from her misery.
So my characters seem to be well-versed in the literature of their time. It's a lot of fun to ponder what my heroes and heroines might have read, what kinds of books they would personally be interested in. Such details help to round them out and make them more than just characters on a page and perhaps make the reader wonder just what else is on their TBR list.
Only A Mistress Will Do by Jenna Jaxon

The man of her dreams . . . belongs to another woman.
Destitute and without friends, Violet Carlton is forced to seek employment at the House of Pleasure in London. She steels herself for her first customer and is shocked when the man rescues her instead of ravishing her. A grateful Violet cannot help but admire the handsome Viscount Trevor. But she must curb her desire for the dashing nobleman she can never have because he is already betrothed to another . . .
Tristan had gone to the House of Pleasure for a last bit of fun before he became a faithful married man. But when he recognizes the woman in his bed, he becomes determined to save her instead. Now, his heart wars with his head as he falls for the vulnerable courtesan. Unable to break his betrothal without a scandal, Tris resolves to find Violet proper employment or a husband of her own. Still, his arms ache for Violet, urging him to abandon propriety and sacrifice everything to be with the woman he loves. . . .
You can purchase ONLY A MISTRESS WILL DO at:
Kensington Books

About The Author:
Jenna Jaxon is a multi-published author of historical in all time periods because passion is timeless.  She has been reading and writing historical romance since she was a teenager.  A romantic herself, she has always loved a dark side to the genre, a twist, suspense, a surprise.  She tries to incorporate all of these elements into her own stories. She's a theatre director when she's not writing and lives in Virginia with her family, including two very vocal cats.
Jenna is a PAN member of Romance Writers of America as well as Vice-President of Chesapeake Romance Writers, her local chapter of RWA. She has three series currently available: The House of Pleasure, set in Georgian England, Handful of Hearts, set in Regency England, and Time Enough to Love, set in medieval England and France. She currently writes to support her chocolate habit.
Author Links:

BLOG:  https://jennajaxon.wordpress.com/
TWITTER: https://twitter.com/Jenna_Jaxon
FACEBOOK:  https://www.facebook.com/pages/Jenna-Jaxon/146857578723570