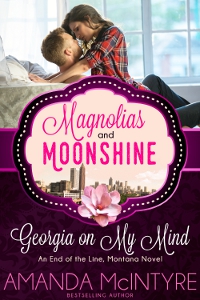 Why I Love My Library by Amanda McIntyre 
My love affair with libraries came at an early age. One such memory stands out when I was staying for a few weeks one summer with my grandmother and aunt.  Every day we would walk to the library. And I can remember how grown up & privileged I felt to own my first library card! I think I read every Boxcar Children book, every Alfred Hitchcock book, and many of the Little House on the Prairie books on the shelves that summer.
By the time I reached Junior High, I had volunteered to be a student librarian, a position that stayed with me throughout my primary education career and followed me into working at a bookstore as well in my senior year of school. The librarians that I worked with taught me the importance of reading, and along with my ART teacher, taught me the importance of using your imagination. To always be curious. To always ask questions.
As eclectic in my reading then as I am now, I cut my literary teeth on such books as Dr. Zhivago, A Wrinkle in Time, To Kill a Mockingbird, Five Smooth Stones, and several books by C.S. Lewis-in particular, the Screwtape Letters. It was not until later, that I picked up Andrew Greeley's books and then Anne River Siddons books that the joy of storytelling had planted a seed inside me that would one day lead to publishing my own stories.
In our community, we had summer reading programs every year that my children participated in, and more often than not, they were allowed the "treat" of a book, in lieu of a toy when out shopping. I'm pleased to say that all four continue to be avid readers (one is a Language Arts teacher, in fact) and I as I prepare for my first grandbaby in the coming weeks, we've already begun the joyous task of assembling "JELLYBEAN'S" children's library!  Needless, to say, I cannot wait to start reading to the next generation!
My respect and gratitude for all the librarians I've known, the countless programs they offer to their communities and the incentive to dream and use your imagination—to always be learning, to always be curious.
~Amanda McIntyre
Amandamcintyresbooks.com
GEORGIA ON MY MIND (End of the Line novella)
Can time heal all wounds?
It's been years since rancher/teacher, Justin Reed, an End of the Line transplant from Atlanta, Georgia has set foot in the city he fled. But with a class reunion and the goal to ease tensions with his twin brother, he must now face the woman who once broke his heart—but has never left his thoughts!
Life had not always been kind to Georgia Langley, until she met and fell head over heels in love with quiet Justin Reed. They say you never forget your "first love" and despite the circumstances that forced her to make a tough decision, he's never really moved completely out of her heart.
You can purchase – Georgia On My Mind at:
Amazon: http://amzn.to/2l50TGB
Nook http://bit.ly/2l595Xa
Apple http://apple.co/2kB8bVA
Kobo  http://bit.ly/2kARhpO
Amanda McIntyre's passion is telling character-driven stories with a penchant for placing ordinary people placed in extraordinary situations. A bestselling author, her work is published internationally in print, E-book, and audio. She writes sizzling contemporary and hot historical romance and believes no matter what, love will find a way. Learn more by subscribing to my newsletter at: AmandaMcIntyresbooks.com
Contact/Social Links:
WEBSITE: http://www.amandamcintyresbooks.com/
FACEBOOK: https://www.facebook.com/AmandaMcIntyreAuthorFanPage
TWITTER: https://twitter.com/amandamcintyre1
GOODREADS: https://www.goodreads.com/author/show/519786.Amanda_McIntyre
AMAZON.AUTHOR PAGE: amazon.com/author/amandamcintyre
NEWSLETTER: http://madmimi.com/signups/110714/join