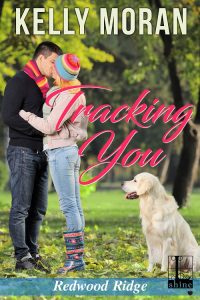 Animal Characters by Kelly Moran
Hello, everyone! Great to be here.
Kensington/Lyrical launched the first story in my new small town rom-com series Redwood Ridge in February called Puppy Love. The second book Tracking You releases in May and is about a veterinarian, Flynn, who's the middle O'Grady brother. He's also deaf. Though part of a series, all the books are stand-alones with different characters. What I loved most about this story (and the two other books) is that the animals are like secondary characters. There's a clinic cockatoo, a great dane, and a cat, plus the characters' pets. So fun.
I've always been an animal lover and my best friend is a vet tech. The stories she tells me? Hilarious! What inspired this particular story was a small plot aspect I wound up incorporating after stumbling upon it by accident, despite how it shredded my heart to write it. But I think it shed light on something a lot of us don't like to think or talk about–Dog Fighting. Since the hero is a traveling vet for the family clinic (often doing home visits to neighboring farms), it seemed fitting.
Research and writing go hand-in-hand. While speaking with two veterinarians at a local clinic, we got off topic and began discussing a case they had about a couple canines in their care from a dog fighting ring. And what they told me chilled me to the bone. For those of you who don't know, dog fighting is a contest in which people urge two or more canines to fight for the purpose of human entertainment. Two dogs are put into a ring or pit to fight until one cannot continue or dies. Terrible! The canines involved usually suffer ongoing neglect and cruelty during the training process. I won't sicken you with the details, but it's enough to give a person nightmares for life.
Organized animal fighting is secretive and very difficult for law enforcement to infiltrate. Dog fighting is a felony in all 50 states, but rarely, if ever, are the people involved charged. What's worse is the jail time for these offenses is 1-5 years in prison and a fine (which varies state by state and by number of offenses). Awful. Plus, most animals who have been trained for organized fights are so aggressive (or injured) that they ultimately must be euthanized.
Both our dogs were rescues (though one has passed away), and learning this was gutting. I don't want to stand on a soapbox, but after hearing the vets' stories, I thought it important to add this element to the book. I'm all about the real, and this is a very real issue. It was, of course, as disheartening to my characters as it was to me. They are not only veterinarians or technicians, but pet owners as well. Animals don't have a voice and can't speak for themselves.
Pets trust us unconditionally and are active members of our families. I think of all the wonderful things our dogs have brought to our home and how they've enriched our lives, and my heart breaks to think there are others out there who don't understand that. Pets love unconditionally and without bounds. They are comfort and companions and therapy. We, as human beings, can learn so much from them, if only we'd open our eyes.
TRACKING YOU………….
Love isn't always loud. Sometimes it's silent.
Gabby Cosette has always been dubbed the good girl of quaint Redwood Ridge, Oregon, and being permanently put in the friend zone has left her dating life stagnant. With no prospects in sight, she clings to her friends and resolves to not let loneliness drag her under. So when the town Battleaxes set their matchmaking sights on her, she figures it can't hurt. Yet the guy they think is perfect for her just happens to be not only her boss at the veterinarian clinic, but her best friend. Sure, Flynn O'Grady is attractive and the nicest guy around, but going there with him would topple both of their carefully constructed worlds and there would be no going back. Even if he is starting to make her girly parts zing.
Having been born deaf, Flynn has already felt like an outsider most of his life. Aside from his brothers, Gabby is about the only person who's gone out of her way to treat him as more than a handicap. Which is exactly why he's banked his secret attraction for his sweet, beautiful vet tech. Except his meddling family is trying to play Cupid and ruin the best thing to ever happen to him. Without Gabby, his work as a veterinarian, never mind his personal life, wouldn't flow. Determined to ignore the antics, he's secure in the knowledge she's not interested in him romantically. But then a kiss changes everything . . . and he's wondering if taking the ultimate shot at love might be worth the risk.
"A steamy romance." –Library Journal
Buy links:
Amazon: https://amzn.com/B01LJKQJ8G
B&N: http://tinyurl.com/zhlnanr
iBooks: http://tinyurl.com/jnl9ad8
Kobo: http://tinyurl.com/h6ug8ak
About The Author: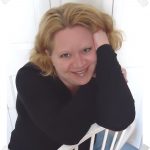 Kelly Moran is a bestselling romance author of enchanting ever-afters. No one who knows her bats an eyelash when she talks to herself. She is a Catherine Award-Winner, Readers Choice Finalist, Holt Medallion Finalist, and a Finalist in RWA's 2014 Award of Excellence. She's landed on USA TODAY's HEA 10 Best Reads and Must Read lists. Her interests include: sappy movies, MLB, NFL, driving others insane, and sleeping when she can. She is a closet caffeine junkie and chocoholic, but don't tell anyone. She resides in Wisconsin with her husband, three sons, and her hound dog. Most of her family lives in the Carolinas, so she spends a lot of time there as well.
Author Links:
Facebook: http://www.facebook.com/authorkellymo ran
Twitter: http://www.twitter.com/authorkmoran
Newsletter: http://tinyurl.com/prkhtua
Pinterest: http://www.pinterest.com/authorkmoran
Tumblr: http://authorkellymoran.tumblr.com/
Instagram: https://instagram.com/authorkellymoran/
Google+: https://plus.google.com/+KellyMoranauthor
Youtube: http://www.youtube.com/authorkellymoran
Website: http://www.authorkellymoran.com