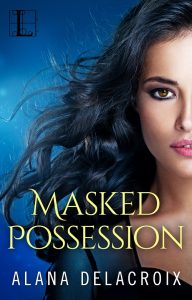 Addicted to podcasts by Alana Delacroix
Even though podcasts have been popular for years and I have endured many (many) hours listening to my husband's rotating WTF and Star Wars Minute playlist, I wasn't a fan. I preferred to read on commutes and listen to music when running. I had other things to pay attention to. Important things.
Then I found a magazine article that told the story of how a podcast saved a woman's life and I thought, hmm, okay. Interesting.
My Favorite Murder was my gateway podcast. I'm not going to lie, this is not a podcast for everyone—the name pretty much gives the theme away—but it was absolutely, 100 percent for me. I binged it and when I was caught up, I went hunting for more. Luckily, podcasts exist for any topic you can dream up. Writing? Writing Excuses. Explorations of race in Canada? Colour Code. Pop culture? NPR's Pop Culture Happy Hour.
There are a few things I look for in a podcast. First, of course, is compelling subject and storytelling. Second is voice. It's extraordinary how the voice affects how I feel about the podcast itself. Some now feel like old friends and I can settle comfortably in, while others keep me on the edge. Last is technical expertise. I don't expect full orchestral ensembles in the background, but it shouldn't sound like it was taped in a tunnel.
Looking for a place to start your own podcast addiction? Here are a few I've sped through over the last few months.
What happened to the residents of Limetown? I'd love to know but (warning) it ended on a cliffhanger after Season 1.
The Black Tapes. In love with the serial creepy story and frustrated by my Limetown cliffhanger, I started The Black Tapes. It also ended with a cliffhanger in year, but I got to hear Richard Strand's voice in my ears for the duration, so all good.
Welcome to Night Vale. I don't even know why I like this. It doesn't make any sense! But stay away from the dog park.
Reply All. About the internet and by turns poignant, hilarious and shocking..
Everyone likes Season 1, and the question: Did Adnan kill Hae Min?
Dan Carlin's Hardcore History. These are intense multi-hour, detailed historical sessions.
Any great podcasts? I'd love to add to my list. Tell me at alanadelacroix.com.
Links:
My Favorite Murder: https://www.myfavoritemurder.com/
Star Wars minute: http://www.starwarsminute.com/
Writing Excuses: http://www.writingexcuses.com/start-here/
Colour Code: https://beta.theglobeandmail.com/news/national/colour-code-podcast-race-in-canada/article31494658/?ref=https://www.theglobeandmail.com&
Pop Culture Happy Hour: http://www.npr.org/podcasts/510282/pop-culture-happy-hour
Limetown: https://www.twoupproductions.com/shows/limetown
The Black Tapes: http://theblacktapespodcast.com
Welcome to Night Vale: http://www.welcometonightvale.com/
Reply All: https://gimletmedia.com/reply-all/
Serial: https://serialpodcast.org/season-one
Dan Carlin's Hardcore History: http://www.dancarlin.com/hardcore-history-series/
MASKED POSSESSION from ALANA DELACROIX

A Man Who Can Wear Any Face
Caro Yeats doesn't run from much. As a former investigative reporter now working PR for Toronto's supernaturals, what she hasn't seen mostly isn't worth seeing. But the assignment to "rebrand" Eric Kelton's out-of-control alter egos has her on edge from the start. Kelton is the heirarch of the Masquerada, beings able to change their face—their entire persona—on a whim. Eric's charisma muddles her instincts. How can she trust a man who can become anybody?
A Woman Without A Past
Eric has never met anyone like Caro, with her lightning wit and uncanny insight. But desirable as she is, he'd be a fool to let her near. Struggling to hide the sudden loss of his powers, Eric can't risk becoming entangled with a woman who scorns her supernatural side and claims not to play politics. The enemies on her trail are strong, clever, and vicious. And when they force Eric and Caro together, the fallout could shatter far more than two hearts . . .
Buy links:
Amazon Kindle: https://www.amazon.com/s/?field-keywords=9781516103614
Apple: https://itun.es/ca/xmOYgb.l
Google: https://play.google.com/store/search?q=9781516103614&c=books
Kobo: https://www.kobo.com/us/en/ebook/masked-possession
Nook: https://www.barnesandnoble.com/w/masked-possession-alana-delacroix/1125283170;jsessionid=3E8F000DF4D81E26F81A9416924A2024.prodny_store01-atgap09?ean=9781516103614
 About the Author: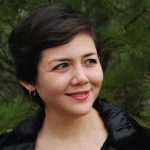 Alana Delacroix lives in a little house filled with books in Toronto, Canada. She loves exploring the city, on the hunt for both the perfect coffeeshop as well as ideal locations to set her paranormal romances. A member of RWA, Alana worked as an archaeologist before forging a slightly more stable career in corporate communications.
Author Links:
Website: https://www.alanadelacroix.com/
Twitter:  @alanadelacroix https://twitter.com/AlanaDelacroix
Facebook: https://www.facebook.com/alanadelacroixwriter/