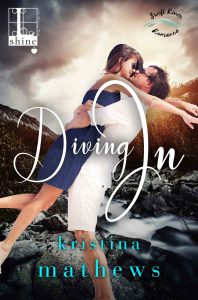 Diving In by Kristina Mathews
A Swift River Romance #3
The sweetest revenge . . .
He's the Swift brother who got left behind, the son abandoned by his father. Now Kyle Swift is a man determined to destroy the whitewater rafting empire built by the half-brothers he never knew, the Swift sons who got the life—and the love—he was denied. Seducing Fisher Jones isn't part of his revenge, but sharing a bed with the beautiful whitewater instructor is the one bright spot in his otherwise dark plan. That is, if he manages not to fall for the sad-eyed beauty . . .
Fearless when it comes to facing even the most daunting river rapids, Fisher never takes chances with her love life—until the night she gets swept away by a sexy stranger. But when her one-night stand unexpectedly shows up in her whitewater class, Fisher faces her greatest challenge yet: keeping her heart safe from a man determined to put an end to the family business—and the life—she holds dear. . . .
EXCERPT
Steady. Kyle led the hot blonde—no, the strong blonde—across the parking lot to his RV. She was intoxicating, that's for sure. He knew better than to mix business with pleasure, but as he was perusing the beer menu, he'd looked up and there she was.
Tall, not quite six feet, and strong. She looked like she worked out, but not with a personal trainer. No, she was one of those outdoorsy-type girls. She could be a triathlete or something. Tan and blond, but not like the women he knew in Southern California. This one was all-natural. She didn't wear so much as mascara. No, the closest thing to makeup she wore was lip balm, the kind with SPF to protect her luscious lips from the sun.
She had an air about her that said she was comfortable here. Comfortable in her skin. She'd given the bartender a friendly smile, not the kind designed to flirt or get served more quickly. She kind of stood there, content to just wait her turn, and maybe look around a bit. But she wasn't on the prowl. Something else that made her stand out.
"It's nothing fancy." He pulled out his keys when they reached the RV, suddenly a little nervous. "But the bed is big enough for two."
"Sure. No big deal." She sounded nervous, too. "I have to tell you: I don't do this kind of thing. Like, ever."
"If you change your mind, that's okay." He didn't want to pressure her.
"The dining table converts into an extra bed. I can sleep there."
"Huh? Why would you sleep on the dining table?"
"Well, you said you shouldn't drive, and if you've changed your mind, you can have the comfortable bed." He was sounding like someone who didn't do this sort of thing very often. Or, like, ever.
"No, I haven't changed my mind." She tucked a strand of sun-kissed blond hair behind her ear. "It's just that… I'm not a virgin or anything, but it's been a really long time, and I don't want to disappoint you."
"You won't disappoint me." He cupped her cheek, looked into her bright yet somewhat distant blue eyes. "You've already made my night. Anything from here on out is just a bonus."
YOU CAN PURCHASE DIVING IN AT:
Kensington Books
ABOUT THE AUTHOR: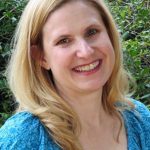 Kristina Mathews doesn't remember a time when she didn't have a book in her hand. Or in her head. But it wasn't until she turned forty that she confessed the reason the laundry never made it out of the dryer was because she was busy writing. While she resigned from teaching with the arrival of her second son, she's remained an educator in some form. As a volunteer, parent club member or para educator, she finds the most satisfaction working with emergent and developing readers, helping foster confidence and a lifelong love of books. Kristina lives in Northern California with her husband of more than twenty years, two sons and a black lab. A veteran road tripper, amateur renovator and sports fanatic. She hopes to one day travel all 3,073 miles of Highway 50 from Sacramento, CA to Ocean City, MD, replace her carpet with hardwood floors and serve as a "Ball Dudette" for the San Francisco Giants.
AUTHOR SOCIAL MEDIA LINKS
Website: www.KristinaMathews.com
Twitter: www.twitter.com/KristinaMathews
Facebook: www.facebook.com/KristinaMathewsAuthor