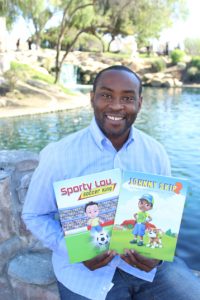 Brand New Multicultural Picture Books from Author Quentin Holmes
Parents, teachers, and youth workers know all too well the joy of finding reading material that both educates and inspires children through great story-telling and eye-catching artwork. Sporty Lou, and Johnny Skip2 are the kind of books that parents seek out, due to its conscious duality in design to both entertain, and educate, while always appealing to the heart. Both books diligently seek to inspire an entire generation of children to dream and strive for greatness.
About Sporty Lou: Soccer King by Quentin Holmes
The Sporty Lou picture book is for kids 3-to-6-years old and adults who LOVE sports! Sporty Lou is a spunky determined kid with a big heart and bigger imagination. At the feet of his 'mighty dad', Sporty Lou is taught the basics of soccer. He struggles and falters but his little body holds a giant heart that won't back down from a challenge! Cheer along as Sporty Lou's imagination turns his backyard into a stadium full of roaring fans. Will he ultimately give in or take his first steps towards becoming a true sports legend?
About Johnny Skip2: The Amazing Adventures of Johnny Skip 2 in Australia
Johnny Skip2 is a world traveler; a collector of small things, and an adventurer all wrapped up into one little kid. But he needs your help. Come travel with Johnny and his little dog Grounder as they journey to the wonderful land of Australia in search of native muntrie berries. Adding to the adventure is a mother kangaroo that has lost her 'joey' and this leads Johnny on a quest to find her. The Johnny Skip 2 adventure offer new sights and colorful Aussie phrases from 'The Land Down Under.' Johnny Skip2 is a great interactive read-a-long that kids will love reading over and over again.
Purchase Multicultural Children's Books by Quentin Holmes
– Easy-to-read, empowering and entertaining stories for young children
– Picture Books & Coloring Books. Available in hardcover, softcover & eBook
For more information on both books please visit: amazon.com/author/quentinholmes
REPRINTED WITH PERMISSION FROM BLACK PEARLS MAGAZINE