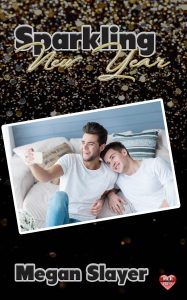 Sparkling New Year by Megan Slayer
New year, new relationship?
Dating and Aydin Madison haven't been good friends. He's shy, bookish and would rather be with his set designs than most people. He knows his way around the theater, but his love life is non-existent. He knows whom he'd like to date–Brandon Kidd, the boy du jour of the art school. He'd love to rub Brandon the right way. It's too bad Brandon doesn't seem to know Aydin exists.
When freak circumstances throw these two together, they'll have to decide if the sizzling connection is the key to their happy new year or just a fluke.
Purchase Sparkling New Year at: https://www.mlrbooks.com/upcoming.php
About the Author:
I've always wanted to write. I love storytelling and weaving images with words. There's something magical about a happily-ever-after that draws me to a story. Be it spicy and suspense-filled or lusty hot and bothered, I'm game for a good book. I'm still learning and growing and I hope you'll join me. It's been a crazy ride, but it's totally worth it. You'll see.
I've always dreamt of writing the stories in my head. Tall, dark, and handsome heroes are my favorites, as long as he has an independent woman keeping him in line.  I love playing with words and letting the characters run wild.
NASCAR, Ohio farmland, dirt racing, animals and second chance romance  all feature prominently in my books.  I also write under the pen name of Megan Slayer. I'm published with Total-E-Bound, Changeling Press, Liquid Silver Books, Shara Azod Publishing, Turquoise Morning Press, Decadent Publishing and The Wild Rose Press. Come join me for this fantastic journey!