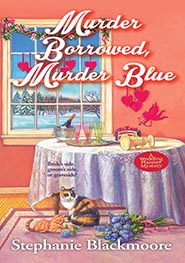 MURDER BORROWED, MURDER BLUE by Stephanie Blackmoore
A Wedding Planner Mystery #3
Actress Dakota Craig is set to tie the knot with her famous musician boyfriend at wedding planning extraordinaire Mallory Shepard's Pennsylvania B&B on the most romantic day of the year. Best of all, the whole thing will air on the reality TV show I Do. But the maid of honor has dropped out of the wedding party—by dropping dead. A lot of people insist the show must go on, so Mallory's investigation keeps getting sidetracked by everything from a meddling mother to a foot of snow to a side project making arrangements for a high school Winter Ball. But if she doesn't catch the noxious culprit, the bride might wind up with a funeral wreath instead of a bouquet . . .
New Series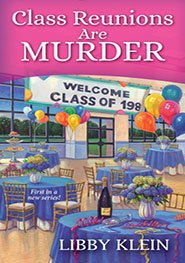 CLASS REUNIONS ARE MURDER by Libby Klein
A Poppy McAllister Mystery
Newly widowed and stuck in a middle-aged funk, fortysomething Poppy McAllister has been running on cookies, infomercials, and one-sided chats with her cat for months. Until she receives an invitation to her twenty-five-year high school class reunion from Barbie, the popular cheerleader who taunted her all through high school. Using the dreaded homecoming as an excuse to visit her eccentric Aunt Ginny in Cape May, NJ, Poppy discovers that Barbie is still the queen of mean. And worse, that her dead body is lying right in front of Poppy's old locker. Singled out as the killer, it's up to Poppy to confront her past and clear her name. Includes Seven Recipes from Poppy's Kitchen!
BANANA CREAM PIE MURDER by Joanne Fluke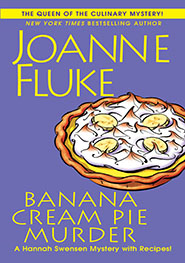 A Hannah Swensen Holiday Mystery
A romantic seven-day cruise is the perfect start to bakery owner Hannah Swensen's marriage.
After an extravagant honeymoon, Hannah's eager to settle down in Lake Eden and turn domestic daydreams into reality. But when her mother's neighbor is discovered murdered in the condo downstairs, reality becomes a nightmarish investigation. Victoria Bascomb, once a renowned stage actress, was active in the theater community during her brief appearance in town . . . and made throngs of enemies along the way. Did a random intruder murder the woman as police claim, or was a deadlier scheme at play? As Hannah peels through countless suspects and some new troubles of her own, solving this crime—and living to tell about it—might prove trickier than mixing up the ultimate banana cream pie .Features Over a Dozen Cookie and Dessert Recipes from The Cookie Jar!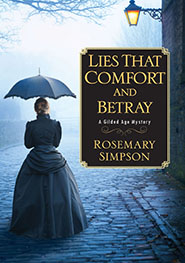 LIES THAT COMFORT AND BETRAY by Rosemary Simpson
A Gilded Age Mystery #2
Heiress Prudence MacKenzie is a valuable partner to attorney Geoffrey Hunter, despite the fact that women are not admitted to the bar in New York's Gilded Age. And though their office is a comfortable distance from the violence that haunts the city's slums, the firm of Hunter and MacKenzie is about to come dangerously close to an unstoppable killer . . .