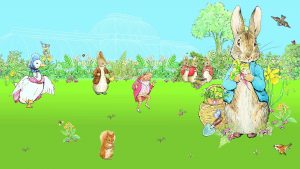 Theme Park Featuring Peter Rabbit™ at Kew Gardens in UK
Fans of Beatrix Potter and Peter Rabbit will enjoy the first Peter Rabbit Easter festival. Here's more from the press release:
The first ever Peter Rabbit themed Easter festival at Kew Gardens. Join in activity workshops, games and crafts. Follow an interactive trail inspiring children to connect with nature. Friday 30 March to Sunday 15 April 2018
Join Peter Rabbit and all his furry friends on a botanical bunny adventure this Easter at the Royal Botanic Gardens, Kew. Visitors can expect an exciting activity-packed day out with games, crafts and storytelling inspired by Beatrix Potter's iconic tales.
Children will be delighted by the exquisite illustrated world of Peter Rabbit set against the stunning landscape of Kew Gardens. Spring will be well and truly underway and the Gardens will be filled with the dazzling colour of blooming crocuses, daffodils and magnolias. The Easter extravaganza will celebrate the beauty of nature at Kew and encourage visitors of all ages to explore the wonderful world of fruit, vegetables and other edible plants, whilst learning about how they are grown.
From Kew's beautiful Secluded Garden, visitors will follow a Peter Rabbit trail to find activity pop-ups for all ages. A trip to Mr McGregor's potting shed will encourage visitors to plant their very own seeds to take home and nurture. Elsewhere, youngsters can choose which Peter Rabbit character they'd like to be for the day and make some fuzzy bunny ears to match.
Around the festival hub, children and adults will also be able to get stuck into all sorts of giant food card games, while the hilarious veggie consequences workshop will offer the chance to create incredible monster vegetables. Families will also get the chance to take fun souvenir snaps at special Peter Rabbit selfie boards.
Visitors can also pop into Kew's incredible Kitchen Garden nearby, to admire the amazing display of colourful fruit and veg grown by Kew's very own kitchen gardeners.
What's more, there will be a variety of delicious Easter culinary offerings available at the festival hub, as well as Peter Rabbit gifts and goodies available in the Kew shop.
Gina Koutsika, Head of Visitor Programmes, Events and Exhibitions says: "We're thrilled to be partnering with Penguin Ventures to produce a brand new and truly magical Peter Rabbit™ themed festival at Kew Gardens. I am sure our interactive trail and activities will delight visitors of all ages and will encourage families to learn more about the science behind the fruit and veg that Peter Rabbit so loves to eat."
Thomas Merrington, Creative Director, Penguin Ventures says: "Peter Rabbit is synonymous with mischief and garden adventures and will be perfectly at home in the beautiful setting of Kew Gardens. We can't wait to see young fans and their families enjoy the fantastic activities that Kew has planned with Peter this Easter."
For press enquiries please contact the Press Office: 020 8332 5607 / pr@kew.org
Admission to the festival is included in the general entrance ticket to the Gardens (Adult – £17.00, child – £5.00).
Wakehurst, Kew's wild botanic garden in West Sussex, will also be hosting its very own Easter festival, Peter Rabbit™ Goes Wild.
About Kew Gardens
The Royal Botanic Gardens, Kew is a world famous scientific organisation, internationally respected for its outstanding collections as well as its scientific expertise in plant diversity, conservation and sustainable development in the UK and around the world. Kew Gardens is a major international and a top London visitor attraction. Kew's 132 hectares of landscaped gardens, and Kew's country estate, Wakehurst, attract over 1.5 million visits every year. Kew was made a UNESCO World Heritage Site in July 2003 and celebrated its 250th anniversary in 2009. Wakehurst is home to Kew's Millennium Seed Bank, the largest wild plant seed bank in the world. Kew receives just under half of its funding from Government through the Department for the Environment, Food and Rural Affairs (Defra) and research councils. Further funding needed to support Kew's vital work comes from donors, membership and commercial activity including ticket sales.