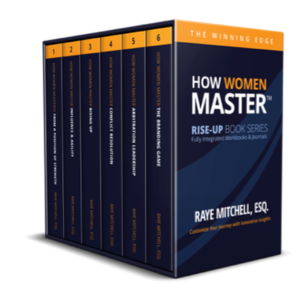 HOW DO WE CHANGE THE STATUS QUO? BY RAYE MITCHELL
Reprinted with permission from Black Pearls Magazine
I focus on assisting young Black women and girls master the ability to rise-up and brand themselves in their authentic leadership persona.  R.I.S.E.-UP™ is a solution-based concept founded on building our personal brands, increasing touch points and forging new alliances for young Black women and girls.
R.I.S.E.-UP is a branded rallying call not dissimilar to Lean-In. RISE-UP stands for reclaiming our obligations to mentoring and training the next generation of young Black women and girls by leveraging research to increase impact, real world solutions, and continuous engagements.
R.I.S.E.-UP is an action-based concept to nourish a new generation of Black female leaders and speaks to the needs of Black women and girls who do not seek the traditional corporate c-suite career path. In reality, the true "c-suite" for these millennial young Black women is connected to another set of Cs—the ability to be competitive, confident, and competent and to contribute as change leaders and independent entrepreneurs in charge of their own futures.
R.I.S.E.-UP is about presence, persistence, and the power to lead change, to resolve conflicts, to negotiate deals, and to build personal brands as highly visible leaders and influencers. Recognizing that young Black women influencers want to be at the top of their game, we know that mastering grace under fire is both skill and art.
R.I.S.E.-UP is about enhancing our ability to trade inside secrets and build collaborations in real time so that we can maintain our integrity when locked in tough negotiations and critical battles that we encounter every day in a wide range of power struggles to advance ourselves.
We have reached a tipping point where we need to reclaim our agenda, re-engineer our personal brands, and set our own leadership platforms on a path forward. We cannot continue to subsume and merge our needs into majority organizational programs in hopes that they will meet our needs. Black women do not need to lean-in. Black women have been leaning in long before the concept became popular. We cannot continue to follow advice and counsel that is not based on our root experiences.
We have to be more protective of our intellectual capital and our personal brands by being willing to invest in and believe in our own programs before we invest resources in other platforms. It is time for young Black women to replace the call to lean-in with the drive to rise up, supporting our unique personas, needs, challenges, and opportunities.
You have the power to drive your personal brand, how will you rise up? Here are some thoughts to consider:
1. Before registering for that next mass conference or Black women empowerment conference in 2018, ask the organizers to outline their maintenance and continuity programs. If they do not have one, are you prepared to build your own?
2. How can you revise your personal brand in the context of inventing a vibrant new plan to rise-up?
About the Author and Speaker
Dr. Raye Mitchell is the founder of the New Reality Foundation, Inc., and CEO at the Winning Edge Institute Inc. She is a power and influence expert, attorney, author, speaker and activist. Mitchell is a member of the Time's Up Legal Defense Fund network providing legal support for women and girls affected by harassment. Mitchell has received national acclaim for her work mentoring women and girls of color to beat the odds and excel as leaders.
Mitchell is a graduate of Harvard Law School, the University of Southern California (USC), the USC Sol Price School of Public Policy (B.S.) and the USC Marshall School of Business (MBA). She is a native of Los Angeles, California.
Books by Dr. Raye Mitchell
https://www.amazon.com/Dr.-Raye-Mitchell/e/B0061ONNV2
Website: http://www.DrRayeMitchell.com
LinkedIn: http://www.linkedin.com/in/drrayemitchell
Facebook: https://www.facebook.com/rayemitchell
Instagram: http://www.instagram.com/rayemitchell
Pinterest: http://www.pinterest.com/rayemitchell1
Twitter: @drrayemitchell or https://twitter.com/drrayemitchell
YouTube: http://www.youtube.com/NewHopeNewReality
Amazon Link: http://www.amazon.com/author/rayemitchell