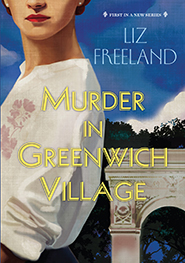 Murder in Greenwich Village by Liz Freeland
Now available for pre-order
A year before World War I breaks out, the sidewalks of Manhattan are crowded with restless newcomers chasing the fabled American Dream, including a sharp-witted young woman who discovers a talent for investigating murder . . .
New York City, 1913. Twenty-year-old Louise Faulk has fled Altoona, Pennsylvania, to start a life under dizzying lights. In a city of endless possibilities, it's not long before the young ingénue befriends a witty aspiring model and makes a splash at the liveliest parties on the Upper East Side. But glitter fades to grit when Louise's Greenwich Village apartment becomes the scene of a violent murder and a former suitor hustling for Tin Pan Alley fame hits front-page headlines as the prime suspect . . .
Driven to investigate the crime, Louise finds herself stepping into the seediest corners of the burgeoning metropolis—where she soon discovers that failed dreams can turn dark and deadly . . .
Buy Link: http://www.kensingtonbooks.com/book.aspx/36324
Excerpt — MURDER IN GREENWICH VILLAGE:
We got off at Eighth Street and descended the platform. My worries about growing old and gray with Ethel were interrupted when I looked south at the tower of the Woolworth Building, glowing like a beacon. The nearly finished skyscraper had been a looming presence downtown when I'd arrived in New York, but now it had opened, electrified by a flick of a switch by Woodrow Wilson in Washington, DC, and its cathedral summit haloed in white lights made the stars and moon seem dim, unimaginative things in comparison. It was the tallest building in the world. Gorgeous. Audacious. And to me, terrifying.
Callie followed my gaze. "They've opened the observation gallery up at the top. We could go this Sunday."
Few things in this world frightened me, but heights did. I wasn't wild about elevators, either. "To the top of that thing?" I was still recovering from a ride on The Tickler in Coney Island the previous weekend. "Aren't there any pastimes in this city that don't involve machinery hurling us away from solid ground?"
She laughed, and we zigzagged south on Fifth and then west on Washington Square, facing the magnificent arch. We didn't go through the park but skirted its north end. The late hour meant most businesses were closed except a few restaurants, the corner newsstand, and taverns. The sidewalks were sparsely populated
and puddled periodically in darkness where the streetlamps weren't sufficient. Callie and I instinctively linked arms as we strolled. As two women walking alone at night, we attracted a few speculative stares and at least one whistle from a stoop across the street.
Annoyed, Callie muttered "fresh" under her breath, but I hadn't been paying much attention. At every watering hole we passed, I wondered if it was the tavern Ford had planned to visit.
Two blocks from our apartment, someone waited at the corner. Callie's footsteps slowed, but the man, seeing her, rushed toward us. In the dim illumination cast by the streetlamps, his eyes held a feverish gleam.
"Sawyer," Callie said as he stopped in front of us. His appearing out of the blue had robbed her of the usual knowing tone she took with men.
Then again, this man left me a little breathless myself. Sawyer Attinger was a perfect specimen. His tall, broad-shouldered frame had made him a hero on the playing fields of Yale, but his chiseled features and golden hair no doubt would have made him the hero of women's hearts everywhere, regardless of his athletic prowess. In
addition to those assets nature provided, he wore the finest tailored clothes and possessed the aristocratic bearing of a man accustomed to the world's bending in his favor. Callie summed it up best: Sawyer Attinger was rolling in dough.
As far as I could tell, the man possessed only one defect, but it was a fatal one. A certificate of marriage.
He reached out and held Callie's shoulders. "I've just been to your apartment. Nobody answered my knock. Where were you?"
Callie, more collected, let go of my arm and drew herself up in a regal stance. In looks, she was more than a match for the blueblood Sawyer—her fine-boned face betrayed nothing of her dairy farm origins. "I was out with Louise. Not that it's any business of yours."
He cut a dismissive glance my way and continued as if I weren't there. "Meeting men?"
Callie's brows drew together, a sure sign that her anger was roused. She slapped his hands away. "Wouldn't you like to know."
"Don't torture me," Sawyer pleaded.
Her rigid posture gave a fraction. "Then don't be a dope. We were at Louise's aunt's house."
"I was worried," he said.
"We didn't have a date," Callie reminded him.
"I know, but I was working late, so I thought I'd . . ." He shook his head. "I shouldn't have presumed, my darling. Of course a girl like you would seek out company."
Out of awkwardness I began to edge away from them, feigning curiosity in a bill someone had posted announcing an upcoming rally for women's suffrage in Union Square. Not that I wasn't interested in gaining the vote, or in seeing Lucy Burns and Alice Paul— suffragists I'd read about in newspapers—in the flesh, but I was
much more concerned with Callie at the moment.
She darted out a hand and clamped it around my arm. "Stay, Louise. Mr. Attinger won't be escorting me home. It's late, and I'm sure his wife will be worried."
His gaze filled with longing. "My wife has nothing to do with my feelings for you."
Callie only laughed.
"I've told you that I'll always take care of Margaret," he said.
She lifted her chin. "How generous! Pledging to me to take care of a woman you've already pledged before God to take care of till death do you part."
"Why can't you believe that Margaret and I are no longer in love? We're like two strangers rattling around under the same roof, both lonely."
"Not too lonely. I seem to recall there are two small children rattling around with you." She linked her arm through mine again. "It's late, and Louise and I have to work in the morning. Good night, Mr. Attinger. And good-bye."
We strode past him at a quick yet still dignified pace.
"Callie!" His wail at our backs echoed around the dark block, plaintive and desperate.
"You did right," I said to her under my breath.
"Oh, hang what's right." Callie scowled at the pavement. "I'm not noble. I just don't like liars, is all. A man who would cheat on his wife would cheat on anybody."
Her trembling arm belied her tough tone. After first meeting Sawyer, Callie had been over the moon. A month passed before she'd learned about the wife and children, and that discovery had been through her own detective work, not any pang of conscience on Sawyer's part.
"I'm sure he's got the message now," I said. "You made it plenty clear you wouldn't see him again under any circumstances."
Callie whipped toward me. "Oh no, did I really?"
Her worried expression confused me. "You wouldn't have anything to do with him, would you?"
"Well, for instance, if he got divorced . . ."
"You just said you couldn't trust him."
"But if he were to divorce his wife and marry me, that would be a whole different ballgame."
"Exactly. He might cheat on you."
"But I would be his wife. I'd have leverage, and security."
"What kind of security can there be in marriage to a man who's already set one wife aside?"
"More security than I've got now, or ever had. Have you ever woken up before dawn on a winter morning to do farm chores? Have you ever had chilblains from milking cows?"
"But you're here now, and you have ambitions. The stage, remember?"
Callie laughed. "When half a million dollars falls in love with you, remind me how much you enjoy being a secretary."
We entered our building, rejoiced that our landlady's son, Wally, wasn't lurking about, and hurried up the two flights of stairs to the apartment. The chorus of "Be My Little Baby Bumblebee" performed by five saxophones accompanied us.
"Still?" Callie hissed as we passed their door.
It was late. The Bleecker Blowers were lucky that Mrs. Grimes, the landlady, was stone deaf.
"I'm surprised Ethel hasn't lodged a complaint already," Callie said.
The apartment door was unlocked and a light was on inside, but the stillness around us made it clear that Ethel had already gone to bed.
Peeved, Callie muttered, "Miss Waste-Not-Want-Not wasting    the electricity," as she unpinned her hat and hung it on the wobbly coat rack by the door.
I busied myself putting away the leftovers and breathed a sigh of relief when "Be My Little Baby Bumblebee" ended and wasn't followed by an encore. Maybe we'd have a peaceful night after all.
A piercing scream from the next room shattered that hope.
I raced to where Callie was standing in the doorway of what had been her room, the one Ethel had taken over.
"I just pushed the door open," she whispered, her voice a flutter of panic. "Just to check."
It was gaping open now. Inside, Callie's little bedside lamp was on, its green and yellow beaded shade casting a jaundiced glow over a grisly scene. In the center of the bed lay Ethel, facedown, a butcher's knife plunged into her back. A dark stain spread across her nightdress and the bedspread. One of her shoes—one of Callie's shoes, actually—dangled off her foot. On the rag rug lay a pair of once-white gloves now crimson with blood.
Callie's long-nailed fingers clawed my arm. "Send for a doctor."
I shook my head. I kept staring, taking in the gruesome scene, unable to look away. I'd encountered death only under the sedate, controlled conditions of the funerals and last viewings of distant relations, but this was different. The tableau before me was a horror that almost wrenched me from my mental moorings. Even so, there
was no mistaking the ruthless stillness of death.
"We need to send for the police," I said.
ABOUT THE AUTHOR:
Liz Freeland lives with her husband in Montreal, where she writes and astounds the locals with her makeshift French. An elderly cat or dog (or two . . . or four) can typically be found in her apartment, and during the busiest day, Liz usually finds time to sneak in an old movie.