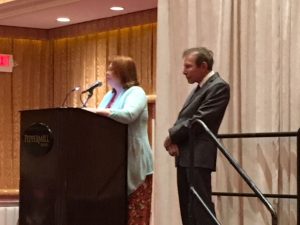 Romantic Times Magazine and Convention comes to a close after decades, ending its legacy of promoting and supporting romance books and authors.  Today, during the RT Convention,  Kathryn Falk announced that the magazine would be closing immediately and that the Reno RT is the last.  The magazine will remain available for one year, but no new articles will be added.  After the year  is up, the site will be removed.
A new convention will be replacing it.  The Booklovers Convention run by JoCarol Jones will be in New Orleans, Louisiana next year May 15th through the 19th.  Already the line-up of authors includes bestsellers such as Christine Feehan, Sylvia Day, Karen Rose and many others.
We spoke to JoCarol Jones who will shared that her convention will be open to all genres.  "It's important to me that readers still have a place to go to find their favorite authors and meet them in person," Jones said.
Attendees of this year's final RT convention expressed their surprise, but understand that it was time for Kenneth Rubin and Kathryn Falk, the owners of both the magazine and convention, to enjoy their retirement and celebrate their own love story.
For those authors who were hoping to have their books reviewed they can submit to Reader's Entertainment Magazine for possible inclusion in the July edition.  Reader's Entertainment is available online, but soon will be available as an e-magazine on Amazon.com and later this year in print-on-demand format.
Jones, who has been the RT Convention showrunner for many years, promises her new Booklovers Convention will be fun, welcoming and inclusive.  "People have come to the RT Convention for decades, making friendships that will last a lifetime.  Sometimes those friends only see each other in person just once a year and I want them to continue to have the opportunity to enjoy those comraderies."  Jones hasn't given details about what her convention will be like exactly, but you can find out more information at her convention website at http://www.bookloverscon.com/.