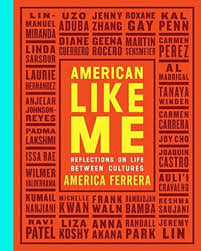 America Ferrera, the Emmy-winning actress and activist is penning an essay collection on "growing up between cultures in America." Sharing her experiences as the daughter of Honduran immigrants in Los Angeles, the book will include essays by contributors: Lin-Manuel Miranda, Roxane Gay, Issa Rae, Kumail Nanjiani, Congressman Joaquin Castro, Kal Penn, Uzo Aduba, Jenny Zhang, Michelle Kwan, Padma Lakshmi, and others. All of the writers are immigrants, children or grandchildren of immigrants, indigenous people, or people who otherwise grew up with deep and personal connections to more than one culture.
"I have always felt wholly American, and yet, my identity is inextricably linked to my parents' homeland and Honduran culture," Ferrera said in a statement. "I have yearned my whole life to see my complex cultural identity reflected in the larger American narrative. I am proud to share these personal stories that honor and reflect the experiences of so many Americans."
The book will be published by Gallery Books and will release in September. Ferrera is donating a portion of her proceeds Immigrants We Get the Job Done Coalition, which includes 12 nonprofit organizations that provide support to immigrants, refugees, and asylum seekers throughout the United States.