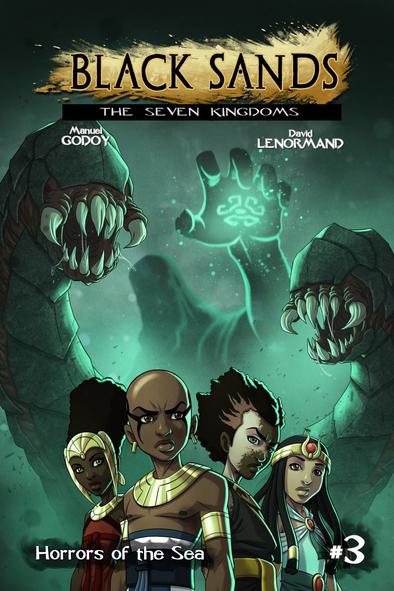 Black Sands Entertainment is a new publisher that will be specializing in "comic books, chapter books and picture books aimed at black parents and families."
Manuel and Geiszel Godoy, husband and wife owners of Black Sands are both military veterans who not only run the company, but are currently creating much of the content.
Their current catalog features:
Black Sands: The Second Kingdoms, which tells "the story of a young boy growing up in a fictional ancient African kingdom who rises to become its king."
Sons of Nibiru, sci-fi/fantasy novellas also set in Sands' fictional pharaonic African kingdom, penned by Manuel Godoy, illustrated by David Lenormand.
Mori's Family Adventures, a series of picture books by Geiszel Godoy that follows a modern African-American family as they travel around the world learning about local culture. 
With the backing of a Kickstarter campaign, Manuel raised over $63,000, and plans to use the funding to produce an animated pilot based on the Black Sands series. The animation will be released in 2019.
Launching in 2017, over 11,000 copies of their comics, novella, and picture books have been sold. Readers can find the Godoy's at many upcoming shows including Atlanta's Dragon Con, and Motor City Con in Detroit.
Godoy said he plans to grow Black Sands into a full-service publishing house. For more information, and to purchase their books, please follow this link to their website.