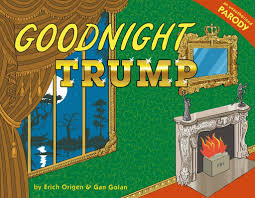 (From Little, Brown And Company Press Release)
An Irreverent, Hilarious Parody of the Children's Classic About a World of Harmony and Order, Putting to Bed America's Most Yugely Bad President Ever, by the Duo Behind the New York Times Bestseller Goodnight Bush
Reagan Arthur, Senior Vice President and Publisher of Little, Brown and Company, announced today the upcoming publication of GOODNIGHT TRUMP: A Parody, by Erich Origen and Gan Golan. Michael Szczerban, Executive Editor of Little, Brown and Company, acquired World rights from William Clark, of William Clark Associates. The book is slated for publication November 13, 2018.
Parodying the soothing incantations of the perennial children's classic Goodnight Moon, by Margaret Wise Brown, with illustrations by Clement Hurd, GOODNIGHT TRUMP takes place in the very classy golden bedroom of the White House, where it's bedtime for the 45th President of the United States. In Origen and Golan's update to the timeless classic, readers can encourage this very stable genius to bid a gentle goodnight to some of his favorite things, including his stuffed animal (what else but a Playboy bunny), his best friends from Russia, his Twitter feed, and his 12-pack of Diet Coke.
Goodnight Bush, Origen and Golan's inventive send-off of the Bush administration, became an instant bestseller. Time called it "hilarious, clever, very relevant, remarkably insightful, and thought-provoking,"Salon described it as "ingeniously illustrated and garnished with trenchant social commentary," and USA Today praised the authors for their "laugh-out-loud yet sophisticated wit."
Not even at the halfway-point of his administration, Donald Trump has managed to provoke the ire, frustration, and heartache of millions of Americans who feel that he is reversing the progress of the Obama administration and destabilizing the nation. Origen and Golan channel this widespread feeling of unrest into the comic relief of GOODNIGHT TRUMP, where readers have the chance to send their very bad president to bed and children everywhere can have sweet dreams without fear of being torn from their homes and families.
GOODNIGHT TRUMP is a perfect present for those who lean to the left, and for anyone who dreams of the chance to turn out the light on the Trump presidency a little early.