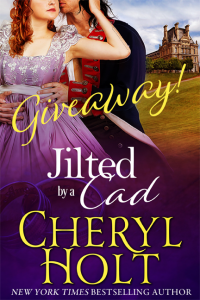 The Jilted Bride Series from Cheryl Holt – Three books releasing together!
or the past few years, I've been writing linked series, where there is a common theme that runs through all the books.  The theme resolves at the end of the final novel.  Over the years, I would always hear from readers that—when they finished one of my novels—they wished it hadn't ended.  With the new way I'm writing linked series, the story doesn't "end" at the end of the first book.  It continues into the next books in the series, with characters recurring and a satisfying conclusion for everyone at the end of the final novel.
In this trilogy, the heroines have all been jilted, and the experience has been extremely humiliating for them.  It leaves them feeling off balance and not sure of their place in the world.  When they cross paths with my uber-macho heroes, they're convinced they shouldn't fall for them, but Fate has different ideas!
I'm releasing the three books together on the same day, so readers can scoop them up and read the whole story without having to wait for the next installment.  The books will be available as print books and e-books.  Mark your calendars!  Coming September 20th!  I'm counting down the days!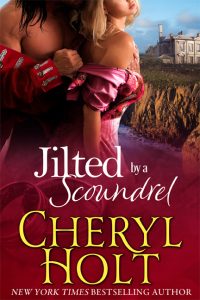 <  BE SURE TO ENTER CHERYL'S CONTEST!!! FOLLOW THIS LINK! 
EXCERPT:
PROLOGUE
Amelia Boyle sat in a chair in her parlor, staring out the window at the street in front of her house.
The clock on the mantle began to chime, indicating the noon hour had arrived.  As the twelve clangs rang out, she counted them in her head.  Once the reverberations faded, she checked in both directions, but no one was approaching.
For a moment, she paused and tried to figure out what had possessed her, but there was no valid answer.  Mr. Cartwright was supposed to have called for her at nine o'clock, but evidently, he'd had no intention of following through on their wild escapade.  She couldn't determine if she was furious, ashamed, or relieved.
The prior night, she'd hardly slept, having been overwhelmed by an odd mix of terror and excitement.  She was eloping!  To Scotland!  With a man she barely knew!
Why had she agreed?
There was only one explanation:  She was suffering from temporary insanity.
The past year had been exceedingly traumatic.  First, she'd been spurned by the man she'd believed she would marry.  He'd met a woman he liked more and had walked away from Amelia without a backward glance.
Then her dear brother, Evan, had suffered his own romantic ordeal.  He'd nearly wed a girl who didn't love him, who didn't need him.  At the last second, she had come to her senses and tossed him over.  Even though it hadn't been a love match, he'd been crushed by her rejection.
Amelia was devoted to her brother and always wanted the best for him, so she'd been crushed too.
He was an officer in the Royal Navy, and he'd done the sole thing he could think of that would improve his condition.  He'd gotten himself assigned to a new ship and had sailed away.  He was currently chasing pirates in the Mediterranean.  Amelia couldn't guess when or if she'd ever see him again.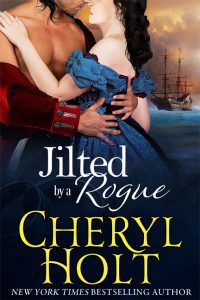 Then their mother, Lydia, had died suddenly, with no warning.  Amelia's father had perished at sea when she was little, so Lydia had raised Amelia and Evan on her own.  Their small family had been especially close.
Her passing had been a grueling trial for Amelia.  She'd had to handle the arrangements for the funeral and burial by herself, had had to serve as executor, pay debts, and honor bequests.  The most disheartening part had been when she'd stood at the grave by herself, without Evan being there for her to lean on.
She'd sent him several letters about their mother, but she hadn't heard back, so she couldn't be sure he was aware of the tragedy.  But it simply took a long time for a letter to reach a sailor, and of course, any letter could be lost or delivered to the wrong address.
Their mother's death had pitched Amelia into a peculiar morass that had left her feeling horridly adrift.  She'd spiraled down into a quagmire of unusual, reckless conduct.
With her mother and Evan vanishing so rapidly, her isolation and loneliness had been particularly acute.  Their comfortable home, where she'd always been so happy, had seemed abandoned and quiet, cold and unwelcoming.
The rooms were empty, the lengthy evenings torturous and unending.  There was no one to talk to, no one to worry about her if she was late, no one to ask about her day.  She'd grown to loathe the house, and she'd found a new set of friends, a group of rash, negligent girls who weren't concerned about their reputations and who didn't care what others thought.
She'd started attending public dances and private parties, reveling until dawn and fraternizing with dissolute gentlemen she shouldn't have noticed.
When she'd met Holden Cartwright, she'd been swept off her feet, but she wasn't certain why.  Yes, he was handsome and charming, but they hadn't had much in common.  That had been obvious from the beginning.
She'd been so aimless and bewildered, and she'd been attracted to his zest for life, had wanted to appear as free and liberated as he was.  His suggestion that they elope had sounded so thrilling.
His proposal had been perfectly timed, a quick remedy for all that was vexing her.  He'd posed the idea as a lark, as a dare, as a jest, and initially, she'd disregarded it, but others in her dissipated social circle had latched onto the prospect and declared it brilliant.
Plans had swiftly careened downhill, like a runaway carriage she couldn't stop.  She'd consented frivolously, gaily, deeming it to be uproariously fun, but frantic behavior and raucous choices were exhausting.  She wasn't immoral or unrestrained—and she never had been.
Then and there, she vowed she would never drink champagne again.  How had she become addicted to the bubbly treat to the point where she'd let it guide her decisions?
She took a last glance outside, then pulled the drapes firmly closed.  She was glad he hadn't shown up, glad he'd saved her from herself.  He'd been thinking clearly when she hadn't been thinking at all.
She went to the front door and removed the knocker to signify she wasn't at home.
After her mother's demise, she'd whittled down her staff of servants to three people, and she'd given them a two-week holiday so they wouldn't be around to witness her folly as she'd jumped into a carriage with Mr. Cartwright and had headed north.
It would have been too humiliating to clarify or justify her actions, and she hadn't wanted them to observe them or comment.
With them gone, the house was even quieter than normal, but for a change, she wasn't distressed by it.  She needed some solitude in order to evaluate her pathetic situation, then figure out what to do next.
She walked to the maid's closet behind the kitchen and shut the door.  If someone knocked—and she had to accept if was very unlikely anyone would—she wouldn't be able to hear them, wouldn't be tempted to answer.
She sat on a crate, yanked off her cloak and bonnet, and the silence washed over her.  She missed her brother in a poignant way, but she was relieved that he hadn't been present to view her scandalous foray.
She couldn't imagine staying in London, couldn't imagine strutting about in public again.  She would hate to encounter any of the so-called friends who'd watched her disgrace herself.  Nor could she bear to bump into any old friends who might be gossiping about her recent antics.
If her mother had learned of Amelia's behavior, she'd have been so ashamed.  Her brother too.  Amelia was ashamed herself.
How could she get back to being the person she'd been before?  Where was that reserved, modest girl hiding?  Was she still lurking deep inside?  Could Amelia bring her to the surface?
How would she?
ABOUT THE AUTHOR:
Cheryl Holt is a New York Times, USA Today, and Amazon "Top 100" bestselling author of forty-eight novels.
She's also a lawyer and mom, and at age 40, with two babies at home, she started a new career as a commercial fiction writer. She'd hoped to be a suspense novelist, but couldn't sell any of her manuscripts, so she ended up taking a detour into romance, where she was stunned to discover that she has an incredible knack for writing some of the world's greatest love stories.
She is considered to be one of the masters of the romance genre, and her emotional, dramatic, and riveting stories of passion and illicit love have captivated fans around the world. She has won or been nominated for many national awards. For many years, she was hailed as "The Queen of Erotic Romance", and she's also revered as "The International Queen of Villains." She is particularly proud to have been named "Best Storyteller of the Year" by the trade magazine Romantic Times BOOK Reviews.
Cheryl lives and writes in Hollywood, California.