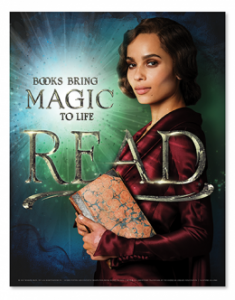 Actress, singer and model Zoë Kravitz stars in two new video Public Service Announcements (PSAs) for the American Library Association, promoting the magical power of libraries. In the PSAs, Kravitz, who appears in the upcoming film "Fantastic Beasts: The Crimes of Grindelwald," urges the public to visit libraries to discover and experience new worlds through literature and resources such as eBooks, games and 3D printers.
The PSAs are free and are available for download to post on web pages and social media channels. ALA members and library supporters are encouraged to share the PSAs to publicize the critical role libraries and librarians play in transforming lives and communities. Social media graphics, sample social media posts and other materials are also provided to help promote the PSAs.
In addition, Kravitz is featured in a new READ® poster, which can be purchased at the ALA Store. Kravitz was named one of "Variety's" 10 Actors to Watch and on "Forbes" 30 Under 30 list. She will play Leta Lestrange in "Fantastic Beasts: The Crimes of Grindelwald," which arrives in theaters Nov. 16.
Kravitz's most recent credits include the groundbreaking HBO miniseries "Big Little Lies," opposite Reese Witherspoon and Nicole Kidman. Directed by Jean Marc Vallee, the series won eight Emmy Awards and four Golden Globe Awards. She has also appeared in "The Road Within," with Dev Patel; "Good Kill," with Ethan Hawke and January Jones; "Rough Night," alongside Scarlett Johansson and Kate McKinnon; the critically acclaimed film "Dope," produced by Forest Whitaker and executive produced by Pharrell Williams; and "Gemini," with Lola Kirke.
The PSAs are made possible by Warner Bros. Pictures, ALA Graphics and Libraries Transform, a national initiative of the ALA, which promotes public awareness of the value, impact and services provided by libraries and library professionals. Library supporters are welcome to join the Libraries Transform campaign to access free resources and tools to promote the value of our nation's libraries.
(From ALA Press Release)