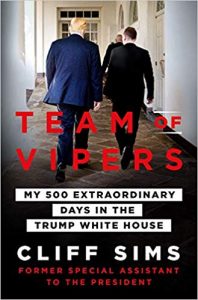 FORMER WHITE HOUSE STAFFER TO RELEASE FIRST HONEST INSIDER'S ACCOUNT OF THE TRUMP ADMINISTRATION
TEAM OF VIPERS:
My 500 Extraordinary Days In the Trump White House by Cliff Sims, Former Special Assistant to the President
Coming January 2019 from Thomas Dunne Books/St. Martin's Press NEW YORK, NY
Cliff Sims, former Special Assistant to the President and Director of White House Message Strategy, will publish the first honest insider's account of the Trump Administration with his book, TEAM OF VIPERS: My 500 Extraordinary Days In the Trump White House, to be published by the Thomas Dunne Books imprint of St. Martin's Press on January 29, 2019. World publishing rights were acquired by Thomas Dunne, with Stephen S. Power editing, from Matt Latimer & Keith Urbahn at Javelin.
After standing at Donald Trump's side on Election Night, Cliff Sims joined him in the West Wing as Special Assistant to the President and Director of White House Message Strategy. He soon found himself pulled into the President's inner circle as a confidante, an errand boy, an advisor, a punching bag, and a friend. Sometimes all in the same conversation.
As a result, Sims gained unprecedented access to the President, sitting in on private meetings with key Congressional officials, world leaders, and top White House advisors. He saw how Trump handled the challenges of the office, and he learned from Trump himself how he saw the world. His book offers never-revealed scenes from this most unorthodox of White Houses – and will stand as a definitive history of an unforgettable era.
For five hundred days, Sims also witnessed first-hand the infighting and leaking, the anger, joy, and recriminations. He had a role in some of the president's biggest successes, and he shared the blame for some of his administration's disasters. He gained key, often surprising, and occasionally humorous insights into the players of the Trump West Wing, from Jared Kushner and John Kelly to Steve Bannon and Kellyanne Conway.
He even helped Trump craft his enemies list, knowing who was loyal and who was not. And he took notes. Hundreds of pages of notes. In real-time.
Sims stood with President Trump in the eye of the storm raging around him, and now he tells the story that no one else has written—because no one else could. The story of what it was really like in the West Wing as a member of the President's team. The story of power and palace intrigue, backstabbing and bold victories, as well as painful moral compromises, occasionally with yourself.
Cliff Sims was the CEO of Yellowhammer Multimedia, Alabama's premiere source for political news, until he joined the Trump campaign in August 2016. After the election, he moved from Trump Tower to the West Wing, where he crafted the White House's messaging. He now advises major corporations, CEOs and media personalities on a wide range of public affairs and communications issues. He lives in Washington, D.C.
From St. Martin/MacMillian Press Release