(Note to readers. Monica is one of the few poets we've had the privilege of hosting. Below her Christmas story is one of her poems that she is sharing with you! AND BONUS – she is hosting an amazing giveaway on her blog…..click here, but see details below!)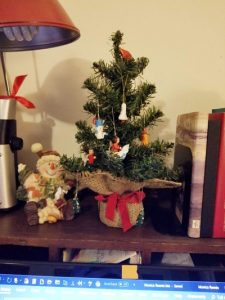 The Big Little Christmas Tree by Monica Reents
When I was a little girl, I fell in love with the magic of Christmas. I loved everything about the season; the tree with its many colorful lights, the decorations, the Christmas carols, the delicious food, the beautiful gifts, and of course the family gatherings. This became the recipe for my favorite time of year. It felt joyful and left me with the feeling that I already had everything I could ever want, regardless of our (somewhat) meager means.
Each year, the tree was decorated with the same ornaments, creating the perfect centerpiece for our holiday celebrations. Every day I would lay beneath the Christmas tree to look up at the ornaments and watch as the lights seemed to turn into stars right before my eyes. To this day, falling asleep with those dreamy visions in my mind has remained one of my favorite Christmas memories.
But it wasn't until I became a parent that I was able to witness the true power behind the magic of Christmas. I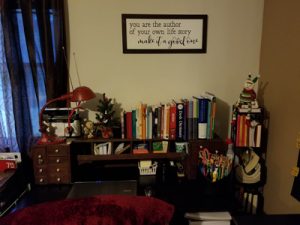 would describe it as being the next best thing to living in a fairy-tale, watching your child's excitement and wonder throughout the holiday season fills your heart with love, while renewing your soul with the power of possibility.
My son was born in February and by his first Christmas, had been crawling for some time and was making progress towards walking. I could not wait to see his reaction to the lights and excitement of the season.
I had gone Christmas shopping one Saturday afternoon in search of decorations when I came across a tree that grabbed my attention. It wasn't one of those trees that stands two-stories tall with thousands of lights and gold encrusted ornaments, no, rather it was quite the opposite, kind of like a Charlie Brown Christmas moment. I had to have it. That night, I decorated his bedroom, complete with the Christmas tree I had bought, he had his own perfect tree.
Looking at this same tree 22 years later, I get lost in the memories this tree holds as it stands over my laptop. Its yearly appearance always warms my heart, knowing that another years' worth of Christmas memories will be gathered up into its little branches. This tiny Christmas tree stands just under a foot tall, is seven inches wide at its broadest point, and rests in a burlap base. It's decorations are simple, but its tiny branches will forever hold the memories of my son's childhood Christmases.
I can only hope that the inspiration from having this tree on my desk, with its many years of dedicated service, will come through in my writing.
Merry Christmas! I wish you all a happy, safe, and memorable holiday season!
Darkened Love
Strolling along damp, dark
streets of brick
seeking freedom of
his captive curse-
her steely gray eyes, moistened with tears,
shone beneath dimly lit streets…
blind to the destination,
she was given no choice
Rain forced abandonment upon the streets
isolating her journey
watchful of every step, the
immense, gas-lit clock face
with its familiar grinding cogs,
metal on metal machinery…
at one time,
their safe coven
the pulse of each
tick and tock,
in sync with her every breath
soothing the ache, he laid within her heart
his death placed shadows in her soul
covering her wings in darkness, now
too heavy to fly.
By Monica Reents
Revised 6/28/16
Original version previously published by
Crushing Hearts and Black Butterfly Publishing
Cogs in Time Vol. 2 Anthology 2014
ABOUT THE AUTHOR: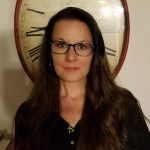 Monica Reents was born and raised in Kansas, where she lives with her husband, son, three bonus daughters, and one dog. She grew up with a love of books and found a passion for crafting her own stories and poems in High School after reading Of Mice and Men by John Steinbeck. She worked as a pediatric Ophthalmic surgical assistant until 2011, when she was diagnosed with a rare spinal cord disease, syringomyelia. Suddenly unable to work, she made the decision to return to her love of writing fiction and poetry with the purpose of publishing.
Since then, she has published two poems, Darkened Love, in the 2014 Cogs in Time 2 anthology and Whispering Seduction, in the novel Tempted by Kristine Raymond. Monica is also working on her debut novel, a psychological thriller called Declaration of Alters, and plans to complete her first draft in the first half of 2019.
Monica also runs a blog called My Chronic Happiness. She designed her blog to be a reflection of who she is. It is informative for anyone living with chronic illness, as well as anyone interested in the world of writing and books. You can find her at mychronichappiness.com.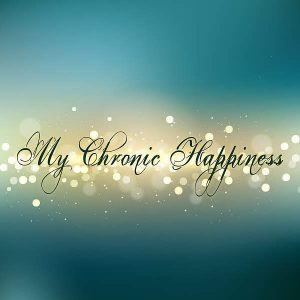 This is my Chronic Happiness
I write poetry and fiction || Books give me life || I spread awareness about syringomyelia
My Chronic Happiness is a blog that I created to be a reflection of who I am. When I was 34, I was diagnosed with a progressive autoimmune disease of the spinal cord, syringomyelia. The diagnosis came as a shock, as I had not experienced any symptoms before that two week time period. I sat next to my husband of three weeks and listened as the surgeon told me that I was too far advanced and that I would likely not survive the risky surgery to my spinal cord, that I should go home and enjoy the next year of my life. I felt like he was speaking another language, he just told me that I only had about a year left to live.
However, as you can see, I survived well beyond that year, as that was seven years and ten surgeries ago. I found a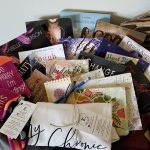 new surgeon and with that came better odds. I am grateful for each day that I wake up, each day that I am able to walk, each day that I can love my family, and each day that I am able to pursue my passion. This is the center for My Chronic Happiness.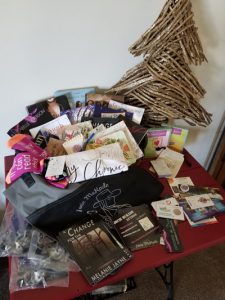 I write about my diseases and what that means to my life. I want others who live with chronic illness to feel less alone and more understood. I write about subjects revolving around pain and illness so that it pertains to an audience that reaches beyond syringomyelia. My goal is to create a place where I am able to spread awareness about syringomyelia and chronic pain, while sharing my passion for books and writing. It may sound like an odd mix, but it works, and it is who I am … and that is how it comes together so well.
My blog is under a year old and I am grateful for the support I have received, so I am having a subscriber appreciation giveaway to show how thankful I am. I have an extraordinary list of authors and creators who have come together to contribute to the giveaway. I have a total of 14 books, 13 of them are signed, and one is an ebook; not to mention the author swag, a journal, a fun pair of socks, an exclusive MCH t-shirt, a tote, and more! That is $165 in books alone! Go to mychronchappiness.com to see the complete list of prizes and rules.