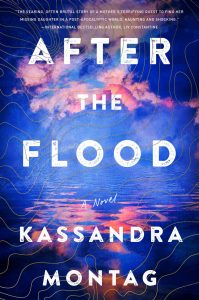 An unforgettable, inventive, and riveting debut, AFTER THE FLOOD (William Morrow, hardcover, on sale September 3, 2019) explores a global narrative of a changed natural environment alongside an intensely personal story of one mother fighting to protect her two daughters. This compulsively readable and action-packed epic has captured the attention of early readers around the world: AFTER THE FLOOD will be published in more than a dozen international territories, and Chernin Entertainment has optioned the novel for television with Margot Robbie attached. Montag is an award-winning poet based in Omaha, Nebraska, and After the Flood is her first novel.
A little more than a century from now, our world has been utterly transformed. After years of slowly overtaking the continent, rising floodwaters have obliterated America's great coastal cities and then its heartland, leaving nothing but an archipelago of mountaintop colonies surrounded by a deep expanse of open water.
Stubbornly independent Myra and her precocious seven-year-old daughter, Pearl, fish from their small boat, the Bird, visiting dry land only to trade for supplies and information in the few remaining outposts of civilization. For seven years, Myra has grieved the loss of her oldest daughter, Row, who was stolen by her father after a monstrous deluge overtook their home in Nebraska. Then, in a violent confrontation with a stranger, Myra discovers that Row was last seen in a far-off encampment near the Artic Circle. Throwing aside her usual caution, Myra and Pearl embark on a perilous voyage into the icy northern seas, hoping against hope that Row will still be there.
On their journey, Myra and Pearl join forces with a larger ship and Myra finds herself bonding with her fellow seekers who hope to build a safe haven together in this dangerous new world. But secrets, lust, and betrayals threaten their dream, and after their fortunes take a shocking—and bloody—turn, Myra can no longer ignore the question of whether saving Row is worth endangering Pearl and her fellow travelers.
A compulsively readable novel of dark despair and soaring hope, AFTER THE FLOOD is a magnificent, action packed, and sometimes frightening odyssey laced with wonder—an affecting and wholly original saga both redemptive and astonishing.
About the Author:
Kassandra Montag grew up on an acreage outside a small town in rural Nebraska. She spent her days exploring the woods close to her house. Her mother taught her to read, and her childhood revolved around nature and books. She always liked to make things—pastel paintings of landscapes she hadn't seen before, rafts that sunk in the creek near her house, her own clothing cut and stitched from discarded bolts of fabric. At seven, she made her first picture book series that featured a man who lived alone in the wilderness with his dog, fighting together for survival.
Kassandra holds a master's degree in English Literature and her award-winning poetry and short fiction has appeared in journals and anthologies, including Midwestern Gothic, Nebraska Poetry, Prairie Schooner, and Mystery Weekly Magazine.
While her husband was there on a Fulbright grant, Kassandra lived in the Netherlands for a year; together, they traveled throughout Europe on a shoestring budget while she gave lectures and led workshops at a Dutch university. Upon returning to the States, she wrote After the Flood, her first novel, while freelance writing and caring for her infant and toddler sons. Today, Kassandra lives in Omaha with her husband and two sons and is at work on her next novel.
A conversation with Kassandra Montag, author of AFTER THE FLOOD:
1. How and why did you decide to center the experiences and conflicts of motherhood in After the Flood?
I was pregnant with my first child when I had the dream that inspired After the Flood so the new responsibilities of being a mother were foremost in my mind. Also, Myra's character came to me as a mother in the images I began to see of her (she was always accompanied by her daughter, Pearl). And finally, there are parallels between Myra as a betrayed mother and the flooding of Mother Earth. Fertility links women's bodies and the land, and that connection forms a subtextual foundation for the story.
2. In your novel, the entire world has flooded and survivors live on boats or mountaintops. It's hard to read After the Flood and not think about our changing climate and rising sea levels. How did you research this imagined environmental apocalypse and did you draw from any real-life events?
My research included: accounts of the Bajau people who partially live on the water in Southeast Asia, stories from ancient seafaring tribes such as the Vikings, and contemporary guide books on survival techniques such as building fires, fishing, etc.
In imagining the flood itself I was inspired by scientific research, namely an article in the New Scientist about how three times the Earth's water was stored under the Earth's crust in hydrate form. So I imagined what it would be like if that trapped water could somehow be released to the Earth's surface in liquid form, exploding up from the depths.
3. Like you, Myra is the mother of two children originally from the midwestern United States. She's also, as Publishers Weekly describes her, a "super-survivalist."  How much of yourself is in Myra? How else did you develop her character?
Myra came to me almost fully formed, beginning with her voice when she introduced herself to me with the line: "I am Myra and I live on the water." That sort of directness informed her whole character.
Myra and I share some similarities—we both can be independent, strong-willed, wary of new situations, and exhibit an irritating stubbornness. However, Myra is much more assertive and combative than me—and thankfully, she doesn't suffer from seasickness the way I do.
4. You've said that you wanted After the Flood to work on two levels: reminiscent of the big adventure stories you loved as a child, and as a meditation on some of the big questions you grapple with as an adult. What are some of those big questions?
How can hope endure in the wake of trauma? What do we forfeit when we value survival above all else? What does healing mean and is it attainable? When you experience loss how do you continue on with your life, and what might that look like? How far can courage take you?
5. After the Flood is a story about deep loss and life-or-death decisions in the face of unknowable peril. What do you hope readers take away from your characters' experiences of danger and trauma?
I hope readers will take away a sense of compassion for people and the realization that everyone has a story and challenges we probably don't know about. I also hope it challenges readers' perceptions and assumptions about surviving loss—both that it enlarges their own sense of survival and endurance, but also checks it against the reality that none of us get through this life unscathed. Hopefully that realization will not harden us, but will make us more tender towards others.
6. This is your first novel, and it's already been optioned for screen adaptation and sold in more than a dozen international countries. Tell us a bit about your writing and publishing journey and how it feels for After the Flood to finally be out in the world.
I started writing seriously when I was eighteen and my first publication was a poem in a literary journal when I was twenty-two. I wrote and published poetry for years before turning my attention to novels. Before I wrote After the Flood, I wrote half of a literary western novel, that I didn't believe I'd be able to publish.
It feels wonderful and overwhelming for After the Flood to be out in the world. While I've had other publications in magazines and journals, this feels different because it's on a much larger stage. More than anything, I'm grateful for the chance for my work to connect with more people, and with the TV adaptation, for my book to take another form.
7. Who are your favorite authors and what do you read for inspiration and for pleasure?
My favorite book is Gunnar's Daughter by Sigrid Undset and my favorite novelists include Margaret Atwood, Cormac McCarthy, Kazuo Ishiguro, and Shirley Jackson. Poetry and nonfiction fill my bookshelves as well—two poets I often return to are Tomas Transtromer and Mary Oliver. I loved The Hunger Games—it reminded me of the adventure tales I devoured as a child. I also enjoy reading ancient literature—such as Icelandic sagas, and gothic literature—especially by the Bronte sisters.
8. What are you working on next?
I'm working on a gothic murder mystery novel.
RELEASING SEPTEMBER 19TH.